風の谷のナウシカ
Kaze no Tani no Nausicaä
Nausicaa of the Valley of the Wind Volume 5
–> PURCHASE FROM RAKUTEN.COM (formerly BUY.COM)
–> PURCHASE FROM BARNES & NOBLE
–> PURCHASE FROM RIGHTSTUF!
SPOILER Summary/Synopsis: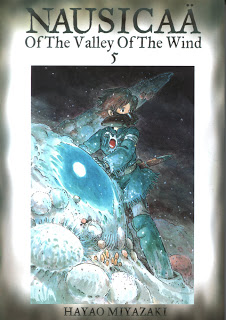 The Dorok Emperor's brother, Miralupa, is undergoing emergency treatment while the Emperor, Namulith, makes a visit to see the God Warrior before selecting several humanoid Heedra as bodyguards before visiting Miralupa.  Namulith has a chemical injected into Miralupa's immersion treatment to kill him but before he dies, he has a dream of being restored to youth and dying before his final communication with his brother. With Miralupa dead, Namulith decides to go to the war front with his Heedra in tow.
At a Torumekian city, Yupa and Ketcha are there but Ketcha blows their cover when she is unable to restrain herself upon seeing some Dorok slaves mistreated. They are pursued out of town to where Asbel, Mito, and the other old warrior are waiting to spirit them away in the gunship, which is towing the glider-barge. On their flight, they spot the Dorok rebellion and a lone, flying insectoid before landing so that Ketcha can get some information for them from refugees. Yupa and Mito determine where the insectoids are heading and Ketcha realizes that the Dorok refugees hope to find land for planting is hopeless. Arriving at the Kabo Castle Town, the group finds the Sea of Corruption growing from the carcasses of dead insectoids and Yupa realizes that both Dorok and Torumekian troops won't recover.
On the ground, Kushana tends to the heavily wounded Kurotowa while the remnants of her troops stand guard in this area that is rapidly turning into the Sea of Corruption. They hear the sounds of planes and see the Valley gunship and glider-barge engaged in combat with a Torumekian heavy corvette, which Kushana recognizes as belonging to her brother. Cutting the barge loose, the gunship is able to force the corvette to retreat. The gunship lands to get the barge and Yupa is met by Kushana. Asbel wants to kill Kushana since she wiped out his people, but Yupa stops him since she has offered to surrender and give information about Nausicaä for the rescue of her men. Ketcha isn't happy about it either but goes along with it as well.
After they take off and Kushana tends to Kurotowa as she and Yupa discuss the situation. Kushana figures that with the devastation below, the surviving Dorok will have to attack Torumekia, possibly using the God Warrior. Hearing all this, Ketcha snaps that had Kushana's people not gone to war in the first place, none of this would have happened. Kushana agrees.
At an abandoned village being swallowed by the mutant mold, Chikuku worries about Nausicaä's safety since a Dorok fleet has arrive to begin bombing the area. Nausicaä makes it out on the mehve with Chikuku as the bombs explode all around. She tells Chikuku that the bombing won't help as the mold reaches up to pull down the Dorok airships. Charuka, leading the assault, orders a retreat as Nausicaä joins him on his ship. She plots the different molds on the map and announces that they are trying to join. She also reveals that this mold will spread massively based on similar molds in the Sea of Decay. As the exhausted Nausicaä sits and wonders why Dorok had to unseal the Crypts of Shuwa and use the ancient technologies.
Nausicaä falls asleep and has a vision of a sea of corpses.  A giant corpse tells her that everything which has transpired was planned, even the mold and the daikaisho. The giant corpse tells her all will be consumed by fire and asks her to come with him to a peaceful world. However, the lifeglow from Teto causes the corpse to react negatively, leading Nausicaä to realize that this isn't the Holy One. It tries to absorb her with gunk flowing from its eye sockets but Nausicaä repells it and sees an Ohmu. Her excitement is tempered when she realizes where it and the swarm of Ohmu are traveling.
Nausicaä wakes with a start and goes to an observation deck with Charuka, where lots of surviving Dorok refugees have gone to higher ground and escaped the poisoned air. She immediately departs on the mehve, causing the Dorok on the ground to bow to her and chant forbidden scriptures. Charuka has his ship land and chastises the people for this action. After talking with some of the people, Charuka realizes they'd been warned telepathically (by a "great white bird") and that Chikuku was responsible. He wakes the sleeping boy, who confirms it and tells Charuka that Nausicaä is the white-winged apostle and that he loves her.
Nausicaä heads into the toxic air and finds the scout Ohmu, who is sprouting the Sea of Corruption fungi despite still being alive. She pleads with the Ohmu to leave and have its fellow Ohmu leave since the mutant mold will consume them. Other giant insectoids are falling out of the sky and helping the spread of the Sea of Corruption, which is growing at a faster rate than would normally be expected. She recalls her research on the life of the Sea of Corruption and realizes that where this Ohmu stopped and is sprouting a new Sea of Corruption is where the molds are going to meet. With that, she flies off to a spot to await the arrival of the Ohmu.
Yupa's group stops at another wiped out village where Kushana finds the heavily injured body of a Heedra. All around the Heedra are dead Torumekian troops, part of Kushana's army.  Yupa takes the hood of the Heedra and takes the breather mask of the creature before putting a bullet in its head, causing the body to dissolve. Yupa explains that Heedra are nigh immortal and this is the only way to kill them. Kushana finds a still living soldier and gets news of what transpired. More Heedra show up and attacks them.  They race out but the Heedra have the advantage. Kushana decides to hold them off to allow the others to escape but another group of Heedra capture her and begin slaughtering her men as they try to save her. Some Heedra race to the parked gunship, as Mito races in to signal Asbel to take off. The Heedra try to block the escape and Asbel fired a missile, which cuts a Heedra in half but doesn't kill it.
Other Heedra keep the gunship from keep leaving but then abandon their attack and retreat. They get the gunship righted and it takes off with the barge as a swarm of Ohmu arrive, eyes of blue. Yupa chases the Heedra to a Dorok ship as it takes off. He finds Emperor Namulith standing on top of the craft as it takes off and Namulith greets Yupa, delighted to meet someone who knows how to kill Heedra. Yupa demands to know what Namulith is doing with Kushana, so Namulith reveals that he intends to marry her.
Some forest people arrive at where Nausicaä is sleeping. One of them is Ceraine, who'd befriended Ketcha under the Sea of Decay, sets up a bubble tent around Nausicaä.  She's repairing Nausicaä's mask when Nausicaä wakes up.
Back on Namulith's ship, Namulith shows Yupa the swarming Ohmu below. Namulith talks about the situation and Miralupa's work. A priest brings the Emperor a drink, but Namulith realizes it is poison and makes the priest drink it, who then dies. Down below, some priest are about to examine the sleeping Kushana when she attacks them and kills them. Killing a guard with her hair piece and taking his sword, she goes on a destruction spree, setting the ship on fire. She slaughters several priests before emerging to where Namulith is waiting. This amuses her but he has something to show her and reveals that in the poisoned air below, she has surviving men from her army but there's a swarm of Ohmu coming. He proposes to her, telling her she could revolt, have her own lovers, or the like if she accepts but this would make a union between the Dorok and Torumekia. He refuses to show her his face until their wedding night, which amuses Kushana since she wonders if he could step naked into the viper's nest.
Back with Charuka, he tells the people that the different tribes of Dorok must work together in the forthcoming crisis. Chikuku uses a telescope to find the approaching Ohmu. Nausicaä also senses the Ohmu's approach and takes her leave of Ceraine. She finds the Ohmu who communed with her back at the acid lake, but she can't make contact this time. As she flies, she has another vision with the giant corpse again, who informs her that the Ohmu were created to clean the planet polluted by humans. Nausicaä rejects the notion that the corpse and the Holy One are the same, angering the giant corpse, who tells her she's just another polluted human with blood on her hands.
Nausicaä lands on the one Ohmu and decides that since they are going to sacrifice themselves to heal the planet, she'll join them in death. The Ohmu she's on stops at the original scout, which has sprouted an island of the Sea of Corruption with full grown fungus trees even though it has only been a day. Nausicaä climbs up a fungus tree and spots the mutant mold coming. The different molds begin to join and merge and Nausicaä is surprised to see how quickly the fungi of the Sea of Corruption is growing on the bodies of all the Ohmu but her wish to die with them is thwarted as the Ohmu spends its dying moments taking Nausicaä within itself with a bubble over her head. However, this causes Chikuku to lose telepathic contact with Nausicaä and he becomes shaken. Charuka sees this and gets the bad news from Chikuku.
Thoughts/Review:
While this manga is certainly good, I still am amazed at how densely packed the manga is.  With no chapter breakdowns, I'm actually stunned that this was first published in a magazine.  I guess they did it a volume at a time, though I can't confirm or deny that.
Anyway, the story took some interesting twists. I'm surprised that Miralupa was killed off, but I guess that's how you get the Dorok Emperor Namulith into the limelight.  I wonder what the significance of Miralupa's dream was and what killed his father.
I think that the giant corpse that Nausicaä keeps seeing in visions is Miralupa still attempting to get to her.  Her use of the term "darkness" is the same as she used when Miralupa was alive.  I suppose he wants to possess her, assuming it is him at all. No matter whom it is, Miyazaki-sensei is using it to reveal interesting things about the Ohmu and the events that are happening, though many questions remain.
While I think it is very safe to say that Nausicaä isn't going to die with the Ohmu, I do wonder what purpose would be served by having her in the formation of a new Sea of Corruption. It is interesting that Chikuku lost contact with her.  I look forward to seeing how this goes.
I find it very interesting that Namulith wants to marry Kushana, not because he loves her, but because it makes political sense.  Granted, Kushana isn't exactly a favorite with the royal court, but politically, this could help bring an end to the war and allow the surviving humans to be able to continue.  I loved her reaction to his proposal. She knows what he's up to and is amused that he's brave enough to even enter her bedchamber on their wedding night to consummate the marriage.
Speaking of Kushana, I loved how she cared for Kurotowa and treated him and fed him despite his terrible injuries. I'd really love to see them get together at the end of the manga.
I'm also glad that Miyazaki-sensei reminded us of the horrible things that Kushana did by wiping out Asbel's people and causing so many deaths and problems for Ketcha's people. It helps keep things in perspective.
Miyazaki-sensei gets more preachy with this volume of the manga.  Well, I pretty much just roll my eyes and even become amused by this, remembering how environmental fearmongering has changed over the course of my life. The overall story I find good enough to override the negativity of the preaching.
So, a good volume here with only two more to go.