魔法先生 ネギま!Volume 36 Chapter 333 (manga)
Mahou Sensei Negima! Manga Chapter 333
SPOILER Summary/Synopsis: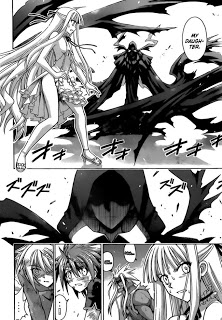 Chisame leads the girls in an attempt to reach out to Asuna and wake her, each girl either thinking or saying Asuna's name, or thinking some thoughts of Asuna.
Meanwhile, Dunamis dispatches the ancient dragon Vrixas Nagasha, who's met by Jack, who's attack sends the dragon for a loop.  Jack tells the "Loli Grandma" to do her thing, irritating Eva who tells Jack he will now be included as a target in her spell.  Her spell seems to be ice-lightning, which doesn't impress one of the Cosmo members, but Dunamis realizes this spell isn't what it seems as the unimpressed CE member is encased in ice.
Secundum is stunned because the spell was not hindered by their multiple shielding layers.  Eva delights in informing him that the spell is specifically designed to seek out "mass produced units" and use their dependence on those barriers against them.  Secundum watches as the members of his team are encased in ice as thorny vines of ice, which moves like lightning, track them down.  Secundum assumes lightning form and attempts to escape, but the ice keeps up.  Eva laughs at his plight, informing him that escape is impossible. Secundum can't believe such power is coming from Eva, whom he'd assumed was just a rogue mage who didn't live up to her reputation as the Dark Evangel.
Eva's spell slams Vrixas Nagasha and encases the enormous dragon, impressing Jack who finds himself in danger as well. Secundum gets caught and cannot escape. With his last breath, he pleads with her to parley and is encased.  All around is a massive field of ice as a floating Eva has Fate and Negi floating in with Jack floating on her other side.  Negi is impressed, as is Jack.  Evan informs Jack that the CE folks are all still conscious and with the ice in a continuous regeneration, they will never be freed.  She remarks on being surprised that Jack escaped since he was a target, and he believes she may have been trying to kill him.
Eva explains that she developed the spell after the Kyoto incident just for such an occasion. Jack teases Eva about this, since she'd always claimed not to be interested in events in the Magic World. She responds that she should have seriously tried to kill him as the two land on an ice shelf, Fate and Negi floating behind. Jack realizes that Eva's spell wouldn't impact one person and Eva agrees, saying they need to be on guard and get Negi back to Mahora. However, it is too late as the Life Maker tells Evangeline that her plan won't be allowed, but compliments Eva on her spell.  Both Eva and Jack are paralyzed as the Life Maker addresses Eva as "my daughter."  Takahata, Eishun, Kurt, Al, and Headmaster Konoe attack but are easily beaten back. The Life maker grabs Negi by the throat to Eva's fret as Asuna shows signs of reviving.
Thoughts/Review:
Oh yes!  Eva love to the max!  The way Eva cast her spell, combined with her deciding to add Jack as a halfhearted target rocked.  Her taking wicked delight in the fear of Secundum as he tried to flee is just what I'd expect from Eva. Her spell having that eternal factor was unexpected, but nothing surprising (if that makes sense).  All I know is I loved every moment of Eva's time in the limelight.  Akamatsu-sensei knew we fans wanted to see Eva kick major arse and her taking down the entire CE force was as sweet as can be.
I figure it was pretty obvious that Eva had Fate and Negi float in, either under spell or by her doll  master power.  I also got the feeling that Eva may have brought Jack in as well. After giving him a scare, she then uses her powers to allow him in after her spell did sorta target him.  Of course Jack being Jack, he could easily have come in on his own.
As I expected, the Mage of the Beginning (Life Maker) trumped Eva. Now, this is where I'd like to see Akamatsu-sensei insert a flashback for Eva.  Eva can't move at the moment, so the Life Maker could makes some caustic comment as she holds young Negi by the scruff of the neck.  Eva could then recall her childhood prior to becoming a vampire, the incident herself, and then if we are REALLY lucky, maybe this could tie into her attachment to Nagi (though that part is more of a longshot I admit).
I liked how the girls thought on Asuna, especially Setsuna, Chisame, and Ayeka.  Mana's spoken words for Asuna made me laugh, aided by Misora's reaction to Mana's mercenary attitude. *lol*
Asuna's hair is shown at the end, indicating that maybe she's moving or at the very least, a wind is blowing. Either way, I say that Asuna is close to waking up and it would seem that her revival might doom the Mage of the Beginning's plans.
Nevertheless, this is an awesome chapter to have to wait on. August 17 seems a ways away for chapter 334, but we can make it, right? ^_~