うさぎドロップ Episode 08
Usagi Drop – 08

SPOILER Summary/Synopsis: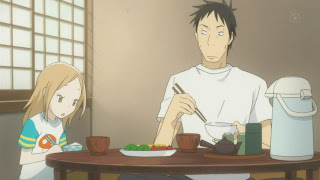 An exhausted Masako is taken out of the office by one of her assistants to get a break, and she has a lot on her mind. Meanwhile on this hot, August day, Rin waters the plants outdoors before helping put together her bento for daycare, to which she and Kouki attend during summer vacation. Daikichi asks if she wants to visit Grandpa's grave over the weekend. She says that the bellflowers won't be blooming by then and isn't keen on buying flowers from the store. However, she changes her mind when Daikichi tells her that while Grandpa would prefer home grown flowers to store bought ones, he'd like a visit from Rin even more.  With that settled, Daikichi escorts Rin and Kouki to daycare, where Kouki reveals his collection of cicada shells to Rin and Daikichi, neither of whom are impressed.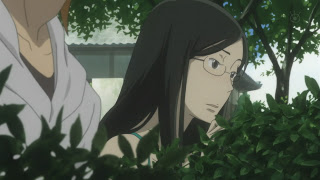 Rin and Daikichi visit Grandpa's grave where Rin discovers the gravestone wet and an ink bottle filled with water and some bellflowers. When Rin says that Masako had such a bottle, Daikichi has Rin pull weeds at the gravestone and races out of the graveyard to find Masako leaving with her assistant. He gets Masako's attention and lets her know that if she wants to secretly observe Rin, they will be around for a little while doing the normal Japanese grave visit rituals. He reminds her that he has no intention of forcing Masako to meet Rin unless Rin wants it.  Masako and assistant do come to the graveyard again where she's amazed at how much Rin has grown.  Her assistant remarks on how much Rin looks like Masako.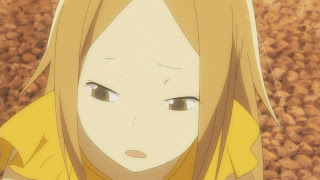 Leaving the graveyard, Masako informs her assistant that she's going to take a new job she'd been mulling in order to be so busy that she can't remember anything, something he doesn't approve of. Meanwhile, Daikichi leaves with Rin, who wants to visit Grandpa's place. Daikichi tells her that his uncle owns the place now but they can look at the garden. Rin is excited as they come to the gate, but entering the yard, she's dismayed to see the bellflowers gone and the yard replaced with gravel. Daikichi comes up with an explanation and is glad he salvaged Rin's olive tree. That night, Daikichi brings out a chocolate cake for Rin's 7th birthday, which pleases her greatly.
Sometime later, she wears a yukata for the local bon festival when Kouki comes by, stating that his mother was getting ready to slowly. When Daikichi imagines her in a yukata, he is suddenly very enthused about getting to the festival to meet her there.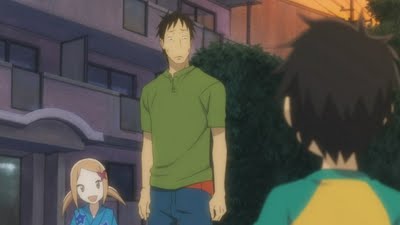 Thoughts/Review:
I think it was already apparent, but this episode made it pretty clear that Masako regretted her decision to give up Rin in favor of a career.  As she pointed out, even though she's a successful manga-ka now, a year from now, the public may get tired of her work. Plus, there are always new manga-ka attempting to make names for themselves.  So, she's depressed by that and while unstated, I think she's depressed over Rin, which is why she wants to work to forget.  I like how Daikichi is keeping her informed about Rin, even though he's not really going out of his way to do so.  I suspect that deep down, he understands that Masako does still care about Rin even if Masako made the wrong life choices regarding Rin.  I guess we'll continue to see these kinds of moments and I suspect that eventually, Rin will learn the truth about Masako.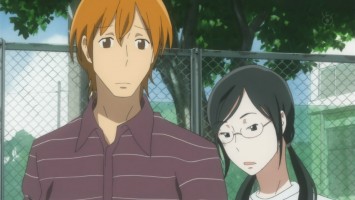 I was struck at the guilt Daikichi felt for even leaving Rin alone for a short time when he went after Masako.  Rin has grown quite comfortable with Daikichi and trusts him not to abandon her and thus was fine. That was a rather touching and heartwarming moment all in one.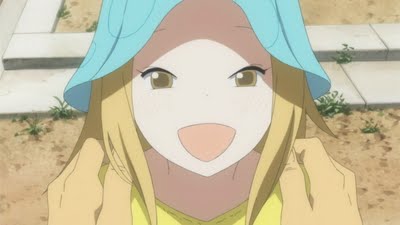 I could really relate to Rin's excitement at seeing her old home and her dismay at the changes made there.   Having lived in a few places during my life, going back and seeing an old home still provokes the same feelings within me to this day.  I would guess that's a common experience among all humans.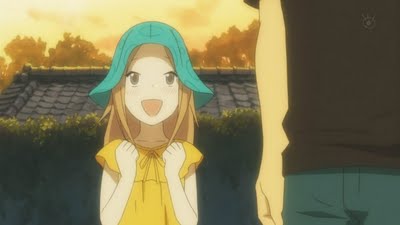 Interesting that Daikichi made no reference to Rin's birthday until evening even though Masako had mentioned it earlier in the episode.  Still, I loved Rin's reaction to getting a chocolate birthday cake and her blowing out the candles.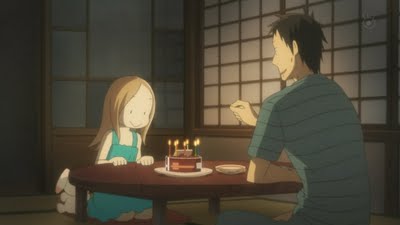 I have to say that I really love this anime thus far.  It manages to blend several emotions together quite well and though sad and heartbreaking at times, it is also heartwarming and happy at others.  I'm really glad to have started watching this and hope this good stuff continues.