ケロロ軍曹/Sgt. Frog/Keroro Gunsou Anime episode 101
SPOILER Summary/Synopsis: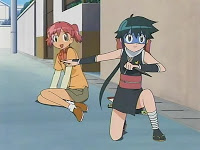 Computer systems all over Earth get hit by a strange virus, which looks to be from Keron. Natsumi blames Keroro and even Fuyuki thinks it must be Keroro, causing him to flee to his base. However, his own troops question is worthiness as a leader, so Keroro flees to a roof.  The following day, Natsumi is with two friends talking about the strange computer virus when Natsumi discovers everyone around her frozen in time. Fuyuki sees the same thing, as does Paul, Momoka, and Tamama.  Those three come under attack while Koyuki and Dororo split up so that Dororo can do his thing and Koyuki can protect Natsumi, who comes under attack. Koyuki has Natsumi flee and defeats the alien monster, but is defeated by a Keron cyborg troop.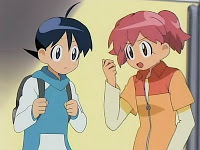 Natsumi races home, where she meets Fuyuki, and the two are about to head down to the base when they are attacked by an alien monster, only to be saved by Giroro. Another Keron arrives, named Garuru, who's Giroro's older brother and superior. As the Keron hacker Tororo observes, the cyborg Zoruru is looking for Dororo while at Momoka's mansion, Taruru confronts Tamama and defeats him. An enraged Momoka goes to confront Taruru but Paul sees her danger and sacrifices himself for her. However, Momoka is also forced to vanish.  Giroro is forced to submit to Garuru but Fuyuki blocks the way to their house. Giroro leads Garuru away and leaves a device with Natsumi to defend Earth should he fail. He's soon defeated by his brother and despite being far away, Natsumi senses his defeat.
Thoughts/Review:
Man, its been a long time since I read the story this episode was based from in the manga. I don't remember much other than I think Natsumi gets a battle suit.  We'll see.
As to the story itself, no humor and the action stuff is OK, I guess.  I'm probably not as hyped over things because (1) I haven't been really hyped over the anime of late and (2) I already knew the story.
Its weird how the anime goes from two short stories per episode to now needing two episodes in order to get the whole story told. Its not a problem, but it did strike me as amusing for some reason.
Well, I may not be that enthused about things, but it really wasn't a bad episode. In addition, I'm kinda interested in seeing (and remembering) how things ended.