xxxホリック
xxxHOLiC Manga Volume 17

–> Not available FROM RAKUTEN.COM (formerly BUY.COM)
–> Not available FROM BARNES & NOBLE
–> PURCHASE FROM RIGHTSTUF!
Note: At some point, an omnibus edition will replace the single edition.
*SPOILER WARNING!*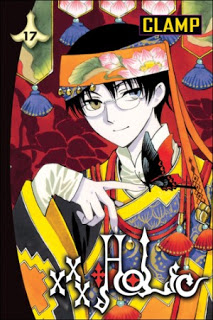 Even though I am still unhappy with how xxxHOLiC was ended and treated by CLAMP, there are still elements I liked and I was very keen to read the story as translated by William Flanagan, who's been there all along and very well suited to deal with CLAMP's writing style and making the vague more understandable.
As I reread this volume, I felt my anger returning (well, to be honest, I'm pretty much always angry these days due to the economy, so in reality, what happened is my anger started turning into a rage of sorts) as I recalled how I felt when these chapters were first published and how much I had hoped for xxxHOLiC to rise to new heights now that it was unfettered by Tsubasa.
In the first story, the villain character Jorô-Gumo returns, only she's not a villain but a customer of Watanuki's, even though she had to trick her way to get past his barriers.  I remember at how excited I was at her return.  It made sense to me for someone like Jorô-Gumo to cross paths with Watanuki again.  After all, Ame-Warashi and Zashiki-Warashi had both returned for visits and though Jorô-Gumo had fought Watanuki and consumed his eye, the notion that she'd need his services as a customer was quite intriguing. I loved how she used her "womanly wiles" on Watanuki, although it really had no effect on him.  For him, it was just a job, no matter their past antagonistic relationship.
This story also presented a new way for CLAMP to bring their xxxHOLiC stories to life — Watanuki could do certain things via dreams, but Doumeki and Kohane-chan could be his eyes, hands, and feet support.  Later on, Doumeki getting a spiritual bow made it seem like he'd have a nifty weapon to deal with problems that he might encounter, especially when on a job with Kohane-chan.  Alas, none of that came to be and a nice, new premise for the characters we already knew got flushed unceremoniously down the toilet.
The job that Jorô-Gumo hired Watanuki to do returned the series to that xxxHOLiC notion, this time, the abusive relationship.  I hadn't realized that CLAMP hadn't assigned a sex to Yaobi-kuni's partner, but it didn't surprise me.  However, I like the idea of it being male (as did Mr. Flanagan, who made a rare choice to go ahead and assign a sex to a CLAMP character that they'd not assigned a sex to) because it fit best.  I liked the notion of a guy meeting a beautiful, young woman who tells him she'll never age.  As I guy, I can tell you that we love beautiful women and no matter how much we may love our spouse/girlfriend, if we could keep her young forever, I think all of us would do this.
Regardless, the guy in the story was excited by the prospect of being with a hot babe for the rest of his life but then as he aged and she didn't, it appears that his fears of her leaving him grew and so he took out that fear in the form of beating her before killing himself. Thus, CLAMP returned to a classic xxxHOLiC-type story and things looked quite good.  Too bad, CLAMP decided to go for new pastures in the form of Kobato and Gate 7.
The only negative thing story-wise that this volume of the manga produced was the revelation that Himawari-chan could only see Watanuki once a year.  CLAMP has the two of them say they love each other but then the conversation between Doumeki and Monoka reveal that this is a doomed love since the shop is detrimental to Himawari-chan as is Watanuki visiting her via dreams.  I remember not liking that aspect, but hoping CLAMP would let us see Himawari-chan for Watanuki's birthday. Too bad that didn't happen because CLAMP loves poking its readers in the eye.
"Oh, did you want to see Himawari-chan and Watanuki together?  OK, open your eyes wide and come close."  *POKE!!!*  "There, can you see them now?"
*_*
Granted, I kinda wanted Watanuki to hook up with Zashiki-Warashi but I just didn't like how Himawari-chan was treated by CLAMP.
On the Del Rey side, honorifics and the like are all there, as expected.  Mr. Flanagan's translator notes are informative, as usual.
Well, there's only one more volume of xxxHOLiC before the final CLAMP "up yours" is given.  I know that Kobato is ending soon and I wonder what kind of shaft I'm in for there?  I wonder what kind of shafting CLAMP will have for me in Gate 7?