灼眼のシャナⅢ(Final)
Shakugan no Shana III (Final) – 04

SPOILER Summary/Synopsis: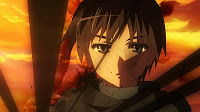 Yuuji reaches the top of the bridge tower and is flanked on either side by Margery and Wilhelmina as a stunned Tanaka and Kazumi observe from the Haridan. Alastor demands to know whom it is in Yuuji's form, and Yuuji's voice changes to reflect his other self, expressing disappointment at not being recognized but understanding since Alastor came to Earth well after Yuuji's other self did. Shana demands to know if this is Yuuji, which his confirms but to show the identity of his other self, Yuuji activates a black-flame Fuzetsu and calls himself the Serpent of the Festival, SAKAI Yuuji and changes his form to the one he has with Bal Masqué.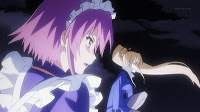 With Yuuji's other being the equal and opposite of Alastor, and supposedly banished by a Flame Haze ages ago, his presence here should not be possible. Yuuji sends himself to the tower Shana is on, but she rejects the notion of his truly being Yuuji and switches to Flame Haze mode. Wilhelmina and Margery unleash attacks to bind Yuuji, after which Margery sends a devastating attack on the bound Yuuji, figuring to get the truth afterward. In the Haridan, Tanaka thinks this can't be Yuuji, but Kazumi knows from Shana's voice that in fact this is Yuuji, despite the disbelief of the others.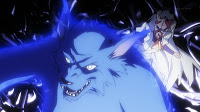 Yuuji is not harmed by the attacks, but since his business is with Shana, he seals Wilhelmina and Margery in a silver ball, constructed from his silver flame. He attempts to lead Shana away, but she escapes his grasp and flees as Wilhelmina and Margery attempt to escape. Knowing the potential of Margery to get out, Yuuji decides to tell her the truth of the Silver, leading Shana to turn and fight, though Yuuji easily dodges all of her attacks. The Silver, Yuuji claims, is not a Tomogara at all, but rather fragments of human emotion that for certain people, come together to form the silver armor. As such, this armor then acts on the desires of the person it is attracted to, meaning Margery caused it to massacre the people in the event that led to her becoming a Flame Haze.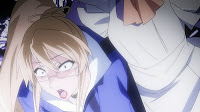 Margery starts freaking out and has to be rescued by Wilhelmina. As she screams, Marchosias sees the contract between them weakening and desperately tries to reach her, as does Tanaka from the Haridan. Margery eventually stops screaming as she reflects on what she's done as Tanaka and Kazumi scream for her to remember Satou. However, she is unable to fight and Wilhelmina has her hands full trying to keep the silver armors from reaching them.  As such, Yuuji tells Shana that they are finally alone, but Shana vows to destroy Yuuji for what he's become. Yuuji smiles and summons the massive sword Blutsauger, which he had learned to use in order to help Shana in their adventures.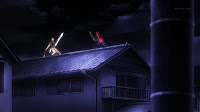 Shana attacks Yuuji, but has great difficulties with Yuuji's abilities and is forced to flee. She comes up with a new tactic and causes Yuuji to fly past her, allowing her to attack from behind. The attack is unsuccessful, so Shana uses her new technique to flame-punch Yuuji down. Ironically, they end up on Yuuji's former home, leading Shana to ask what he will do about his mother, Chigusa. He replies that he's on a journey and that Flame Haze cannot protect all whom he wishes to protect. Since Shana is one of those whom he wishes to protect, he will start a war to change things so that he can protect all whom he cares about.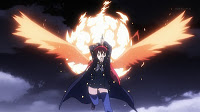 Shana attacks, sending a massive ball of flame, but Yuuji's dark flame simply swallows hers and he defeats her before leaving with her.  He comes crashing into the Haridan, apologizing to Tanaka and Kazumi, whom he didn't know where there. He extracts the Haridan mechanism from the building, as the Serpent of Festival says it originally belonged to him. Before he leaves, Kazumi asks why he sent the letters. He responds that it was to keep his promise and states that if she can become ignorant of these things again, she should. With that, he leaves Kazumi on her knees and flies off with Shana, dropping the Fuzetsu. With his departure, Wilhelmina holds the unconscious Margery Daw and looks to the sky.
Thoughts/Review:
Egad! If the Serpent of the Festival (I guess most folks use the term "Snake" instead of "Serpent") is Alastor's equal and opposite, then I guess Alastor could have take human form too, if he had wanted to. I wonder why Serpent of the Festival doesn't reveal a regular name other than Yuuji's?
As I thought, Yuuji did what he did to protect Shana, and though I didn't state it, it makes sense that his other friends and family were also included. I can't imagine the Trinity being too pleased with Yuuji bringing a Flame Haze into Seireiden. So what will they do about it?
Yuuji's wanting to change the world seems an odd thing to me in some ways.  If the Tomogara are defeated, wouldn't that do the trick to protect his loved ones? I guess Yuuji feels that creating some new world is the best way, which is what the Serpent of the Festival wants.  Methinks Yuuji is being betrayed, even if the Serpent is allowing Yuuji to do his thing.
I had wondered why Yuuji didn't remove the Haridan in the previous episode since it is a useful tool against the Tomogara. Well, he was just waiting until after he'd secured Shana.  So, what do Tanaka and Kazumi do now that the Haridan is gone?
Well, one thing about it, the mystery of the Silver was revealed. I couldn't remember the whole story about Margery Daw and the Silver, so I did have to refresh my memory.  Still, I was surprised to learn that the Silver is not a Tomogara, but something else that acted on Margery's secret wishes.
I've no doubt that Wilhelmina and Tiamat will tend to Margery as I don't think her contract with Marchosias was actually terminated. I do wonder what Margery will do when she becomes conscious and how will this affect her ability to fight.
So, a really good episode. Can't wait to see how things go from here.