ラストエグザイル-銀翼のファム-/Last Exile: Ginyoku no Fam episode 17
Last Exile: Fam, the Silver Wing – 17

SPOILER Summary/Synopsis: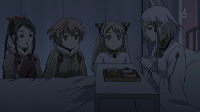 Although the 3rd Fleet has joined the Allied forces, there is much distrust, considering the destruction the 3rd Fleet did to Glacies. Dio, who's been recuperating from his injuries, makes a break from the hospital ward in Boreas, when he stumbles into Sārā's chambers, where the young empress has been unwilling to eat.  Since Dio is hungry, Sārā escorts him back, where they run into Fam and company.  Back in his bed, Fam and Gisey explain the hardships that Millia is going through with everyone considering Liliana a traitor witch, and the hardships Sārā is going through, since she blames herself for the fighting.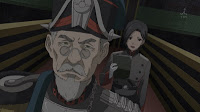 Fam, Gisey, and other Sky Pirates go on patrol when Fam and Gisey spot the 1st Fleet and its vanguard fleet. General Sadri allows Fam to report her findings, and the Allied forces scramble to meet the challenge. Although the Glacies pilots haven't forgotten, nor forgiven Ōrang and his fleet, they race ahead of the nervous 3rd Fleet captains and target 1st Fleet Vanship carriers, Magiritas and Imperium. With those two ships sunk, the Allies have air superiority, but General Sadri knows there is mistrust among the allies and so has a message sent that gives orders to the 3rd Fleet to begin their pincer attack.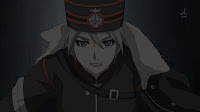 The Glacies fighters begin to take the bait and fly back to the 3rd Fleet, causing some 3rd Fleet captains to open fire in panic. Ōrang orders that Admirari (Jagannath/Juggernaut) and the remaining 3rd Fleet ships not return fire after Dian's flight engages them. Dian is determined to sink Admirari when Fam's Vespa gets in the way. Dian and company return for refuel and rearming, allowing Dian to take out some frustration on Fam before returning to the fight, this time, ordering her remaining fighters to only go after 1st Fleet ships.  However, the fight seems hopeless until the Silvius appears, showing why its nickname is The Reaper, as it destroys many 1st Fleet ships, allowing Millia and Ōrang to retreat.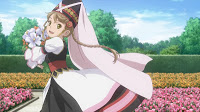 Back at Boreas, Teddy has a tearful reunion with Millia, while inside the base, Dio takes Alvis and Fam for a long drop down to Sārā's residence. Meanwhile, General Sadri has bombs planted on one of Boreas' rock cliffs, setting them off, and giving 1st Fleet the ability to fly in close to destroy the Allies. As this happens, Fam wants Sārā to stop the fighting, so Sārā issues an imperial decree.  Millia delivers a copy to Vasant to end the fighting. Fam and Gisey fly out to General Sadri's ship. Dian, knowing what they carry, tries to shoot them down, but Fam and Gisey manage to lose her. Delivering Sārā's message, General Sadri orders a cease fire. Sadri looks at the celebrating Fam, and is reminded of a girl named Laha.
Thoughts/Review:
Man, I seriously cringed when the Glacies forces so quickly took the bait that Sadri laid for them.  I know that there was distrust by them and the 3rd Fleet, but for a message to be sent that's easily read by all is too obvious a fake, in my opinion.  On the other hand, it is not unrealistic for there to be so much fear and distrust to cause some to go off like they did, but I guess I expected too much of Dian as a military leader.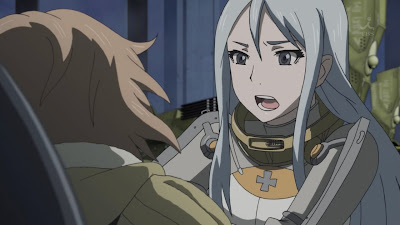 I was glad to see the Silvius return. We got to see why it has the nickname, "The Reaper," eh? *lol*  It was good to see Teddy and Millia reunited too.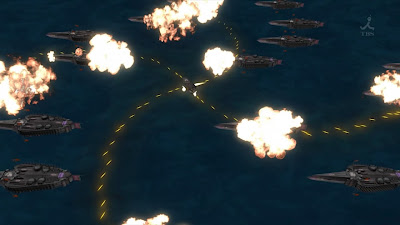 I know the official, FUNimation spelling of the nickname of the Admirari is "Jagannath," but it SOUNDS like the Japanese are saying "Juggernaut," and indeed, the term "juggernaut" comes from the god Jagannath of the Hindu religion. Indeed, if the nickname for the Silvius is "The Reaper," then it seems to me that the nickname for the Admirari would be "Juggernaut" — a term rather than a proper name. Oh well.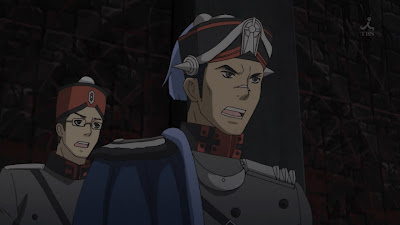 I like how Sārā truly became Empress when she issued her decree and had both Vasant and Sadri obey. If I am right about Luscinia trying to remove military forces, this will hamper his plans.  Question is, what happens now?  Does Sārā forgive Vasant?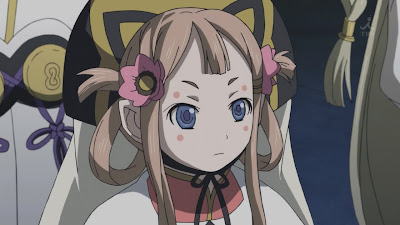 I wonder why Luscinia fears the Anatoray-Disith Exile.  It has been suggested by some that this Exile might be en route from Prester.  Further, it has also been suggested by some that Empress Sophia might be on this Exile with more of the Anatoray-Disith fleet.  I think these are reasonable notions since the canon, bridge manga only shows Silvius and Urbanus being loaded onto Exile.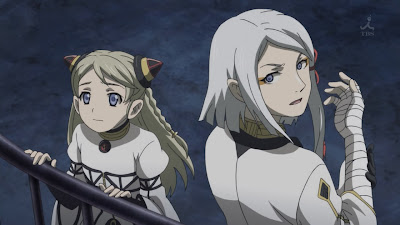 Finally, with Dio befriending Sārā, I can't help but think a bad flag has been set.  We'll see.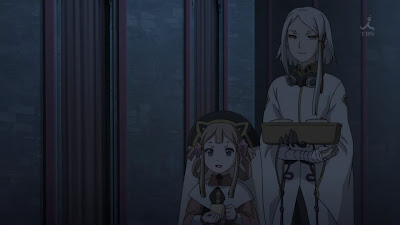 So, another good episode.