フェイト/ゼロ Episode 18
Fate/Zero – 18

SPOILER Summary/Synopsis: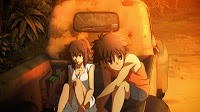 A young Kiritsugu is living on the island of Alimango, where his father is working on time manipulation magic along with his assistant, Shirley. Kiritsugu's father has managed to stop the time on flowers, so that they never grow old. While Shirley has practiced some, she's not skilled like Kiritsugu's father, and he won't allow Kiritsugu learn yet. Shirley tells Kiritsugu that one day, he'll inherit his father's magic research. However, she also tells him that the islanders don't trust his father and that Rev. Simon gave her a blade to protect herself. The next day, Kiritsugu's father asks if him if he'd been in the atelier. Since Kiritsugu hadn't, his father tells him to stay indoors. However, with Shirley not around, Kiritsugu goes to find her, only to discover that she'd turned herself into a vampire by accident, and she wants him to kill her.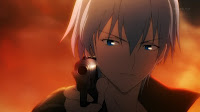 Kiritsugu gets Reverend Simon, only to have the priest attacked by zombie-vampires and turned. Kiritsugu sees church exterminators and mages slaughtering the vampires and burning the village. Kiritsugu flees from other vampires and is saved by a woman, who calmly shoots them dead. She explains that they are Dead Apostles, and gives some background. She asks about where the source is, so he takes her home, where he finds his father destroying notes. His father says they have to flee, and when Kiritsugu tells what happened to Shirley, his father's words let Kiritsugu know that his father was researching Dead Apostles. As such, he stabs his father with the dagger Shirley had been given, then takes a gun and kills his father. The woman takes Kiritsugu to safety off the island.
Thoughts/Review:
Backstory — loved it!
I've been fortunate to have a lot of knowledgeable people explain a lot of things in the Type-Moon universe. I seem to recall someone mentioning that one of the Type-Moon series deals with Dead Apostles and vampires, so now, I may have to check that out sometime.
Regardless, seeing this episode really does explain why Kiritsugu became the cold killer he was. After all, the older girl Shirley, who was like a sister to him (and I'm guessing he was attracted to her), was basically used by his father and became a vampire thanks to some potion of his father's. If I'd seen the girl I admire, to say nothing of my friends and their families, turned into vampire-zombies thanks to my father, I'd probably do the same thing Kiritsugu did.
One thing that puzzles me is that if Kiritsugu killed his father, and his father presumably had some sort of magic crest, did Kiritsugu obtain it in order to have the time manipulation ability that his father had?
Also, I didn't really understand the whole Sealing Designation thing that was mentioned. I'm guessing that Kiritsugu's father was considered rogue or something, and thus why so many members of the Church and Mages were on the island after the infestation broke out.
It really is a shame about Shirley.  I'd never heard of her before this episode, yet I found myself liking her a lot rather quickly, thus making her death more tragic. Kudos to the writers for that.
Finally, the woman who rescues Kiritsugu is someone I'm going to presume decided to raise him.  I seem to recall someone mentioning a woman who wasn't his mother raising him.  It would be interesting to get a little more background information about Kiritsugu growing up and partnering with the Einsbern family.
In the end, we had a surprising backstory episode that was really quite enjoyable and explained a few things regarding Kiritsugu's attitudes today.