フェイト/ゼロ Episode 24
Fate/Zero – 24
SPOILER Summary/Synopsis:
Iri's body turns into the Grail as Saber fights a desperate battle with Berserker and manages to win, spelling the death of Kariya. Elsewhere, Kiritsugu faces Kirei, who manages to not be stopped by Kiritsugu's Origin Bullet. Further, as Kiritsugu speeds himself up, Kirei does the same, landing a blow that should have killed Kiritsugu. However, Avalon restores Kiritsugu so that he's able to make Kirei's right arm useless. As the two continue to fight, the Grail overflows, causing the floor to collaps and the liquid to spill onto the combatants. It is then that Kiritsugu has a vision of Iri and learns this is the Grail.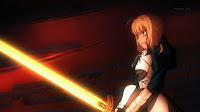 Kiritsugu does not jump at the chance to have his wish granted, but instead asks questions, causing the Grail to change the vision so that Kiritsugu sees that in order to bring his Iri back to life so that he is reunited with her and their daughter Ilya,  everyone else on Earth has to die, thus obtaining the peace he desired. Kiritsugu rejects this and after the Grail shows it is the only way, he kills "Ilya," then strangles "Iri," but not before the Grail reveals itself to be Angra Mainyu and curses Kiritsugu. The vision over, Kirei has seen it too and doesn't understand why Kiritsugu rejected the Grail. Kiritsugu shoots Kirei and heads to the Grail, where he finds Saber being taunted by Archer. He uses his two Command Spells to order Saber to do what she doesn't want to do — destroy the Grail.
Thoughts/Review:
Well, this was a jacked up episode for sure, and there have been many of those. Basically, Kiritsugu having to kill both Ilya's and Iri's images was messed up enough.  However, being the assassin that he is, he's had to kill people he's loved before.
The fight between Saber and Berserker was over so quickly, and without any of the conversation and flashback that I had expected to see.  I figured that we'd have seen Saber and Lancelot working together, then the events that led to Lancelot becoming Berserker.  Oh well.
The fight between Archer and Saber was nothing either. I know you guys have stated that Archer never really gets serious, which is stupid and why he doesn't win this war.  Seriously, when I look back at it, bloody Tokiomi was an absolute arse in all this. Rather than play footsie with the Church and do this whole, stupid Assassin crap, he should have just had Archer go out and wipe out the other Servants immediately.  Yeah, there's Archer's attitude problem, but the fact of the matter is that he is a Servant.  If worse came to worse, Tokiomi could have had the Church give him extra Command Spells to pull it off.
The fight with Kirei and Kiritsugu was more interesting, but I kept thinking, "So, just how does Kirei have so much power to match Kiritsugu's speed?"  Yeah, I know he has all those Command Spells and the mana they produce, but still, it didn't sit right with me.
Oh well.  Nothing left now but for the magical stuff to happen to Archer and Kirei, Saber to do her thing, and then Kiritsugu to save Shirou.