フェイト/ゼロ
Fate/Zero anime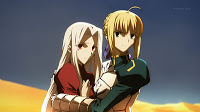 Having become a fan of the Fate/* franchise after watching Fate/stay night, I was pleased to hear that a prequel anime series would be based off of the 4-volume light novel series of the same name, entitled Fate/Zero.  Although my viewing was based off of the TV version, which is edited for time and content from the DVD/BD version, I found the prequel to be better than expected.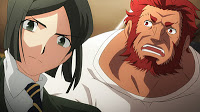 One of the problems Fate/stay night had as an anime is one that all anime adaptations of visual novels have.  In a visual novel, there isn't just a single ending.  Discounting the "bad endings," whereby your choices in the visual novel lead you to a negative story conclusion, there are multiple paths a visual novel reader can take which will lead to a successful conclusion of one kind or another.  Unfortunately, many of these paths are not compatible, thus when attempting to put multiple paths into a single story, things don't always work so well. That was FSN's problem when it came to story flow. With Fate/Zero, this issue is avoided since there is only one story from the visual novels.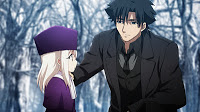 Another way Fate/Zero trumps Fate/stay night is by being a darker, more mature story.  FSN fell into a typical harem aspect where the lead teen male is a nice guy suddenly thrust into a world he knew nothing about. However, he has a bevy of babes around him, all of whom are in love with him, and he manages to make it through, but has to choose a babe as well.  Fate/Zero is an adult world where most of the people participating are well versed in this Grail War and aren't saddled down with other issues like homework, going to school, or even choosing a babe to be your main squeeze during those hormone-filled days and nights.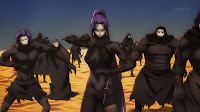 Fate/Zero is a character series, where the action is only the frosting on the cake. We have a collection of flawed characters who enter the Grail War, each with their own agendas.  While the central focus of the series is on Kiritsugu, the man who would eventually adopt Shirou from Fate/stay night, I liked that the anime took time to look at the other characters, including the murderous psychopath Ryuunosuke. The series examines not only the Masters, but the Servants as well, all of whom are flawed in one way or another (though Assassin comes up on the short end of the stick, and isn't examined at all to my memory).  I found the character explorations to be very interesting.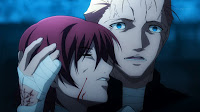 The TV series does suffer some from having to be edited for time and/or content. Granted, I didn't need to see more of Ryuunosuke's and Caster's gory orgy of slaughtering children, but some edits for time meant that certain explanations or moments are left out.  The result is that those who've not read the light novels can easily get confused at times, not clearly seeing how the TV version got from one point to another.  These cuts also mean some fights are less than satisfying.  It isn't massive issue, and those watching the DVD/BD releases won't experience this problem at all.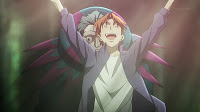 Someone asked about the melodrama factor for Fate/Zero. I will admit that the psycho, serial killer Ryuunosuke and his Servant, Caster, are the most melodramatic elements of the series. Obviously, a young male who gets off on killing kids, and someone brought back from history to fight a supernatural war for the Grail who enjoys tormenting kids before butchering them, is going to evoke powerful emotions, both of rage against the psychos, and pity for the poor children being slaughtered.  However, this is only a small portion of the anime as a whole, and even then, Ryuunosuke's twisted mind and Caster's twisted mind and motivations are looked at.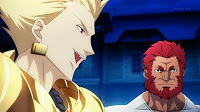 By the end of the series, I did have one other small problem, but I allow it to slide because of the other positives.  The character of Archer is massively overpowered, and once it is shown just how powerful he is, one thinks, "Why didn't Tokiomi simply have Archer mop up the floor with the others and just win it all?"  Instead, Archer is so arrogant and lazy that the war lasts entirely way too long (after the final Servant was summoned, it should have been over 24-hours later). Not only that, but Tokiomi gets into a complicated scheme to try to make sure to win the war, which was fine initially, but once we see how powerful Archer is, it seems like a colossal waste.
In the end, Fate/Zero is a series I found to be a compelling character drama with action on the side and a bit of melodrama thrown in as garnish. It is far superior to Fate/stay night as an anime and well worth taking a gander at.