ダーティペア (Features Movie & OVAs Anime)
Dirty Pair Features DVD Collection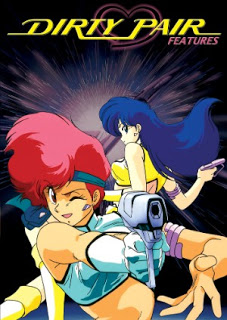 There's a certain level of sadness for me as I write this post, seeing as how this is the last of the original Dirty Pair set of anime titles to be created in Japan, and now released in the U.S.  As I've said, the original Dirty Pair franchise is a personal favorite of mine (you can keep Dirty Pair Flash), and it is just mindless fun for me to watch Yuri and Kei go on their merry, destructive way as they solve cases.
For those unaware of the Dirty Pair franchise, the series revolves around two, 19-year old, female Trouble Consultants for the 3WA organization (Worlds Welfare Works Association) named Kei and Yuri. 3WA is a private, police corporation who get contracted to solve various interstellar crimes, or to just lend a hand where needed. Yuri and Kei's official code name is "Lovely Angels," but due to the highly destructive nature of the pair when solving cases, they have the detested nickname of "Dirty Pair."  Further, the two are well known for their skimpy battle dress uniforms, with Kei in a silver costume and Yuri dressed in gold costume.
For this final release from RightStuf/Nozomi, the feature movie Dirty Pair: Project Eden, as well as the two OVA "feature" releases Dirty Pair: Flight 005 Conspiracy and Dirty Pair: Affair of Nolandia (I guess they are being classified as features because both OVAs clock in a little under an hour in length).  As such, Project Eden is the only one in widescreen as it was a feature movie, while Flight 005 Conspiracy and Affair of Nolandia are 4:3.
Of all of the original Dirty Pair titles released, the Affair of Nolandia is the worst, with terrible character designs, a horrible story, and cheesy music.  I remember when I first saw this several years ago, I was shocked, more so since this OVA was done shortly after the TV series ended, but seemed to just be slapped together. Thankfully, the Project Eden movie and the Flight 005 Conspiracy OVA are more of the standard, action-filled, fun fare we've come to expect from the original Dirty Pair girls.
On the Nozomi/RightStuf side of things, each "feature" is on its own disc. As mentioned before, Project Eden is shown in widescreen and has the limited extras of a Japanese promo trailer as well as a U.S. promo trailer. The Flight 005 Conspiracy extras contain line art and a Japanese promo trailer. For the Affair of Nolandia, the only extra is line art. All three titles have two dubs — the old one from Streamline Pictures, and the later redub from ADV Films.  Otherwise, it is a pretty bare-boned release.
While I may not like the Affair of Nolandia OVA, I am glad to have this "Features" set for the Project Eden movie and the Flight 005 Conspiracy OVA.