ハヤテのごとく!/Hayate no Gotoku Chapter 372
Hayate the Combat Butler Manga Chapter 372
SPOILER Summary/Synopsis:
Ayumu is stunned by Ruka's apparent course to confess her love for Hayate, so she decides to put a stop to it and not lose to an idol. As such, Ayumu cites how Hayate is living in a place full of beautiful young ladies and he hasn't touched any of them. Ayumu points out that normal guys would have caved in three days, implying there could be something wrong with Hayate, but also stating that Hayate won't fall for the normal methods.  Ruka decides she needs to jump to the kissing stage, staggering Ayumu, who has to whack Ruka with a harisen and remind Ruka that she's an idol and can't do that, which Ruka agrees with.
Hayate returns with Chiharu, so Ruka asks him what he'd do if a girl confessed her love to him. He laughs it off, citing how Chiharu had asked the same thing, which Ayumu and Ruka interpret to mean that Chiharu confessed to Hayate. To Ayumu's and Ruka's surprise, Hayate is dismissive of anyone confessing to him.  Seeing Chiharu smiling, the two assume that she's just hiding the pain of rejection, both offer her their kebabs during the party to cheer her up.
Thoughts/Review:
Heh!heh!heh! Ayumu has always been up against tough rivals for Hayate's love simply by the fact that many of the girls that like him are ojousama's with lots of wealth (though Nagi has lost hers for now), or like Hina, are doing quite well financially.  Ayumu is a girl from a family that isn't well off, so that's always been a disadvantage. Now, she's up against an idol, and that's just a whole other fight, which amused me.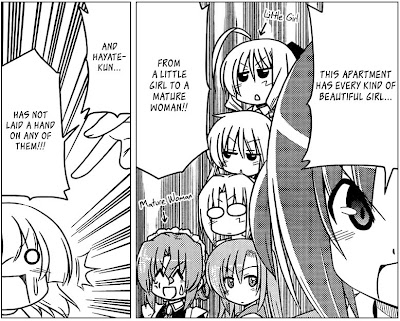 Still, much as Ayumu and Hina are friends and rivals, and Ayumu and Nagi are friends and rivals,  I predict that Ayumu and Ruka will become friends and rivals as well.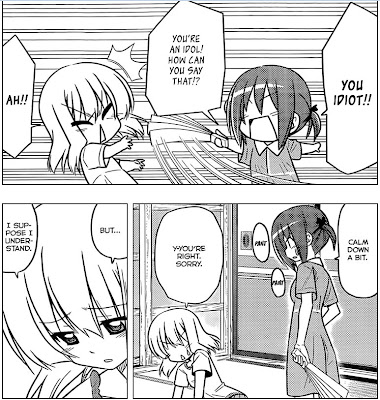 I got a chuckle out of Ayumu and Ruka misunderstanding what Hayate said about Chiharu, thinking she confessed to him, which she hasn't (yet). So much of this manga is based on misunderstandings, starting with Nagi's and Hayate's first meeting.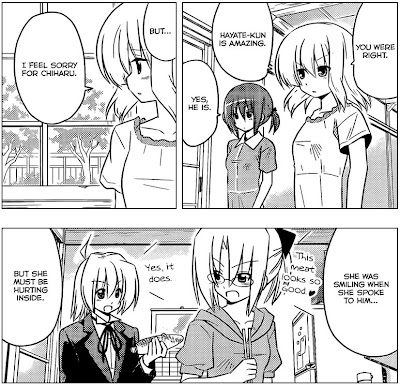 Not much else to say. This was one of those lighthearted chapters which wasn't laugh out loud funny, but does manage to bring a smile to my face every time I read it.