とらドラ!
Toradora! Vol. 04 (manga) 
–> BUY FROM RIGHTSTUF!
–> BUY FROM BARNES & NOBLE!
–> BUY FROM BUY.COM!
***SPOILERS***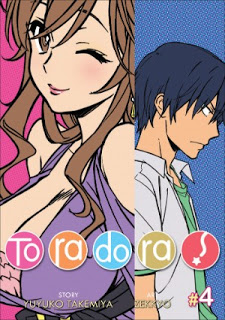 Highlights from this volume start with Taiga's concern over swimming class, where her small breast size will become apparent. Ryuuji sews some pads into Taiga's swimsuit so that when Taiga shows up at the pool, she fools Ami and the others, but not Minori. Ami, not realizing Taiga can't swim, ends up nearly making her drown by tossing Taiga into the pool at one point. Taiga doesn't accept Ami's apology, so Minori arranges for them to have a competition instead. Ami selects swimming, so Ryuuji bets on Taiga in the class pool. Ryuuji sets out to teach Taiga to swim, but ends up angering her. As such, on the day of the competition, Taiga gears up with many floatation devices. Despite Taiga's stripping Ami of her bikini top, Ami wins after Ryuuji has an accident, forcing Taiga to save him.
With Ami having won the contest, she claims her prize — Ryuuji spending the summer with her.  However, when Ami and Yuusaku answer Ryuuji's summons to the restaurant that Minori works at, Taiga informs Ami that she'll be accompanying Ryuuji to Ami's place, citing how she views Ryuuji as her pet, thus as his master, she has to make sure he's OK. Ami is forced to allow this, and the five set up days to spend with Ami. At the appointed date, the group heads to her summer "cottage," which is larger than any of the other's main home.
As usually happens, when I read the manga, I recall the anime and then feel an urge to pull out my DVD's and rewatch the series (and I probably would if I weren't so pressed for time).
Anyway, it is fun seeing Taiga's growing feelings for Ryuuji, even if she is tsundere about it.  It is also amusing seeing Ami and Taiga's rivalry, especially knowing that this will eventually turn to friendship.
The funniest part for me came from the moment when Ryuuji's mom randomly decided to let Taiga see her large breasts since Taiga had been obsessing over breast size.
I find myself struggling to really write about the content portion of the manga though, since I blogged the entire anime.  The manga has the same content as the anime had, from what I can tell.  That being said, for some reason, I thought I remembered Taiga losing her "falsies" at one point in the pool.  The manga doesn't indicate this, and I'm not where I can pull the DVD's (not that I have time to search).  If it was an anime-only item (assuming I'm not confusing this with some other title), its absence is not a problem with me.
Still, despite my struggles to come up with anything intelligent to say, I do like reading the manga and reliving the fun.
On the Seven Seas side of things, the Japanese honorifics are included. I have never mentioned the adaptation before, but for some reason, it really struck me this time. I think it was the usage of French in the translations that did it, as I doubt French was used in the Japanese text. I could always be wrong though.  I'm not saying it was wrong, but when things like that stand out to me, I tend to become suspicious, wondering what things were changed to make the adaptation seem more hip.
There are no translator notes of course, now that Seven Seas doesn't do them.  I guess I'm a weird one in that I liked reading why translators choose to do things they do, or to gain some further Japanse cultural insight.  It seems that most everyone else never read translator notes.  Too much text and not enough pictures, I guess.
Anyway, I do like the manga and look forward to picking up the next volume.