うる星やつら/Urusei Yatsura Anime Review (Final Thoughts)
* * * SPOILERS * * *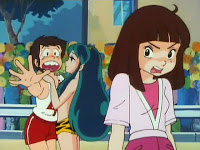 It was a little over eight years ago  (2004) that I decided I should further my anime education by watching the beloved, classic anime title, Urusei Yatsura, the first big hit from the now mega-successful manga-ka, TAKAHASHI Rumiko-sensei, who'd go on to make such other successful titles like Maison Ikkoku, Ranma 1/2, Inuyasha, and currently, RIN-NE.  After all, Urusei Yatsura is a title that influenced many of today's manga-ka and anime producers in Japan.  Even now, Lum-chan and her tiger-striped bikini are basically cultural icons of Japan, as much as something like Bugs Bunny would be to folks in the United States.  And so it was that I began my journey into this 196-episode series (195 episodes plus one TV special) in September of 2004.
The Story, in Brief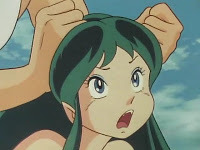 For those who don't know, Earth is invaded by aliens, known as the Oni, who look much like the oni of Japanese legends.  Their leader chooses his daughter as their champion, and high school boy Ataru agrees to be Earth's champion after seeing how hot Lum looks in her tiger-striped bikini. Ataru is given ten days to simply grab Lum by the horns, a task which proves harder than thought since Lum can fly.
With time running out, Ataru's girlfriend, Shinobu, says she'll marry Ataru if he wins.  So in order to marry Shinobu, Ataru goes all out on the final day, managing to snag Lum's bikini top from her so that as she goes for said top, he's able to grab her horns. However, when Ataru mentions getting married, Lum assumes he wants to marry her, thus starts a new life on Earth with her "Darling."
The First 21 Episodes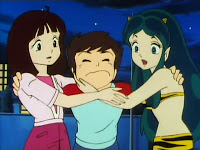 For the most part, the first 21-episodes are composed of two, sometimes unrelated half-episodes.  There's an intense rivalry between Lum and Shinobu for Ataru's affections, with Ataru wanting Shinobu, but finding Lum constantly in the way since Lum considers herself betrothed to Ataru. Actually, it is weird seeing Shinobu in love with Ataru since for the overwhelming majority of the series, she tolerates him at best, while holding an infatuation with Shuutaro. Even characters like Sakura-sensei, who has a very low tolerance of Ataru or most of the horny boys at school, is much different when she's first introduced, wearing sexy clothing and having a more sexy nature.  Ataru's lecherous behavior is also not funny at all in those early days.  Indeed, I couldn't understand how UY became so popular in Japanese culture.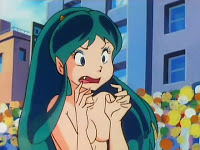 Something else that might surprise viewers starting from episode 1 is the nudity.  While Urusei Yatsura has always been a series full of fan-service, early on, Lum shows up all the goods upstairs.  For those unprepared for that, it will come as quite a shock since this kind of thing hasn't really been tolerated in televised anime for quite some time now. Heck, even I'd forgotten about that aspect until I went back to view early episodes and thought, "Wow. Yeah, Lum really did lose her top and let the world see."  However, the fan-service is mostly relegated to Lum in a bikini, or other characters in skimpy outfits, bathing suits, or underwear.
Episode 22 to 105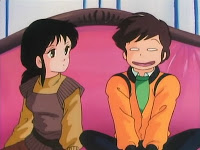 Starting with episode 22, the series shifts to full episodes, and with them, the series starts taking more of the shape that most remember it.  Eventually, the Shinobu-Ataru-Lum love triangle is dropped as Ataru becomes more girl-happy and Shinobu becomes interesting in Shuutaro. From there, the series is mainly full of misadventures, often filled with bizarre, wacky, or surreal elements that for the most part bored me. Oh, there'd be moments here and there where I'd find a laugh, or a nice moment such as the end of episode 10 when Ataru notices Lum as a woman, but more than a sex object (which is how he first viewed her when he met her).  As is common in a Takahashi-sensei title, more and more characters slowly get added to the mix, most are put on the shelf after their initial run to be brought out later from time to time.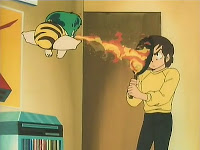 Although the series improved after episode 22, it was still a struggle for me to watch it, and for a time, I even started blogging multiple episodes at once.  For those rare moments when Ataru treated Lum nicely or showed that he really did care about her, the rest of the time, he was an arse to her.  The only growth Ataru has as a character is going from more of a jerk, to more of a comedic aspect when it comes to his girl hunting. Further, instead of Ataru being on the receiving end of abuse from the ultra annoying Ten-chan, Cherry, or other like characters, Ataru is allowed to beat and abuse these characters.  As a more devious person, Ataru becomes funnier, especially when allowed to hold his own against Megane, Shuutaro, or others.  So those were improvements, but for the most part, I just struggled to muster the will to watch another episode.
Episode 105 Forward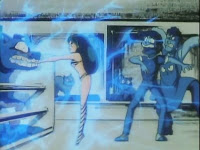 Starting with episode 105, there was a massive improvement in the series. The writing greatly improved and stories started becoming more interesting, funnier, but also at times, more serious. For example, when Ataru does what it takes to get Lum out of Shuutaro's clutches.  Lum's attempts to punish Ataru now often have collateral damage, which often make the whole thing funnier (at least for me). However, even though there is massive improvement from episode 105 until the end, the series is still saddled with tedious things like Kitsune episodes, Ran episodes, Fujinami episodes, and the like. Those were always a reminder of how bad the series could be at times.
Cameos Galore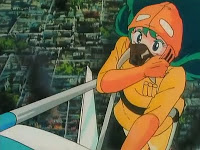 One thing I noticed a lot of in the later third of the series were the tributes Urusei Yatsura made to other anime titles as well as noted science fiction, and superhero stuff from the United States. As such, there were numerous references to Star Wars in the series (as well as other things like Ghostbusters or Aliens), but there were also references to things like the Incredible Hulk or Spider-man.  The series had always made cultural references to Japanese mythology from the start, but then broadened that to not only include anime (such as Dirty Pair, Nausicaä of the Valley of the Wind, Lupin III, etc.), but also popular Japanese kaiju like Godzilla, Mothera, or Gamera.
Bottom Line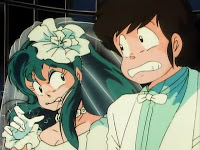 So, how do I rate this?  Was it a waste of time?  Believe it or not, I don't consider watching the series a waste of time. I set out to gain an education, and that's exactly what I got.  The Japanese have a long history of looking to their own culture as well as Western influences when it comes to making comedies, and it shows here.  Series like Hayate the Combat Butler, Kannagi, or even Haiyore! Nyarlko-san take influence from Urusei Yatsura.  Further to that, one can see how Urusei Yatsura influenced people like KAJISHIMA Masaki-sensei of Tenchi Muyo! Ryo-ohki fame so that he then fathered the modern harem genre in anime and manga.  In addition, while many episodes may have been tedious and boring, others were outrageously funny and entertaining.
While I probably will never rewatch the series, I would recommend the series for others to watch, especially those interested in furthering their education in anime/manga classics.