Urusei Yatsura: Itsudatte My Darling Movie Review 
うる星やつら いつだって・マイ・ダーリン 
SPOILER Summary/Synopsis: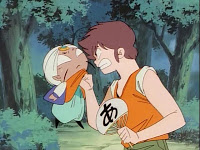 It is a Japanese summer festival and Oyuki and Benten have dropped in for the fun. Ataru is doing his girl-hunt as four, small alien beings, dressed in Arabian-type garb, hunt for him since Ataru is the most lecherous person in the universe. The four aliens manage to nab Ataru after some failed attempts, where they take him to their UFO. There, Universal Princess Lupica awaits, so Ataru goes into his normal "OJOUSAN" mode, forcing her to use her bazooka-type weapon on him. She wants him to go to the Holy Temple planet and retrieve a special jar there, after which, she'll agree to date Ataru. He ponders this, imagining marrying Lupica, then agrees to start the chase again. After much effort, they manage to drug, bind, and cage Ataru.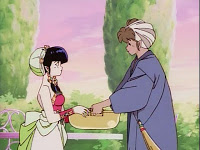 Meanwhile, Lum has discovered Ataru's abduction and gets Benten and Oyuki to help her try to find Ataru, whom she incorrectly believes to be suffering. While they search, Lupica's four helpers are concerned that she's not interested in seeing the pictures of potential suitors, since she must marry before she can become queen. A tofu vendor on a flying bicycle arrives, so Lupica orders a large amount of tofu from the guy. Although their transaction and conversation is all business, it is clear that Lupica is in love with the vendor.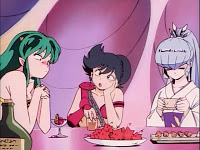 Lum learns from her parents that someone has been investigating Ataru because of his lecherous nature. Lum is convinced that this person is the abductor, but the trail is cold. Lum, Benten, and Oyuki stop at a bar on some planet where Lum gets drunk on umeboshi, frustrated that the police won't do anything. At a nearby table, the tofu vendor, named Rio, hears from his friends of Lupica's potential marriage. They joke that since he and she were childhood friends, he should propose, but he knows that such a marriage could not happen due to their differences in class. Meanwhile, a fortune teller tells Lum about Ataru and the Holy Temple planet, but they leave before the old woman can warn them of the dangers.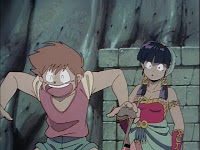 On the Holy Temple planet, Ataru's lust powers are indeed what was needed in order to get passed all the traps. They arrive at a room with a wall carving of a deity of lust. Ataru's desire to kiss and be with Lupica is so great, that his aura becomes visible. The power of said aura is enough to trigger the giant carving to allow them to pass through the door, where they find a large room, mostly in ruins, the center of which contains the vial known as the Crystal Jar, which holds the Ultimate Love Potion. Ataru takes it, but Lupica snags it from him and flees with her aides as the floor crumbles beneath Ataru. As Lupica and the others try to escape, they find themselves in a mausoleum, where Ataru pops out of a sarcophagus and takes the Crystal Jar.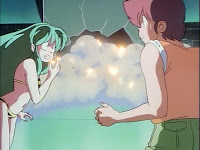 Lupica is about to kill Ataru for the jar when Lum arrives to rescue him. Lum gets Ataru outside, with Lupica and company in hot pursuit. Benten is on her flying bike to provide cover for Lum, leading to Benten and Lupica engaging in a major firefight, destroying the temple that had held the Crystal Jar. Benten returns to her ship and prepares to warp as Ataru laments not having gotten to kiss Lupica. However, he still has the Ultimate Love Potion, thus begins plotting whom to use it on first. Lum shows up, aware of what he's up to, so Ataru flees. Lum sends a lightning ball at Ataru which ends up destroying the navigation console, sending the UFO into warp.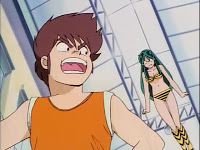 The ship crashes into the Tomobiki High School, specifically into Onsen-sensei's class. Ataru pops out of a hatch, with Lum in hot pursuit, frying Onsen-mark in the process. Benten lets it out that the latest fuss is over the Ultimate Love potion, which causes nearly everyone in the class to go after Ataru, save Shinobu and Ryuunosuke. Benten wants to watch the fun, but Oyuki stops her, pointing out that there could be a chance that Ataru might make Benten fall in love with him.  Lum's pursuit of Ataru leads her into the back of a cargo trailer, where Ataru closes the door, trapping her as the truck hauling the trailer drives away.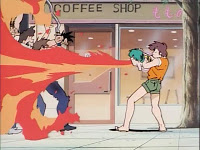 Ten-chan interrupts Ataru's victory by breathing fire on him and demanding the potion. The guys from the school come rushing in, so Ataru uses Ten-chan against them. As Ataru flees, he encounters him mom doing some shopping, pausing for a moment to greet her, then fleeing again. By the time Ataru is caught, he doesn't have the potion, which he'd put in his mother's shopping basket. He tells them that it is in the Tomobiki River, which they start searching, as Lum comes home and discovers Ataru's mother has it.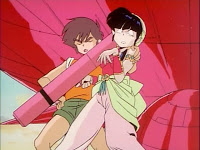 Meanwhile, Ataru has the guys digging up the school grounds to find it until Shuutaro strings him up. Ataru deftly manages to avoid Shuutaro's blade repeated when Lupica shows up with her aides. She blasts the area, causing Ataru to be free, but she demands the potion from him. Despite getting whacked and shot, Ataru refuses to speak the truth, telling her the potion is at the bottom of the Tomobiki River. She leaves to find it as Ataru races home to retrieve the potion. He takes a glass of juice and drinks it, not realizing Lum has spiked it. Once Lum reveals this, he desperately tries not to look at her, even as Lum fries him.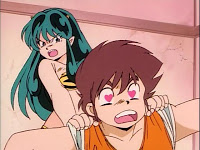 Lupica blasts onto the scene, demanding the potion. Ataru looks at her and instantly falls in love. Lum is angry since she was so close to getting Ataru to only look at her. Lupica is not happy that Ataru is under the influence of the love potion, but it does tell her she was right. With great difficulty, she manages to escape Ataru. Lum is unable to shock Ataru free of the effects of the potion, so she goes off in pursuit of Lupica. Lum catches her and the two have angry words since there's no antidote. Ataru shows up, but can't be fended off of Lupica easily. Lum wants to know whom Lupica intends to use the potion on. She won't say, and when she finally manages to get free of Ataru, her aides beam her up to the ship and take off.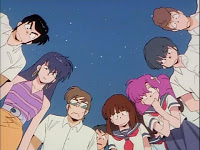 A dejected Lum returns with a heartbroken Ataru, and they are met by all of their comrades. Upon learning what happened, they test to see whether Ataru really does only have eyes for one girl by having Sakura-sensei and other girls come close to him. All Ataru does is wail for Lupica-chan. Lum shatters the vial and leaves in frustration. Meanwhile, on Lupica's planet, Rio pays a visit. Lupica orders an insane amount of tofu, then offers him a drink, which is observed by Benten and Oyuki. Rio asks about her suitors and she confirms it. He recalls their childhood, when he met the ailing princess while helping his father deliver tofu to Lupica's family.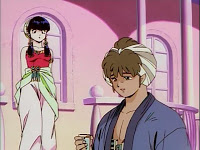 Lupica demands he drink the beverage she gave him, so he does. However, it does not have the desired affect, causing her to be so distressed, she shuts herself up and Rio rides away. On Earth, Ataru is still pining for Lupica while in space, on the planet bar where Lum and company met the fortune teller, they meet with her again, finding a way to return Ataru to normal. They ditch the old lady again, meaning she's stuck with a massive bar bill. However, Lupica arrives and offers to pay it.  Elsewhere, a depressed Rio drinks with a friend, becoming upset at hearing about how often Lupica has been going to Earth and that she might have found someone there.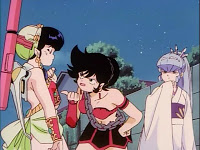 On Earth, under the moonlight, Lum follows the fortune teller's instructions and where she'd broken love potion vial, a Moondrop flower emerges and blossoms as all of Lum's friends observe. Lupica arrives, blasting them out of the way, demanding the flower. Lum angrily states that she needs it for Ataru. Her friends back her up, citing how Ataru would pursue Lupica forever. Benten and Oyuki challenge her since they know she has feelings for the tofu vendor, but Lupica decides to attack and take the flower. Lum, Benten, and Oyuki give chase as Lupica's UFO provides her support. Shuutaro has the Mendou military attack the UFO as Ataru's parents worry about how much trouble Ataru is causing them.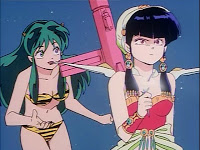 Benten and Oyuki run into Rio, who happened to be on his way to Earth. They explain to him that the battle is due to Lupica trying to get a love potion for him. Rio refuses to believe it, but he also refuses to confess his true feelings of love to Lupica, which would solve everything. Meanwhile, Lum and Lupica are in a cat fight until Benten and Oyuki arrive with the captured Rio, demanding Lupica hand over the flower for Rio. Ataru arrives on Rio's flying bicycle and is like static cling on Lupica, frustrating Rio to no end. Lupica's struggles cause her to lose the flower, which Lum snags. Lupica won't give up and takes Ataru hostage, but a lucky shot from Shuutaro's tank prevents that from happening.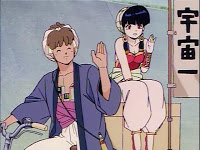 Lupica falls, "chased" by Ataru and followed by Lum. The frustrated Rio breaks free and grabs Lupica, fending off Ataru. Oyuki encases them in a giant ball of ice, which after being tossed around for a bit, lands by the river and shatters. Unfortunately, the Moondrop flower wilts with the dawn, so Lum stuffs the entire plant in Ataru's unconscious mouth. Ataru wakes up and recognizes Lum, but is soon up to his old tricks. Lupica cries over Rio as he wakes up. He gets up and offers a bashful proposal, which she eventually accepts. Everyone cheers them and Rio takes Lupica to his bicycle, putting her on the tofu box, and riding off with her servants in tow.  Cherry shows up with a 4000 year old Chinese love potion and tosses it at the crowd, who dive to catch it.
Thoughts/Review:
I was told to watch this movie before the fifth movie, mainly because the fifth movie bookends the the movies with the first movie. So, that's what I did.
This movie was done for the tenth anniversary of the anime franchise, so the production team went way out of their way to make sure that every character, including minor ones, got a cameo, even if it wasn't a speaking cameo (well, now that I think about it, I don't recall seeing Kitsune, but the little fox may have been in a crowd show since some cameos were done there).
The story of the movie itself isn't about Lum and Ataru, but rather Lum's insecurities, followed by Lupica's and Rio's own insecurities in their own love story.  Throughout the series, Lum has occasionally resorted to some sort of trick, magic, etc. to force Ataru to love her and only her.  It has always failed, but as this instance proved, Lum again goes for the magic approach in a vain attempt to have her deep love of Ataru reciprocated.
As I watched the movie, it occurred to me for the first time that while Lum clings heavily to Ataru, or she punishes him severely, she never does the one thing that would actually work; she never entices Ataru. She's so desperate for attention and affection from Ataru that the idea of seducing him, or even playing hard to get never crosses her mind. As a result, her insecurities result in adding more problems to the ones already there as a result of Lupica's insecurities.
This brings me to the other half of the story — the romance between Lupica and Rio. There, the class wall kept the two from trying to confess, so Lupica made do with seeing Rio once a day as she made large purchases of tofu from him. For his part, Rio was just happy seeing Lupica once a day to sell her tofu. It never occurred to either of them that the other was in love with them, so Lupica goes in search of a love potion and Rio can't accept that Lupica might end up with someone else, though he can't bring himself to confess to her.
Within this framework of a plot, the writers of this movie went for the one thing that always brought the biggest laughs during the TV series (at least for me) — the chase.  When Ataru is desperately chasing some girl, he exhibits superhuman traits of being able to take massive amounts of damage, being able to run as fast as a vehicle, he's able to locate a woman who's not even in eyesight and pursue her more, he's able to break out of bonds, and do all sorts of other stuff, all to get to the girl. These were things that always made me laugh.
For this movie, having Ataru's lecherous behavior be the key for Lupica to get the love potion worked well and provided a lot of laughs. Ataru showed his normal tenacity in these things, which for me resulted in a very fun and humorous ride.
I felt the writers really worked hard on the comedy aspects. For example, when Lum, Oyuki, and Benten are at the bar, I laughed at the massive jar that the old fortune teller used as a beverage mug. Further to that, I laughed at Oyuki making sure that this was on Lum's tab and not theirs. Then, when they casually ditched the old lady, I laughed again because I just didn't expect to happen. When the writers pulled out the same jokes again later on, I still got a laugh because the old lady didn't get away, and that made the old gag new.
Of course, there was the normal craziness of an Urusei Yatsura outing. Since the production team needed to make sure certain trademark things happened, we got Cherry doing his unexpected appearances and beatings; we got Fujinami-san coming in on the water and getting knocked into orbit; we got Ran feeding Rei, and Rei turning into his "cow" form; we got the Mendou military; etc. Some of these things were a bit out of place, but not so jarring as to detract from the overall whacky fun of the movie.
The character designs were pretty different for this movie, but not offensively so. Oddly enough, I did wonder if Trey Parker used this movie as his inspiration for the character designs of South Park though, especially with the chibi version of Ataru and the character designs of Lupica's staff.
I'm betting that the reason most people don't like this movie is because this movie isn't how one should end a franchise, which was the case until the 12th OVA was released. However, since I didn't watch this movie last, I had a rather fun time of watching the funniest elements of Urusei Yatsura brought to life again in movie format.