ハヤテのごとく!/Hayate no Gotoku manga volume 21 review
Hayate the Combat Butler Volume 21
 –> PURCHASE FROM RIGHTSTUF!
 –> PURCHASE FROM RAKUTEN (formerly BUY.COM)
 –> PURCHASE FROM BARNES & NOBLE
 –> Purchase Japanese tankoubon from YesAsia!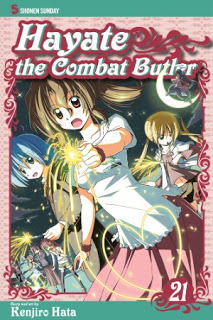 Since I've already reviewed this volume based on the Japanese tankoubon, this review will mainly focus on the Viz release, then some last moment thoughts.
As has been standard practice for this series, Viz includes the Japanese honorifics, which of course is something I will always approve of.
There were no offensive replacements of Japanese text with English text, as sometimes Viz is wont to do. For example, on the table of contents page, Miki, Risa, and Izumi spell out mokuji (もくじ) with fireworks, which is the Japanese word for table of contents. Thankfully, Viz didn't try to do some terrible replacement with English.
Extras in this volume include the standard goddess short at the beginning of the volume. There's a bonus 2-page manga revealing a secret of Klaus. The results of the 2nd popularity contest is also shown, below which is a brief note from Hata-sensei. There are usual pair of 4-koma strips (which are in color in the Japanese release due to them being on the dust cover), the "game" splash page, and a 2 page promo for volume 22, which looks to be released in August.
One thing I'd like to remark on, which I mentioned in my earlier review, is that this volume is where the character designs begin their change. While most of the characters are still OK, Risa takes the worst of things. It really is a shame that Hata-sensei felt the need to make these changes, but there you go.
This volume nicely wraps up the Las Vegas story, while having some fun at Hina's expense (to say nothing of the fan service). It also helps continue to set the table for the foreshadowed reunion between Athena and Hayate.  If you like the Hayate the Combat Butler manga series, I highly encourage you to buy this volume and encourage Viz to speed up the releases.