Ah! My Goddess Manga/Oh My Goddess! Manga
ああっ女神さまっ Chapter 295
SPOILER Summary/Synopsis: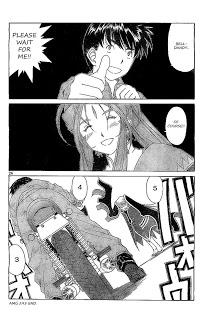 Daitenkaicho Tyr, still in Decision Gate's body, tells Keiichi that that he is Keiichi's last trial, even though they passed through the Judgement Gate. His purpose is as Belldandy's father.  Since Keiichi is talked about in that realm, combined with the fact that he was able to figure out that Tyr was Belldandy's father, he now has an interest in Keiichi. Belldandy doesn't like what she hears and gives her father the eye. Hiding behind Keiichi and called Belldandy scary, Tyr explains that his interest is because Keiichi is interesting, but more about the fact that Belldandy and Keiichi are going where no one in either realm has gotten before.
Thus, as Belldandy's father, Tyr wants Keiichi to perform a miracle to be with his daughter. Belldandy believes that passing through Judgement Gate is a miracle in and of itself, but Tyr says that while this result was surprising, it was not a miracle. Keiichi is not sure how to handle this, so Tyr says he'll arrange things to fit Keiichi's strong suit. Tyr makes a perfect reproduction of Keiichi's BMW bike, right down to the scratches.
Tyr says that Keiichi is going to race, then goes about to set a goal, which causes the ground to split and cause a wide gap between Belldandy and Keiichi. Tyr has nullified Belldandy's ability to fly and cautions her not to try. Having done this, Tyr says that Belldandy is Keiichi's goal. Tyr has created a lengthy track that winds and loops over and under itself until it comes back and gets to Belldandy.  Tyr says that Keiichi's miracle will be to reach Belldandy in three minutes, which is not impossible, but would require a miracle. Further, Tyr gives Keiichi three tries to accomplish this.  If Keiichi falls over the edge of the track, Tyr promises that Keiichi will simply return to the starting line.
Now challenged, Keiichi accepts, stating he won't know what could happen until he tries. With that, Keiichi mounts the bike, tells Belldandy to wait for him (which she agrees to), then gets ready to start the race.
Thoughts/Review:
Heh! If I'm right about chapter 300 ending the manga, then it makes perfect sense to me that Fujishima-sensei would have one final racing moment before the manga ends.
I can see the race going a couple of chapters since Keiichi has three chances. He'll fail the first two, which would probably be in the next chapter. For his third attempt, Keiichi probably will end up doing something special, possibly thanks to help from Belldandy. After all, Belldandy hasn't had her powers removed, nor Holy Bell grounded, and that would fit the pattern of other races Keiichi has done where Belldandy has been his support mechanism. Of course, his constant interactions with the various goddesses might cause him to have some extra power on top of his and Belldandy's mutual love.
While a racing chapter or two won't be that inspired, at least not as far as I can see, I do like Tyr's fatherly decision to have the human who wants to join with his daughter to do something to prove his worth. So, Keiichi races and gets to Belldandy in three minutes, then he's worthy in Tyr's eyes.
So, if I'm right about the next two chapters being the race, that would get things to 297. That would give plenty of time for things to be wrapped up in the next two chapters, followed by the wedding in chapter 300, where we'll see all those whom have been featured in the manga (well, humans, gods, and possibly mazoku).
It'll be fun seeing if I'm right here.