Hayate no Gotoku! Cuties
ハヤテのごとく!Cuties Episode 02 review
SPOILER Summary/Synopsis: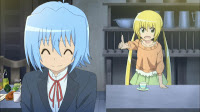 Nagi wakes up early in the morning and gets up, discovering the joys of the early morning as she walks around outside the mansion. She's hungry so she heads back in, shocking Hayate. He makes her a tomato and egg scramble as well as some strong coffee to try to keep her awake, since she's not used to being up so early. Nagi is offended and despite showing signs of sleepiness, goes off to watch anime she recorded. She starts dozing in front of the TV, so she gets up and does some exercises, understanding why folks do the morning radio exercises in Japan. However, she feels even sleepier, so she goes back to bed. Maria awakes and wonders how Nagi changed clothing.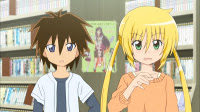 Nagi and Hayate head to Wataru's video store, where Nagi discovers an R-18 porn movie in with the regular movies. She decides she wants to secretly rent it, but is interrupted by Hayate and later Wataru, irritating her to no end and causing her to knock down a lot of DVDs. She picks up the R-18 movie she finds and rents a ton of other movies to hide the fact. Then when back at the mansion, she takes the movie to her elaborate tree house, where with Shiranui, she watches it despite it not having the same title as what she'd seen on the shelf. Turns out she rented a non-porn horror movie, so after watching it, she decides she needs Hayate around her 24-7, including in bed. Maria discovers the trouble the next day while cleaning the tree house, but after watching it, she too wants Hayate to stick close by.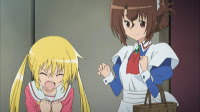 Nagi is at Yukari-chan House with Hayate, prepared to leave for school, but the rain causes Nagi to decide to play hooky and return to her futon. Isumi shows up, saying that Nagi gets motivated by inspirational quotes. They try one and get a stir, but not much else. Hayate consults some of the other girls, settling for something Chiharu suggested. That gets Nagi up, but only to play games. Maria shows up with ¥24,262, each yen representing one day of life. After Maria explains how Nagi can use that money to buy a game console or not waste it, Nagi understands the value of not wasting time and goes off to school with Hayate.
Thoughts/Review:
For those curious, this episode covered original manga stories found in the following order: chapter 197 (volume 19), chapter 174 (volume 17), and chapter 339 (volume 32).
In order to attempt to bridge unrelated stories in different settings, such as the mansion and Yukari-chan House, this anime series is apparently implying that Nagi lives at the mansion, but sometimes stays at Yukari-chan House for whatever reason. Further to that, the production team is trying to say that Nagi's doujinshi competition hasn't happened yet, because in the original manga stories, it hasn't while in CTMEOY, it has passed.  Sorry, but that's just so weak in my opinion, especially since Nagi's whole reason for living in Yuraki-chan House in the manga was because she was kicked out of the mansion by her grandfather and the doujinshi contest was part of her plan to get back in.
The first story isn't much to speak on other than start the portrait that reveals how Nagi truly is.
The second story was actually funnier in this episode than in the original manga. In the manga, Shiranui is with Nagi as she watches the horror film, but pretty much is bored up on Nagi's head the whole time. Here, Shiranui is just as involved in watching the horror movie as Nagi, so the kitten's reactions to certain scenes made me laugh out loud.
The third story works better in the manga due to story flow and proper context, which is sorely missing here. I understand that the purpose of this episode isn't so much about advancing some plot, but giving insight into characters, but without proper context, the story just doesn't work as well.  I did like the Lupin III styled music when Chiharu had her scene.
So while there was some good stuff in this episode and I wasn't bored, the forced-meshing of disparate stories doesn't work for me and likely will confuse the heck out of non-manga readers.
(By the way, you should be buying the manga from Viz 'cause it is quite good. ^_~)