Toaru Kagaku no Railgun S Episode 09
とある科学の超電磁砲(レールガン)S
To Aru Kagaku no Railgun S
SPOILER Summary/Synopsis: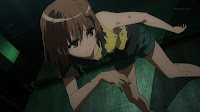 MUGINO Shizuri has arrived with Rikou to save Frenda, so Mikoto attacks Shizuri with a large, metal container, only to see it disintegrate. Shizuri blasts Mikoto, who eludes the attack by scampering up a pillar. Mikoto sends several large metal panels at Shizuri, but she disintegrates them all. Tossing a box of pills at Rikou, Rikou then uses them to activate her ability. Mikoto immediately senses the danger, so she creates a smoke screen with an explosion and flees. Despite randomly running down corridors, Mikoto discovers they are able to track her. This is thanks to Rikou's AIM Stalker ability, allowing Shizuri to use her meltdowner ability without having to see the target.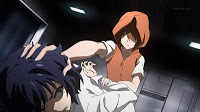 Meanwhile, Shinobu, recalling her chat with Mikoto and her decision to do something to help, has accessed the control room for clones at this facility. She begins uploading a program to give the Sisters basic emotions, which she hopes is enough to thwart the plans of the researchers and even give Accelerator pause. Saiai discovers Shinobu and apprehends her. Realizing that Shinobu is doing something to the computer, she releases Shinobu to destroy the flash drive. However, Shinobu's program has already installed, but Last Order prevents it from going to the other clones in the Misaka Network. Shinobu grabs a gun from one of the male helpers there, shooting Saiai. However, she is unharmed thanks to her ability. She knocks Shinobu out and has her taken away, reflecting that if Shinobu is allowed to live, she won't like her life.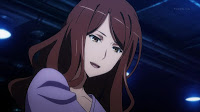 Since Mikoto is dodging all of Shizuri's attacks, she has Frenda set off some more bombs. These too fail. Since Rikou is rapidly becoming exhausted and Frenda is injured from her fight with Mikoto, Shizuri decides that since Mikoto is moving slower and slower, but is not trying to escape, she'll wait for Mikoto at her final destination. She launches one final attack on Mikoto's location, only this time, the exhausted Mikoto doesn't dodge it, but merely deflects it, thanks to seeing how Shizuri deflected her lightning attack earlier. Shizuri then realizes she's up against Railgun, so she sends her two comrades to join Saiai
Thoughts/Review:
This episode was adapted from volume 5, the remaining pages of chapter 28 and most of chapter 29, save for a few pages at the end of the chapter.
Changes to the original manga story are flashback scenes with Shinobu, both with her chat with Mikoto, and showing her making her decision to help Mikoto just prior to showing up at the facility.
I really like Shinobu's character.  While she may be a genius and even be gifted with some athletic abilities, I don't think she's an actual esper. So in my mind, her actions are more heroic than Mikoto's since Shinobu is just an ordinary girl physically. She put her life on the line and though she failed to give the Sisters emotions (I suppose Last Order got them instead), she is still worthy of respect.
In the manga released so far in the U.S., Shinobu hasn't returned to the story. It would be nice if Mikoto found out about what Shinobu did and then went out and rescued her. Even if this hasn't been done in the manga or the Index novels, a future Railgun anime could insert that into the canon.
The battle between Shizuri and Mikoto was pretty awesome. I liked how the anime made certain parts of the fight much more clear than they had been in the manga, which is how it should be.
I was also intrigued that Rikou had to keep taking the pills to keep her AIM Stalker power going at full strength. That's rather jacked up to have to take chemicals to produce a power. I wonder if there are negative side effects for Rikou, other than exhausting her.
As I've said before, I'm really loving how this anime is adapting the manga story. The production team is being faithful to the manga, and the additions made only enhance the story, such as giving Shinobu even more depth as a character.
Next episode should wrap up ITEM's part in the Sister's arc. I'm looking forward to seeing it. ^_^