Fate/kaleid liner Prisma Illya Episode 05 REVIEW
Fate/kaleid liner プリズマ☆イリヤ
SPOILER Summary/Synopsis: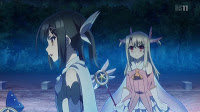 Ilya is wants to race to help the downed Rin and Luvia despite Ruby telling her both girls are OK, forcing Miyu to stop Ilya.  Considering the strength of Alter Saber, Miyu says they have two choices – defeat the Class Card or distract her long enough for a rescue attempt of Rin and Luvia to be made. Since Miyu can't use the Lancer card again for a while, the Caster card is unknown, and the Archer card and Rider card aren't very useful, a rescue is all they can do. Miyu starts ranged attacks against Saber while Miyu heads to a nearby wooded area to attempt to get closer to the downed girls. Saber is not phased by the attacks as she's protected by a powerful "mist" shield. Saber returns an attack, almost as if swatting at a fly.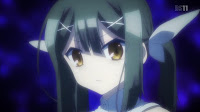 Ilya sees the attack and screams out Miyu's name, giving away her position. Saber turns and "swats" her with a ranged attack, sending her back into the woods. Miyu tries another attack and gets swatted at again before Saber slowly turns back to Ilya to attack her. Ilya barely makes it out of the way, but gets injured and starts bleeding. Ilya starts experiencing fear, forcing Miyu to come in and save her from being blasted. Miyu doesn't know what to do since they can't defeat Saber nor escape from her. As Saber slowly approaches the two girls, a red gem comes in and explodes, doing Saber no damage, but revealing that Rin has regained consciousness. Rin wakes the "phony" ojousama, Luvia, and the two get to their feet to face Saber.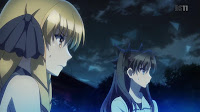 Luvia and Rin launch gem attacks on Saber, but to no avail. Miyu and Ilya argue over what to do, causing Ruby to smack them both on the head and come up with a third option. As Saber slowly approaches Rin and Luvia, Ilya and Miyu race up, sending Ruby and Sapphire to their former Masters, where the two wands reveal they are forming temporary contracts with Rin and Luvia respectively. Now transformed into magic girls, Ilya sees how embarrassing the magic girl outfits really are, something Ruby mentions to Rin, irritating Rin. Luvia makes a snide comment, causing Rin to call her an idiot. However, their banter is interrupted by an attack by Saber.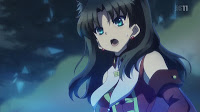 Luvia attacks from a distance, allowing Rin to come in for a melee fight with Saber, forming a blade on the end of Ruby. Both Ilya and Miyu are amazed as they watch what experienced mages can do with the magic girl wands. As Rin continues to battle Saber, who's not harmed. Rin has adjusted her attack/defensive magic distribution so that she's protected with Saber's blade comes in. Rin grabs her blade and blasts Saber at point blank range, sending her back. Luvia has been in the air, setting up massive mandalas, and shows up to let Rin know all is prepared. With that, Rin and Luvia get into position for a joint attack.
Thoughts/Review:
This episode was surprisingly good, mainly because it broke from the clichéd norms of the mahou shoujo genre.
Until this episode, Fate/kaleid liner Prisma Illya has followed the traditional mahou shoujo path for making a normal, good, airheaded girl into a magic girl. First, the girl gets chosen by an entity, usually in the form of a mascot character. Here, it was an intelligent wand (or rather the top of a wand).  Then, the girl quickly accepts the idea of being a magic girl and is quickly thrown into a combat situation to overcome. A rival or opponent of similar age may appear and things progress from there.
With episode 5, we break free from those traditional path elements. Once it becomes clear that Ilya and Miyu cannot defeat Alter Saber, then they hand the reigns over to the more experienced, original magic girls Rin and Luvia. I didn't expect that at all because normally, magic girls find some means to overcome an opponent, no matter how powerful. Indeed, we saw that in episode 4 when Miyu and Ilya figure out a way to defeat Caster.
By having Rin and Luvia battle Saber as magic girls, Ilya and Miyu do what inexperienced players who are "sitting on the bench" should do — learn by studying what the experienced players are doing in real time. That's exactly what Miyu and Ilya do as they learn by observing Rin and Luvia using combat tactics to try to defeat Saber. I loved this because it makes total sense for this to be done.
I also enjoyed the irony of the tables being turned with Miyu and Ilya. Last episode, Miyu was uncertain and Ilya was confident. This episode, Ilya loses her confidences and experiences fear after being injured. For the first time, Ilya starts to understand that this isn't a game nor an anime (HAR!), but has consequences that could cost her life. This is something that can help her in the future.
I am struck by how Alter Saber isn't fighting seriously in this episode. She just occasionally swats at Miyu and Ilya without doing much. The only time she gets somewhat serious at all is when she's engaged in melee combat with Rin. I don't know if it means anything or if it is just dramatic pause to allow for comedy or exposition moments.
I'm also struck by how the Class Cards seem so worthless. You have the Archer card that can't do anything and apparently the Rider card isn't much help either. So, what was the purpose of creating such cards?
The episode ends on a cliff hanger, and since Saber isn't even attacked by Rin's and Luvia's combined attack, much less defeated, I figure that next episode, we'll have Ilya and Miyu return to their magic girl roles to finish the deal somehow. After all, the series is about Ilya and Miyu, not supporting characters Rin and Luvia.