ハヤテのごとく!/Hayate no Gotoku Chapter 418
SPOILER Summary/Synopsis: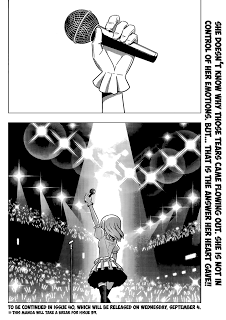 As Ruka is at her concert, she reflects on how her parents got her into the idol business even though it wasn't her dream and how she was willing to do what it took for them. When they abandoned her with a massive debt, she was left confused as to why she'd done all of this for. As such, on the Christmas night she got the bad news, she decided she would never cry again.
With the ninth song of the concert in play, Ruka remembers that her manager had said that at the conclusion of that song, she's to make her announcement as to her decision. If she's staying an idol, she's to hold up her microphone so that the official Las Vegas concert will play on the screen behind her. If she holds the mic down, she's to say she's retiring and can then leave the stage.
Ruka ponders her life if she quits — friends, a romance with Hayate, and a rival (friendship) with Nagi. As such, she decides she will quit and follow her new dream.
The song over, Ruka is quiet and tears start flowing. She doesn't understand why, but the crowd starts cheering her on, so she raises her microphone to indicate she's going to Las Vegas.
Thoughts/Review:
Well now, well now. While it is not surprising that Ruka made the choice to go to Las Vegas (after all, CTMEOY mostly happened in Las Vegas with Ruka's concert being one of the minor elements of the plot), how she reached that decision is more interesting.
So, why did she continue when she seemed so sure that she'd quit and have a new life?
I think the crowd is what ultimately swayed her. It isn't that Ruka is addicted to the fame or the crowds, but in the idol culture, fans are seen as needing the idol, which is partially why idols have to keep the appearance of being as pure as the wind-driven snow. Seeing the crowd and hearing them encourage her and cheer her on is what I believe caused her to decide to put them first over her love for Hayate and her desire to be a manga-ka.
As to why she cried, I would guess it is because she knows what she is giving up — a new life with Hayate.  Sure, we already know that she remains friends with Nagi, Hayate, and the others, but that's not quite the same as it would have been had she given up being an idol.
I think it is important to note that Nagi is sleeping right now, but Kayura and some of the others should be at the concert. It will be interesting to see if they show up backstage or not.
I did note that Kurosu was backstage with Hayate when Ruka made her announcement. We still don't know her connection to all of this, but hopefully we'll find out more in a couple of weeks.