UQ Holder Chapter 001 Review

SPOILER Summary/Synopsis: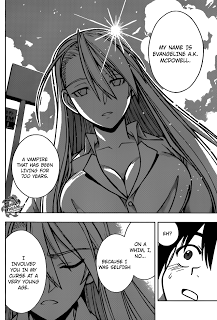 KONOE Touta is with five of his friends, all armed with bokken (wooden practice swords), waiting for Touta's guardian, Yukihime-sensei, to arrive. As she walks down the path to school, they ambush her, but she easily defeats them since she has a barrier protecting her, allowing her to counter attack easily. Villagers and other students applaud Yukihime-sensei, who then puts all five guys under punishment during class, reminding them of the reason that the village chief decreed that if the boys wanted to go to the capital, they had to do so through Yukihime-sensei.  Touta protests her barrier, which he believes to be magical in nature. She is not amused and expels them all from class with force, out into the fields.
In the teacher's room, Tachibana-sensei asks Yukihime-sensei if she can use the rumored magic he's heard about. Her reaction lets him know it is true, and he excitedly talks about the subject, including the fact that here are apps to allow normal people to use magic. He thinks she should teach the kids magic, but she refuses, saying that they might do evil with it.
At a hilltop graveyard overlooking a large body of water, Touta prays at three tombstones set apart from the rest. One contains his mom, one his dad, and one his "jiichan", a certain Negi Springfield. His buddies come up, but since Nikumaru hadn't heard what happened to Touta, one of the others tell him that Touta's parents died in an auto accident two years ago, with only Yukihime-sensei and Touta surviving.  Nikumaru asks if Touta's constant challenging of Yukihime is due to resentment, but he says it is just the opposite, informing them that he has no memories from before the accident.  With that, they once again resolve to make it to the capital and climb the tower to the sky, which they can see in the far distance.
That night when Yukihime comes home, Touta is waiting on the beam above the door and pounces down on her. She easily fends off his attack, then brings the pain to him, seriously damaging the floor as a result so that Touta is forced to fix it again.  Touta makes dinner and asks Yukihime to teach him magic, which she won't. As they eat, she recalls the real event that happened with Touta's parents, who died protecting him from some vicious attack with spears. She grants their dying wish to save the boy, so she becomes his official guardian and spends the next two years with him.
After losing yet again to Yukihime-sensei, where she expels the boys to a nearby shrine, they encounter Tachibana-sensei on their walk back. He gives them practice wands and magic apps so that they can use magic, though Touta is the only one who can't. Touta wonders why Tachibana-sensei is helping them in secret, to which he replies that though he supports Yukihime's methods, he wants to help them. He gives Touta a bracelet, saying it is a guaranteed way to defeat Yukihime.  When he gets home, Touta tosses the bracelet at Yukihime, saying it a gift, but trying to be casual about it.
The following day, Yukihime admires the gift from Touta coming home from the convenience store when two of Touta's friends teleport in via magic and bind her. She praises them for this, but as she goes to activate her high level magic to bring the pain on him, she discovers the bracelet is actually an artifact to seal her magic. However, before the boys can get their victory, Tachibana-sensei knocks them out, revealing he is a bounty hunter trying to claim the ¥600,000,000 price on Yukihime's head.
Meanwhile, the non-magic using Touta races on foot to the scene just in time to witness Tachibana-sensei use a multi-spear magic attack on Yukihime. He's going for the killing blow when Touta comes in and attacks. As Touta runs off at the mouth, Tachibana-sensei is upon him, cutting off his sword arm. Before he can kill Touta, Yukihime uses arm to defend him, despite the magical bindings. Tachibana is stunned she can move as Yukihime praises Touta and his friends, saying she gives them a passing grade. She says his gift made her happy.
Tachibana mocks her for this, then proceeds to slice her up into pieces. Touta is horrified and screams in rage with the torso of Yukihime in his lap. Tachibana stabs Touta through the chest from the back. As he closes his eyes and collapses to the ground, he hears Yukihime in his head, who scolds him for giving up. Opening his eyes, he's stunned that Yukihime is alive. She promises to explain but tells him that in 20 seconds, Tachibana will kill Touta's friends. She makes him see that the only reason he can open his eyes is because he is an immortal monster, made so by her some two years earlier. He has two choices, give up and die, or become a permanent, immortal monster by drinking her blood. Though he doesn't understand, he believes in her and does what she asks.
Tachibana is stunned when he sees the one armed Touta with a bokken in his remaining hand. Tachibana removes his other arm and incinerates him, but Touta's arm reforms and his othe rarm regenerates, allowing him to knock out Tachibana in rage before passing out.
When he comes to, Touta finds his head on Yukihime's lap. She praises him for saving his friends, but apologizes for what she did to him. She says her real name is Evangeline A.K. McDowell, a vampire of 700 years. She granted his parent's wish and justified it with herself, but she apologizes for doing this to him. He rejects that, saying that she glad she's immortal since seeing her alive after Tachibana's attack made him happy. Besides, she's the only one he can call family.
With Eva's identity exposed, she and Touta hit the road. Touta and his friends promise to meet in front of the tower in the capital. Eva asks what he means by "tower", figuring he must be talking about the Amanomi Hashira space elevator. He confirms it, so she lets him know that for ¥400,000, he can ride it immediately, which he rejects as being to expensive and not a dream.
Thoughts/Review:
An 82 page kick off. Wow! Massive.
First, while I loved this chapter, I absolutely HATED what happened with Chachazero. Seriously, that sucked on every level, both seen and unseen. Unfortunately, Akamatsu-sensei didn't bother to say why Chachazero was abandoned, other that Eva saying that one grows tired of the things they once loved. Yeah, I know that Chachazero is a scene stealer, but she was just so freaking awesome and then some. You just can't do that to Chachazero, though Sensei did just that…the bastard!
Still, Eva did have a Chachazero doll at her desk, so maybe Chachazero simply reached the end of her lifespan. She had been alive for a very long time.  And of course, to have a new Eva, she had to be rid of everything from her past.  I'm still depressed though.
Some folks are questioning the new Eva here. Personally, I don't have a problem with it.
1) Eva is on the run again and is hiding from bounty hunters.  As such, she would do things to disguise her appearance.
On one hand, I like the idea of her bounty coming back into play as it was an element that went nowhere in Negima!  However, in the future, one would think that if she has her curse lifted (which she obviously does), then she'd have the bounty removed. Of course, this could be a NEW bounty for whatever reasons, which is what I tend to suspect.
2) Eva's time with Negi and her classmates rubbed off on her more than she realized.
Until Negi came to Mahora, Eva pretty much kept to herself, forced to repeat the same middle school years over and over again. Negi showed up and suddenly, Eva started enjoying life again. She even started training Negi, then broke out her magical, pocket residences in a bottle for him to train.  She took Kotaro on as a trainee.  She then became part of Ala Alba, allowing all the girls to use her resorts whenever. Over time, she mellows out more and more, all thanks to Negi and company.
Eva-sensei!
3) Free from the curse, Eva's bitterness, resentment, and anger leave her.
While she does appear to have been cold to Chachazero, it is clear that during her journeys, Eva mellowed out even more. Becoming Touta's guardian furthered this mellowing, though she still has the killer instinct and the power to back it up.  She gets to experience something she's been denied all her life — caring for someone who needs her and raising a child.
OK, enough on that.
Touta is set up as part of the Konoe clan.  He calls Negi his "jiichan" when at his and Touta's parent's grave site. It may well be that Touta's descended from Negi, which would further explain why Eva saved his life. However, it may be that Negi was just the grandfather type to Touta.  Too early to say, but clearly, Touta's parents were working with Negi.  At some point, they were killed.
I wonder how much Akamatsu-sensei is going to delve into Touta being a vampire. He's not shinso like Eva, so he won't be as powerful.
One of Touta's friends looked like Fate, but I have a hard time putting too much into that since Akamatsu-sensei sometimes has unrelated characters look similar.
So, now Eva and Touta head to the capital. I have to say, despite the loss of Chachazero, I love how this massive chapter gets us right into the thick of things, whereas Negima mostly wasted the first two volumes on filler.