中二病でも恋がしたい!戀/ Chu-2 byo demo KOI ga shitai! Ren
Chuunibyou Demo Koi ga Shitai! Ren 11 anime review

SPOILER Summary/Synopsis: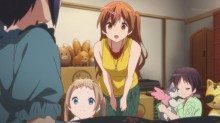 Yuuta finally understands that Satone is in love with him, but he goes to find Rikka in the rain. The next day, Rikka is sick, so Yuuta attends to her, forbidding her from going out that night. She refuses to tell him what she's up to, but promises that soon, all will be revealed. After a visit from Sanae, Nibutani, and Kumin, Rikka is left to rest while Kumin and Nibutani talk to Yuuta about Satone. Nibutani and Yuuta get into an argument when they find Satone in a raft on the river. After coming ashore, she assures them that she's OK and won the battle. After she leaves, Nibutani assures Yuuta that Satone was faking it. After Nibutani leaves, Kumin remarks on how Nibutani loves the entire group, including the chuunibyou elements.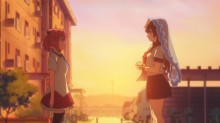 Nibutani dresses up as Mori Summer to pay Satone a visit and offer advise.  Satone is cheered by this, though Nibutani struggles to remain in character at times. That night as Yuuta wonders what to do about Satone, she drops down from the apartment above and challenges him to a fight. However, this is prevented when Kuzuha reports that Rikka went missing. Satone reminds him of something from his chuunibyou past, so he finds his old note where he gives instructions on finding the tokens, named Urd, Verdandi, and Skuld, to revive him. The one who would do this would be his ultimate contractor. Knowing which tokens Rikka has, Yuuta races to the place where he hid the final token, followed by Satone.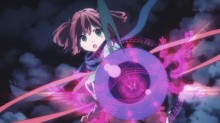 Arriving at a large electrical tower, they see evidence of Rikka's work. Satone admits to trying to find the tokens herself, but failed on the final one Rikka searches for. Racing to the tower where "Urd" is hidden, they find Rikka has found it in Yuuta's old leg cast. He scolds her for being out when she's sick, then embraces her and assures her she's his ultimate contractor. He takes her to a bridge where a final piece is — a stone. With it, Rikka enters chuunibyou to summon the Dark Flame Dragon. Satone says she must fight it, so with his blessing, she does. When she defeats it, a wind happens to hit Sanae, Kumin, and Nibutani at their respective locations. With that, things return to normal. Later one night, Satone makes another visit to Yuuta on his balcony, telling him bye.
Thoughts/Review:
One thing about this series is that it has been nigh on impossible to predict where it is going or where it is going to go.  That's not a problem though.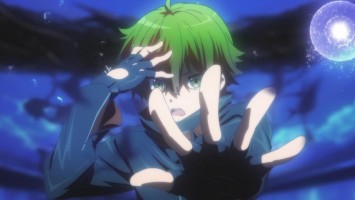 I really liked how after Yuuta realizes Satone's feelings for him, he went to Rikka to help her instead. Despite my feeling bad for Satone, I really didn't want Yuuta chasing after her as he'd done during the class trip.  Since he didn't, it proved that he'd grown as a character, choosing the girlfriend he loves over the childhood friend he likes but doesn't love.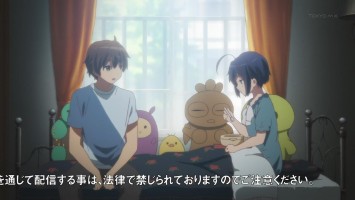 The revelation that the three tokens Yuuta had done during his chuunibyou phase in middle school were named Urd, Verdandi, and Skuld amused me due to my being a longtime Ah! My Goddess fan. Still, now that this has been revealed, I wonder if there's a final meaning in all this.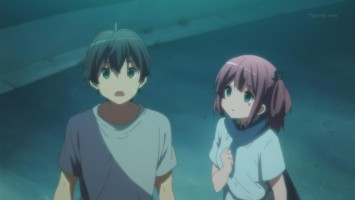 Assuming Satone is Urd (the past), then who represents Skuld and Verdandi?  In my mind, Rikka has to be Skuld, since she's the future for Yuuta and his ultimate, true love.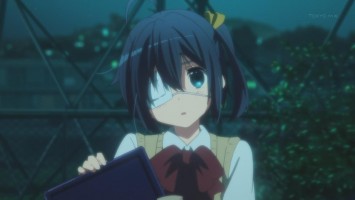 That only leaves the present — Verdandi. Here too there can be only one — Nibutani.  She has always been the present in my mind, guiding Yuuta to the future and Rikka.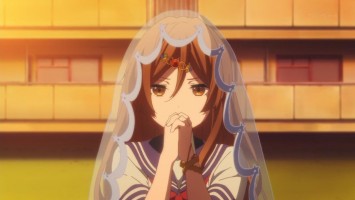 As Kumin pointed out, Nibutani does care a great deal about this chuunibyou circle of friends of hers.  Considering her own lack of romantic experiences, I have wondered at times if she has extra feelings for Yuuta.  After all, both have similar experiences with chuunibyou in the past; both occasionally do the chuunibyou thing in the present when needed; both are embarrassed by their past; and both care a great deal about their friends.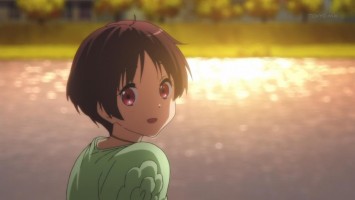 Yuuta is the only boy whom Nibutani is herself around. She doesn't put on airs for him or the like. Since he's not interested in her from a romantic aspect, thus isn't fawning over her like other boys would, that makes him of interest to her. Add to that Yuuta's kind nature and strengths and I can see how Nibutani might be somewhat interested in Yuuta.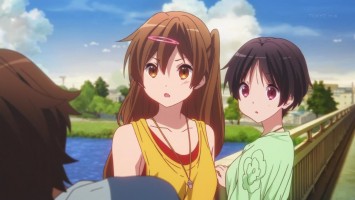 That being said, the way the episode ended with Satone saying "bye-bye" to Yuuta, if Nibutani does have feelings for him, they'd have to be explored in another anime season, which I heartily approve of. I think the final episode will probably be Satone moving on with her life by moving out of the apartment above Yuuta's. We'll see though.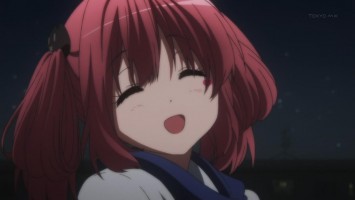 Finally, while there wasn't a lot of humor in this episode, I did laugh at Sanae getting angry that Satone might be trying to steal Nibutani as well as Rikka from her. *lol*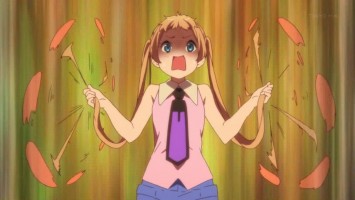 In the end, a rather enjoyable episode.