フェアリーテイル Manga
Fairy Tail Volume 35 Review
–> Purchase from RAKUTEN (formerly BUY.COM)
–> Purchase from BARNES & NOBLE
–> Purchase from RIGHTSTUF!
–> Purchase from Yes Asia! (Japanese tankoubon)
***SPOILERS***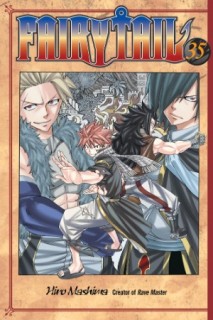 After Lucy's defeat in the arena, Fairy Tail is told that with the disqualification of Raven Tail, they will have to merge their two teams. As such, the new Fairy Tail team consists of Laxus, Gajeel, Natsu, Erza, and Gray.  After a few contests, Natsu and Gajeel team up to battle the Dragon Slayers Sting and Rogue from Saber Tooth. Natsu's and Gajeel's abilities get the early advantage, so Sting and Rogue step it up, seemingly defeating Natsu and Gajeel. Sting and Rogue are shocked when the two stand up, but more so when Natsu sends Gajeel away on a cart and faces them solo, ultimately defeating them, causing spectators around Saber Tooth's Master to clear the area.  Meanwhile, after Gajeel's cart stops, he finds himself in a massive dragon graveyard with the skeletons of multiple dragons all around. Yukino returns to her role as a military sergeant.
In the first of the side stories going back to day three of the tournament, the members of Fairy Tail head to Ryuzetsu Land water park for fun and relaxation. Joining them are members of other guilds, which ultimately results in the destruction of the park.
In the second side story, Gildarts comes across a damsel who's being attacked by some monsters. He defeats them, but she flees. Gildarts comes to a village where he discovers the damsel again. The village chief enlists him to defeat a large monster, which he does. Returning to the village, things seem well until Gildarts sees how Fairy Tail is doing in the tournament, and in his excitement, he accidentally causes massive damage to the village, forcing them to kick him out.
---
As expected, when it came to the battle of Dragon Slayers, Natsu (and in his own way, Gajeel) would win no matter what. I was amused that Mashima-sensei would have Natsu spell out in English fiery letters "come on".  I was also amused by the brief moment after the fight when Natsu is freaked out when a proud Erza gives him a hug. That's an element of the story which has been neglected (the fear Gray and Natsu have for Erza).
While the tournament has not been all that interesting to me (typical battles with fairly typical results), Mashima-sensei appears to be shifting things away from the tournament and to something more interesting. Whatever Jellal and crew are looking for seems to be coming active. It looks like some sort of time travel is in order since we apparently have a future Levy writing to Lucy in the past to warn of great disaster coming. I suspect that the person Jellal meets is in fact Levy, but we'll see.
While Natsu's win over Sting and Rogue may not have interested me that much (beyond the typical action stuff where you know Natsu is going to do his usual overcoming all odds), oddly enough, I found the two side stories to be more interesting to me. The second (and silent) story showing Gildarts at work was most interesting to me, mainly because we get to see Gildarts accidentally cause damage to a village he'd helped just due to his celebration. We'd heard about this side of Gildarts when he returned to Fairy Tail sometime back, so it was nice to see this in action. Too bad his chance at romancing the cute village girl went south because of his carelessness.
While the pool trip was pure filler, it was just a lot of fun.  There was Evergreen's and Elfman's secret date (though lets face it, Mashima-sensei won't actually allow them to progress as a couple without a time jump to skip all that yucky romance). Having Gray end up with Lyon on the love slide was funny to me. There's lots of fanservice and the girl from Raven Tail gets redeemed, so I expect her to show up in the future as an ally of Fairy Tail (if Mashima-sensei follows his normal course of action on redeemed characters).
Oddly enough, while Jellal's (as Mystogan) accidental groping of Erza was pretty typical, her reaction was unexpected. She had a cute blush (which I think is part of her charm as a character — she can take down 100 powerful monsters with her battle prowess, and she doesn't take crap from anyone, yet at the same time, she's 100% woman), and she didn't scream or go ballistic over Jellal's accidental grope.  While I didn't need to see the grope, I did appreciate the reaction on Erza's part.
Finally, as I promised to SL from MH, what is seen cannot be unseen. The character of Ichiya, the over the top, perfume magic wacko from Blue Pegasus, gets a two-page closeup of his ugly mug. *lol*  While that was scary enough, in the pool side story, we get to see some angles of Ichiya that burn the eye. Mashima-sensei must laugh his butt off when he draws these, knowing guys will react in horror to seeing such things.
On the Kodansha Comics side of things, the hybrid adaptation continues. For example, Yukino is not using the "-sama" honorific when addressing people, which she does in the Japanese. Lisanna doesn't address Elf as "Elf-nii" as she does in the Japanese, nor Mira as "Mira-nee".
The usual extras in the Japanese manga are here in the English version — Mashima-sensei's note, Mysteries of Fairy Tail, art, etc.
In the end, this volume ended up being more interesting that the previous volume, thanks in part to the two side stories and the fact that Mashima-sensei finally seems to be ready to move from the tournament to something bigger story-wise.