ユーキューホルダー! Manga Review
UQ Holder Chapter 31
SPOILER Summary/Synopsis: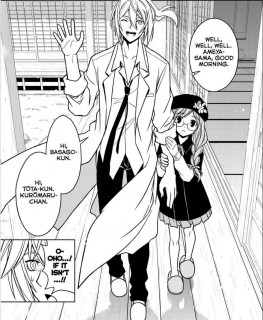 After saying goodbye to the kids in the slums, Kuroumaru and Touta head to their UQ Holder home (Senkyoukan), where Touta suddenly remembers his debts.
Early the following morning, Touta eagerly wakes up to an alarm, slowly followed by a sleepy Kuroumaru. After admiring the elevator tower in the distance, Touta gets to work cleaning the engawa floors surrounding the one building alongside Kuroumaru. He's teased by the lesser members of UQ Holder for his debts. Reaching a certain room that Basago emerges from, Touta finds himself kicked into the water by Basago for disturbing the guests they have residing in this wing of the Senkyoukan. Touta wonders why anyone would want to stay in a rundown in, causing Basago to become annoyed.
They are interrupted when Ikkuu arrives with a young girl clinging to his arm. Basago becomes polite and respectful to the girl, but when Touta inquires as to whom this person is, Basago becomes incensed, stating that this girl is their most important client and a major financial backer of UQ Holder. Further, she's a member of the Numbers a number 9, named SAKURAME Kirie. Touta is astonished by this, but his enthusiasm further irritates Basago, who kicks him off the engawa and onto the grounds.
Upon hearing just how rich Kirie is, Kuroumaru starts thinking of how they can use this to pay off Touta's debt. However, when Kuroumaru sees Touta's pure honesty without a trace of greed or envy, Kuroumaru feels shame and flails about. Kirie is shy and hides behind Ikkuu without saying anything.
Ikkuu tells Touta that they are going to the tower and asks him to come with them. They are going to the base station to meet Karin, and Yukihime has already given her blessing for the trip. Touta is very excited at the prospect of getting to the tower.  As the others get the boat ready, Touta goes to join Kuroumaru, who's waiting on the dock. He notices Kirie squatting nearby, so he pays her a visit. Seeing her performing a ritual, he asks what she's making. She responds that she's making a save point.
Thoughts/Review:
And so the save point girl arrives, looking somewhat like the pink haired glasses girl from Lucky Star, only done Akamatsu-sensei style.
Time will tell on what exactly Kirie's save point means. Obviously, it would seem to be her type of immortality. However, the exact method of how it works is up for pure speculation at this point. My own guess would be more like a video game save point, where if your character dies, you return to said save point. Armed with the knowledge of what's ahead and what killed you, you can now figure out how to avoid being killed.
Assuming the number system is based on power and type of immortality, her being ranked number 9 would seem to suggest something very powerful.  Returning to life, armed with information about the future would make her powerful, even if she can't fight.  That would seem to explain how she is so rich. Create a save point, go out into the world, find stuff that's going on, die, then return to your save point with the knowledge of what has happened and exploit it for massive profit. As for paradoxes, Akamatsu-sensei doesn't worry about things like that, so that won't be an issue.
Basago is a complete bastard and a half. Not that I mind him kicking Touta about or anything, but he's still a jerk. I do note with some interest that he did initially address Touta as "Touta-sama" before his irritation lead him to other forms of address.

The only problem I had with this chapter was a lack of resolution to the Church Slum arc (or whatever we are calling it). We still have NO clue what happened to the three members of Powerful Hand, nor what happened to the special forces troops. Presumably, some of them were killed, but maybe Eva slaughtered them all to give her vampire nature what it needs (since Akamatsu-sensei pretty much ignores Eva and Touta are vampires).
Worse than that, Touta doesn't even give a moments thought about his having Magia Erebea, nor do we see Eva discussing this with him. I guess because Touta is so much of an idiot, he's like, "What Magia Erebea? I don't know what you are talking about? That wasn't me. I'm going to the tower after I pay off my debts. I'm Touta. I'm the bestest [sic] of the bestest [sic]."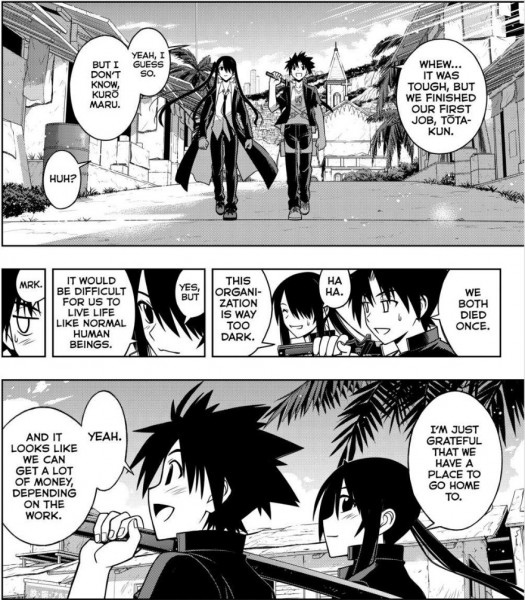 Part of my desire to see Eva come into the fight against Nagumo was so that when the dust had settled, she could have a chinwag with Touta about ME. I guess we'll just have to table that since Akamatsu-sensei has no intentions of telling us jack at this point, choosing instead to press ahead with the next arc.  Oh well.
My understanding is that we'll have a chapter next week, then for the 30th, there won't be a chapter due to Golden Week in Japan. So, here's to seeing what kind of cliffhanger Akamatsu-sensei leaves us with for two weeks.