フェアリーテイル Manga
Fairy Tail Volume 34 Review
–> Purchase from RAKUTEN (formerly BUY.COM)
–> Purchase from BARNES & NOBLE
–> Purchase from RIGHTSTUF!
–> Purchase from Yes Asia! (Japanese tankoubon)
***SPOILERS***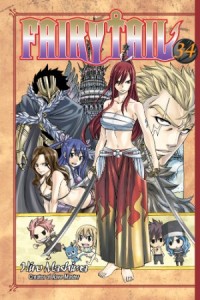 Highlights from this volume start Natsu's solo raid on Saber Tooth being aborted after they reveal they are holding Happy. In the Grand Magic Games, Erza takes on all 100 monsters in Pandemonium. Other competitions go on until Fairy Tail B's Laxus faces Raven Tail's Alexei. However, it is an illusion trap set by Raven Tail as all of their participants and master attack, looking for Fairy Tail's Lumen Histoire.  Fairy Tail A's Wendy battles Lamia Scale's Sherria.
Jellal gets a whiff of Zeref's power and gets noticed by the Magic Council, who are aware that  "Mystogan" should not be in this world. Former council member Yajima provides him cover, forcing the council to back down for the moment. Finally, in a group battle, Lucy ends up being one of two survivors along with Saber Tooth's Minerva, who decides to have some fun with Lucy.
---
It is kind of difficult to write about these contests, mainly because you know that the Fairy Tail teams will most likely win unless there's cheating going on.
Still, Mashima-sensei makes some interesting choices on doing things. We've seen Natsu go on a rampage against another guild before, so Mashima chooses a method to allow Natsu to make an attack, but be forced to back down and allow Saber Tooth to continue.
Also, having Erza pick all 100 monsters to battle in Pandemonium was not surprising, but Mashima-sensei does the right thing by just showing us a taste of her fierce battle, followed by her win. We know she'd win and how she'd win, so why waste it here rather than somewhere else where it will mean more?  (And based on Mashima-sensei's writing style, we will see Erza in a desperate battle again somewhere down the road.)
Having Laxus so easily beat Raven Tail made me laugh. Yes, I know he's supposed to be one of the top S-class mages in the guild, and I know that he was supposedly holding back when he attempted to take over Fairy Tail, but it is just funny how easily Mashima-sensei had Laxus punk Raven Tail.
Wendy's and Sherria's fight is just Mashima-sensei indulging in a moe fetish. OK, I admit, I smiled at it just the same. Darn you, Mashima!
Maybe it is just me, but I'm kinda tired of the joke about Aquarius being summoned, but not feeling like doing much, so she leaves for a date. Whatever. *_*
And I really wanted Juvia to kick arse in the water battle.  I really like Juvia after her battle against Gray back in the day, followed by her joining Fairy Tail.
I still like Master Mavis and her tactics. I'm looking forward to seeing more of her fun nature to get a win.
I would speak of the romance angle between Evergreen and Elfman, but why? We know that their romance, much like Gray's and Juvia's, won't go anywhere unless there's another time skip.
Beyond that, I really don't have any thoughts about the tournament.
On the Kodansha Comics side of things, we still have the hybrid adaptation. However, I think this volume only allowed for small incursions of dropping honorifics or changing them. There are a few translator notes and the other usual stuff from Mashima-sensei.
I have two more Fairy Tail volumes on the deck and one more on the way. I'll be trying to get more out next week.