Boku wa Tomodachi ga Sukunai
僕は友達が少ない
Haganai: I Don't Have Many Friends Volume 5
Haganai! Vol. 05 (manga)
–> Purchase from RAKUTEN (formerly BUY.COM)
–> Purchase from BARNES & NOBLE
–> Purchase from RIGHTSTUF!

***SPOILER!!!*** Summary/Synopsis: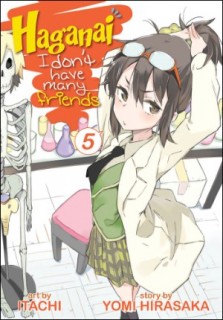 Highlights from this volume start with the Neighbors Club deciding to exchange cell phone contact information, which leads to the revelation that Sena doesn't yet have a phone.  Sena finally gets one, buy Yozora doesn't want to exchange information with her until she learns that Sena wants to pull a prank on her. Kobato sees her favorite vampire anime character change clothing, so she changes from Lolita Gothic clothing to more summer apparel and a clash with Sister Maria. The club decides to go to a public pool, but when they get there, the pool is very overcrowded, causing Yozora and Rika to make a fast retreat.
Yozora calls for a club meeting with the members wearing their swimsuits under their clothing, leading to a planned sleepover at Sena's home in two weeks for fun at a private beach. Sena invites Kodaka over to meet her father, so he comes with Kobato since Sena's father was friends with their father. Kodaka has a wine-filled chat with Pegasus (Sena's father) while Sena has fun with Kobato, who's less than thrilled, resulting in Kodaka seeing Sena naked. Finally, the club gets ready for their trip to Sena's private beach home.
---
There's some fun in this volume, but there's some creepy in this volume as well.
On the creepy side, there's Kobato's stripping naked in front of her brother to effect a transformation moment for her chuunibyou character. It isn't the first time that Kobato has been naked, but the previous time, she was freaked out by the cold bath, so her running to her brother didn't come off as creepy. The fact that Kobato's stripping was treated by both as no big deal was just weird and creepy to me. They've already established that Kobato has a brother complex, but I was getting a vibe that the manga is drifting into incestuous waters, where I don't want to go. We'll see what happens.
Also creepy to me is Sena's obsession with Kobato, to the point of appearing to lust over the idea of bathing with Kobato (which Kodaka seemed unfazed by). She even goes so far to chase the unhappy Kobato through the house naked, not even realizing Kodaka is there because she's so obsessed with Kobato. That just creeped me out as well.
There was some fun as well, such as the club members deciding to exchange phone numbers for their cell phones and Kobato's and Maria's continued conflict.
Having Kodaka and Kobato visit their father's friend (and Sena's father) was interesting, but it didn't provide as much character building as I'd hoped.  Oh well.
The other story stuff was what it was — nothing really special.
Finally, I'm going to call it now — Yukimura is actually a girl. I've long suspected this, but now I think this is a fact. I bet Yozora has always known.
On the Seven Seas side of things, the Japanese honorifics are still retained and more. No translator notes, which is normal. There aren't much in the way of extras beyond a page where the characters briefly talk about the chapters, a 2 page teaser for the next volume, and two pages of filler art. There are four color pages at the front, which I approve of.
In the end, we still have the shaky art from Itachi-sensei, but we have a story that's pretty much slice of life, but nothing that special. While I wasn't bored with the volume, I am somewhat disappointed that there's not really been any kind of plot to speak of.