フェアリーテイル Manga
Fairy Tail Volume 36 Review
–> Purchase from RAKUTEN (formerly BUY.COM)
–> Purchase from BARNES & NOBLE
–> Purchase from RIGHTSTUF!
–> Purchase from Yes Asia! (Japanese tankoubon)
–> Purchase LIMITED EDITION version w/ DVD from Yes Asia! (Japanese tankoubon)
***SPOILERS***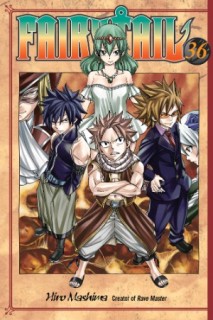 Highlights from this volume start with the Master of Saber Tooth who's angry with Sting and Rouge for losing their fight, ending up with him apparently killing Lecter. Sting defeats the Master, so Minerva says Sting should be the new Master, revealing the she spared Lecter's life, but at a cost. Gajeel takes Natsu, Wendy, Lucy, Gray, and the cats to the dragon graveyard where Wendy summons the spirit of the dragon Zirconis, who has a lot of information including information about Acnologia. Yukino and Captain Arcadios join them and brief them on the Eclipse plan to travel 400 years into the past to remove Zeref.  The defense minister arrests Yukino, Arcadios, and Lucy to keep Eclipse from happening.
Fairy Tail mobilizes, sending Natsu, Mirajane, Wendy, and the cats in secret to rescue Lucy while Erza, Gray, Gajeel, Laxus, and Juvia participate in the tournament's group contest. Mavis directs the team's actions based on the strategies she's developed after observing the other players. She allows Gray to face Rufus from Saber Tooth and defeat him. The rescue team reach Lucy to free her, only to discover they've fallen into a trap. They find the battered Arcadios and the Hungry Wolf Knights, who are keen to execute the "thieves" in the dungeon.
---
As implied in the previous volume, things took a turn for the more interesting in volume 36.
At long last, we now know why dragons took it upon themselves to train certain humans to become dragon slayers. After Acnologia's introduction to the manga, I had thought that maybe Mashima-sensei was going to have that be the reason that Natsu, Gajeel, and Wendy were trained as they were. I do like that the history of dragon slayer magic goes back further than that.  I wonder if Mashima-sensei might have played Skyrim and been somewhat inspired by the story in that game to come up with the backstory for dragon slayer magic.  Whether he was influenced or not, it is still an interesting bit of information.
I found the internal, guild political machinations of Saber Tooth to be intriguing. You've had their totalitarian Master doing whatever, then failing under his own rules. So he's defeated and apparently Sting is set up as the new Master, but seriously, Minerva is the one who's really running that guild, no matter who holds the official title.
Regarding Eclipse and the possibility of sending folks from Fairy Tail 400 years into the past, I wondered if Mashima-sensei might do this. Then I thought about how Levy appears to be writing to Lucy from the future. Since I think that this mysterious person that was walking around is Levy, I think we are getting our "sent back to the past to change things" element without going back 400 years and really mucking up things. We'll see though.
I like the character of Mavis more and more. There's just something about her and her strategizing that is a lot of fun. I'm glad Mashima-sensei has kept her around.
I really don't have much to say about Gray defeating Rufus. It was pretty much by the numbers in finding a way for Gray to win, but still a fun read.
Finally, in typical Mashima-sensei fashion, we get a new group of mages (magical knights, though the term "knight" is being used rather loosely in my opinion) for the rescue team to fight. This has that "been there, done that" feel to it.
On the Kodansha Comics side of things, the hybrid adaptation of the manga continues with Japanese honorifics and ignored or Westernized Japanese honorifics. Yukino, who addresses everyone with the "-sama" honorific, starts by using "Miss" as does Captain Arcadios when addressing Lucy (instead of "Lucy-dono", which is how he addresses her in the Japanese). Wendy even fails to address Natsu as "Natsu-san" at one point.  However, I did notice that Yukino began addressing Lucy as "Lucy-sama" partway into the manga and continued to do so until the end. I heard tell that Kodansha Comics is shifting away from hybrid adaptations for Fairy Tail beginning with volume 36.  I've not confirmed that through official channels as I'm loathe to bother those folks about what they all know is my pet peeve in manga. However, I hope it is true.
There are translator notes as well. I actually laughed as one of William Flanagan's notes made mention of Arcadios using the "-dono" honorific, which unfortunately had been stripped in the adaptation part of the process. Well, it isn't the first time that a Kodansha Comic translator has had one thing in his/her version of the script, written a translation note about it, only to have the thing they talked about changed.  (I think the first sentence in the note is an additional remark noting that "-dono" was in the original.)
The other, usual extras of Mashima-sensei's notes, "Mysteries of Fairy Tail", fan art, and inside cover art are all present. A preview of the next volume is also included.
In the end, volume 36 ended up being much more interesting due to the exploration of dragon magic and the idea of possibly traveling 400 years into the past to stop Zeref.