ユーキューホルダー! Manga Review
UQ Holder Chapter 35
SPOILER Summary/Synopsis: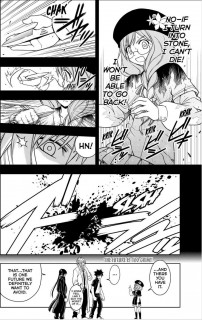 Kirie, Touta, Ikkuu, and Kuroumaru are walking down the alley as Touta praises Ikkuu, then notices that Xinzi is gone. Kuroumaru notes his skills while Ikkuu jokes about him being immortal. Kirie is happy to have removed the anomaly, but scolds Touta for being worthless. When Touta reminds her they have limited time, Kirie picks up the pace and they hurriedly race down the alleyway.
Touta asks why they have to meet this powerful wizard at 13:09, so Kirie decides to tell them to prevent the idiot from messing things up. The other members of UQ Holder do not know Kirie's method of immortality, only believing she has the power of precognition. Touta nearly gives it away, forcing Kirie to stop him, citing that it is not good for people to know one's type of immortality, though she was forced to do so with Touta.
Kirie tells the others that in the future (the group's first trip), when Ikkuu attempts to pair her with Touta, Kirie chooses Kuroumaru to stay with her instead. As Kirie and Kuroumaru relax and have coffee while discussing Touta, an explosion from the gate terminal brings them running. They see Fate holding the limp Touta by the neck as Ikkuu and Karin flank Fate.
Fate looks at as if he's dealing with trash, while Karin and Ikkuu look scared, as if they know they are trash in Fate's eyes. Both attack Fate, but without releasing Touta from his right hand, Fate uses his left hand to destroy Ikkuu coming in from the right, then uses his right foot to kick Karin away before apparently casing a spell on her which causes her to disappear in a swirl.
Touta attempts to hit Fate, but his hand is easily blocked as Fate causes Touta's body below his neck to petrify, then shatter when he kicks Touta. Kuroumaru leaps into action, but Fate easily avoids Kuroumaru's charge while still holding Touta's head. with a bloody splash, Fate puts a fist into Kuroumaru's back.
Walking through the rubble, Fate holds Touta's head in one hand and Kuroumaru's broken body in the other. Dropping Kuroumaru, Fate teleports (or does a shundo) to behind the stunned Kirie and casts an eternal petrification spell on her.  Kirie quickly realizing what has happened as Fate appears to read her mind and confirm that he is Fate Averruncus, the sworn friend of Touta's grandfather (Negi). He tells Kirie that he'll be taking the boy with him since Touta is his property.
With only moments left, Kirie causes a blade to spring out of her sleeve, where she takes her own life as petrification would prevent her from going back to her save point.
In the present, Kirie tells the others that this is the future they want to avoid.
Thoughts/Review:
Wow.  Fate was awesomely brutal in this one. I joke in the blog title about taking out the trash, but the look on his face is one of regarding the three UQ Holder members in his presence as trash.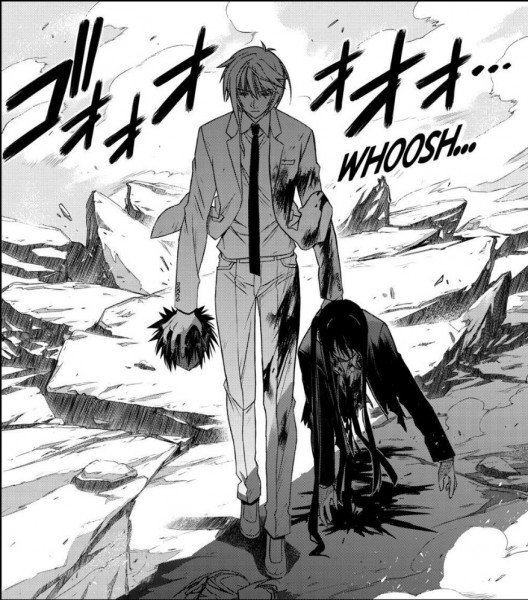 They really did look as though they knew they were naught but trash to be taken out by Fate.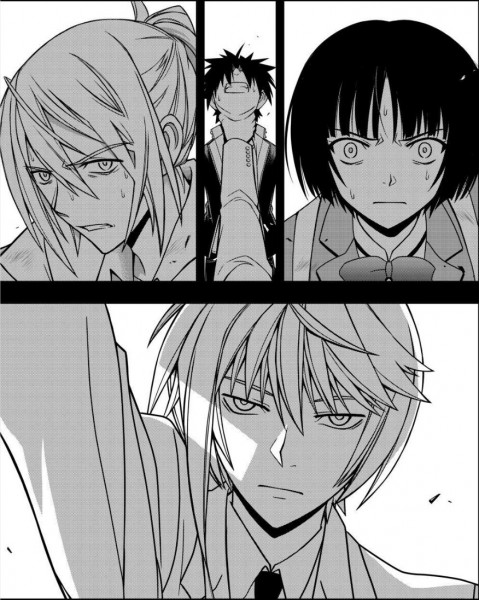 First things first. Ikkuu jokes about Xinzi being immortal, but it may turn out that he has some kind of immortality and is not even aware of it.
As expected, I was correct in my theory about Kirie having already been through this and witnessed Fate kicking their arses. I was wrong about her taking her own life, but I was basing that on her remark about dying being painful. However, desperate times call for desperate measures, so it makes sense that she did what she did.
Her explanation to Touta that the other members of UQ Holder don't know her Reset and Restart immortality makes sense to me, especially since Akamatsu-sensei has set up Powerful Hand, who study the different types of immortality and how to defeat them. Kirie would be easily defeated should someone know to look for her save point.  I do believe that Eva knows, but then she always knows more than she lets on.
This chapter reveals the stupidity of Kirie's "don't tell anyone 'cause I don't want to change the future" idea. She ends up telling them anyway.  Of course, the real reason she didn't say was so Akamatsu-sensei could pull a surprise on us, but there you go.
During the flashback, Ikkuu told Kirie to call Yukihime (Eva). I wonder if she made that call. Either way, if Kirie hasn't already let Eva and the other members of UQ Holder know so that they have overwhelming support at the gate, her going back in time so many times is just an exercise in futility and she'll die again.
Reading the chapter for the umpteenth time, it looks like Ikkuu was the only casualty as Fate crushed him. Even then, he may have been able to transfer his consciousness to a backup computer.
Even with the devastating blow Kuroumaru took, we've already seen that Kuroumaru can regenerate from being punched in similar fashions by Touta and Eva.  So I think Kuroumaru survived.
Karin looked to have been force-teleported somewhere, which if true, she's still alive.
Then there's Kirie, who would have been alive, but in petrification form.
So while Fate may have taken out these Numbers members of UQ Holder in a bloody, gruesome manner, he may not have killed anyone. In fact, I don't believe Fate killed anyone.
Ah, but there's Touta. However, we already know that Touta can survive with his head sliced off, as Kuroumaru found out the hard way. With his body destroyed, Touta should, in theory, still be alive and simply regenerate his body again, much as he regenerated the eye that was destroyed.
That leads to the question of why Fate considers Touta to be his property? Could he be a lab experiment? He could be an artificial being, created with massive abilities, not to be a battle warrior, but to see if humanoid bodies could be created and given special abilities so that a magical being could then inhabit said body and not need magic to maintain it (think the various magical races living on Mundus Magicus).
As an aside, I see that the Crunchyroll chapter fixed the splash page problem with Fate and the manga title.
Regardless, this was a really good, if gory, chapter.