Oh My Goddess! Manga/ああっ女神さまっ
Ah! My Goddess chapter 308 Final Chapter

SPOILER Summary/Synopsis: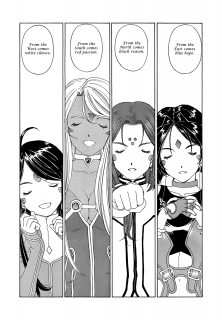 Now out of the portal, Peorth notices that Belldandy is in a Type-1 wedding dress. She's surprised that they passed, though Lind says that she believed Keiichi could do it. Since they've not had a wedding ceremony due to the lack of deities, they can have it now since Peorth, Lind, Urd, and Skuld are here. Skuld refuses until she's talked into it by Urd with the promise of ice cream cake.
They need witnesses, so Chibi-Hild shows up with an unconscious Mara (Marller) and Welsper. Peorth objects to their presence, but since there's no rule against it, she gives in. Hild has the unconscious Mara stand up and Welsper float. Peorth, Lind, Urd, and Skuld begin the enchantment for the ceremony, after which the mandala they are all on rises into the sky. With Belldandy and Keiichi agreeing to the marriage and no one objecting, the goddesses begin their blessing song, which causes both Mara and Welsper to wake up.
The ceremony done, Belldandy wants Keiichi to repeat the words he spoke to her when they first met, as they are a proposal, something Keiichi didn't know.
Thoughts/Review:
And so it ends.
For a final chapter, this chapter is rather "meh." We got to see Belldandy and Keiichi married, but they don't even get to kiss, which is pap. Seriously, they are married now, so let them kiss, Fujishima-sensei. But alas, we can't have that much risque business in a seinen manga title.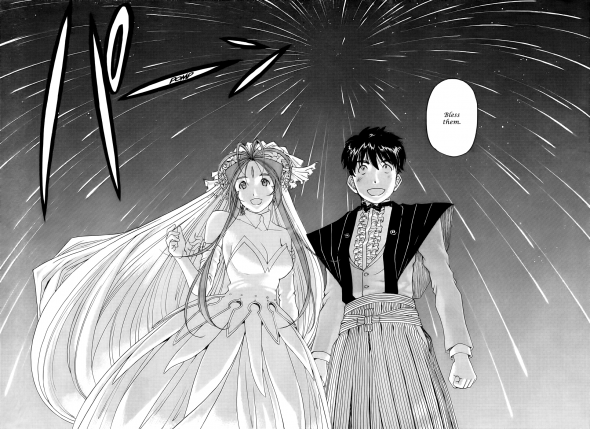 The final reveal that Keiichi's "I want a goddess like you to be with me always" is a proposal fits though.  I understand what Sensei is trying to do with that being the final line of the manga, but I just didn't feel it.
I'm glad Mara (and I'm going to call her Mara because that's what Dark Horse and AnimEigo used years and years ago) and Welsper weren't forgotten for this final chapter. Sadly, both were unconscious for most of their time, but at least they were around.
In addition to the series needing Keiichi and Belldandy to kiss as husband and wife, it needed one more aftermath chapter.  I think back to a title like Ai Yori Aoshi, where after Kaoru and Aoi do the do, we get a look at everyone a few years later, at which point Kaoru and Aoi have been married for a while.  I felt that Ah! My Goddess could have used a similar kind of aftermath chapter, where we could have seen what happened to everyone, and show Belldandy and Keiichi in a more romantic moment.  In such a chapter, having Keiichi spontaneously say his line to Belldandy would have had more meaning to me.
Oh well.
I'll write a final thought piece eventually. It is hard to believe that after having followed this manga since 2003, it is finally over.