Fate/kaleid liner PRISMA☆ILLYA 2wei! Episode 02 REVIEW
Fate/kaleid liner プリズマ☆イリヤ
Fate/kaleid liner Prisma Illya 2wei! – 02

SPOILER Summary/Synopsis: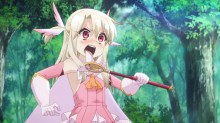 Ilya hears her fortune for Cancer on TV, which warns her of a bad day. Ruby offers to give a real fortune, which are all accurate, but end up being warnings as all kinds of bad things put Ilya's life in danger on the way to school. Once at school, she collapses and is sent home. Miyu escorts her there, where they come under attack from Dark Ilya, using her Archer powers. The two attempt to flee, but Dark Ilya manages to keep up. Dark Ilya takes Miyu out of the fight with a deep kiss. Ilya doesn't have the power she had before, but she manages to strip Dark Ilya, forcing her to flee.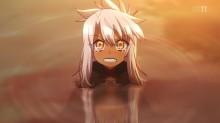 At Luvia's house, she, Miyu, Rin, and Ilya have a meeting to discuss the situation. Rin decides that they need to capture Dark Ilya, so in a nearby wooded area, Ilya is strung up from a tree as bait over a banquet table full of food. Dark Ilya arrives, and decides to go for the bait, knowing it is a trap. She easily escapes being bound, then eludes Miyu's attack with the Caster Card's Nobel Phantasm,  Rule Breaker. Dark Ilya causes Rin and Luvia to be bound, then disarms Miyu, sending Sapphire far away so that Miyu transforms back to normal form. Ilya appears to give up, but as Dark Ilya approaches, she falls into a disguised bog that nullifies her mage craft abilities, leading Luvia and Rin to gloat.
Thoughts/Review:
What the flaming fire is going on here? I know I was warned about the increased ecchi content, but I honestly didn't expect thirty seconds of Dark Ilya and Miyu making out as if the start of some loli, yuri hentai title. Before now, I thought it was only in hentai were a girl who doesn't want to be kissed in fact open her mouth wide to play tonsil hockey with the one kissing her, making sure to get extra tongue in the process. *_*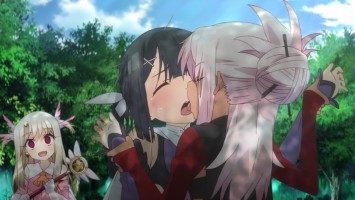 That aside, I have to admit that I found myself laughing out loud at Ilya's misfortune at the beginning of the episode, even though I was sure Dark Ilya was the cause of it all. Silver Link played it for all it was worth, so that every time Ruby printed out a new omikuji to tell Ilya's updated fortune, I laughed even more.  Plus, having Ruby have these slips of paper print out from her underside made it look very wrong, and thus very funny.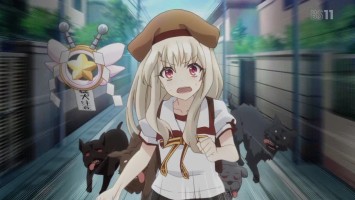 It was amusing to see Rin and Luvia in agreement and even acting alike in this episode. I don't think I've ever seen the pair get along so well. (And, we got the reason why Rin is Luvia's maid.)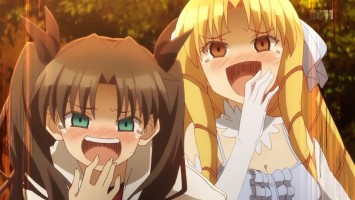 While I'm still on the subject of amusing, what was up with the school nurse? She was twisted in a funny kind of way. I figure she's a character from the Fate/stay night franchise, but I just don't know her.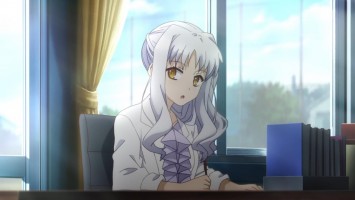 As to the plot, I'm not sure why Dark Ilya would want to kill Ilya. Sadly, the spoiler OP/ED shows that Dark Ilya will be friends with Ilya and Miyu, so there's not much drama there other than how they get from where they are now, to where they will be.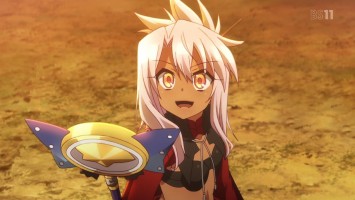 I had planned to write a bit more, but work got in the way (darn problems), so I have to end this now to get some sleep. I could have done without the loli-yuri love fest in this one, but otherwise, a good episode.