ハヤテのごとく!/Hayate no Gotoku Manga
Hayate the Combat Butler Chapter 459 Review
SPOILER Summary/Synopsis: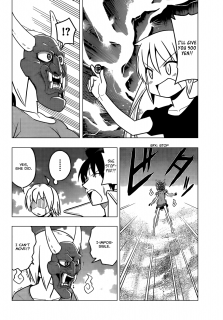 Nagi arrives at the beach, wondering what the gross things are on the beach, which Hayate identifies as dead jellyfish.
Meanwhile, the possessed Yukiji continues to power up, so much so that Ikusa concedes that she's too powerful for even him to handle. Nagi has a solution to their problem and offers Yukiji ¥500 if she will purify the spirit possessing her. Higanman is stunned that Yukiji is stopping him, but Yukiji comes through with a request for more money. As such, Nagi offers an additional ¥1000 to her money offer. As a result, the hannya mask begins to break up, so as an act of spite, Higanman throws Hayate's pouch into the air over the ocean.
Ikusa gives Hayate a boost to jump out and catch the pouch. The King's Jewel begins to emerge from the pouch, but before Hayate can reach it, multiple blasts are fired at Hayate. One knocks his hand back while another one bisects the jewel, destroying it. Hayate falls into the ocean and is saved by Ikusa, who gives him the pouch.
Thoughts/Review:
Heh! Well, I didn't expect this turn of events with Hayate's King's Jewel from his childhood being destroyed. I had thought that this jewel would be how Nagi gets back into the mansion, as we saw in Heaven is a Place on Earth and Can't Take My Eyes Off You.  Guess I was way off the mark. I figure that her method for getting back into the mansion will end up being rather simple, such as Mikado giving her another stone, or the like.
Regardless, I enjoyed the fact that Nagi was the one who came up with the solution for defeating the possessed Yukiji.
I laughed out loud at the idea that such small amount of money would be enough for Yukiji, but then I remembered that she once quibbled to try to get ¥300, and everything in this chapter is perfectly in line with her character, even sacrificing herself for her sister.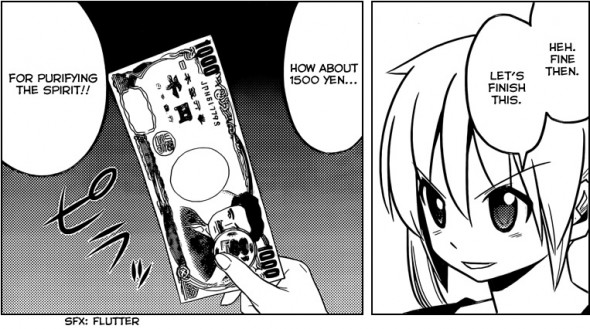 So, the question is who destroyed the King's Jewel? My thought was that this was a final act of spite from Higanman before being purified by Yukiji. Of course, there are other choices such as Hisui or Yozora.  I tend to doubt Isumi would destroy it, but she has the power to do so.  I guess we'll find out soon enough.
Before I go, I'll leave you guys with an old school jam that was running through my head, and the inspiration for the tag line of this post.
In the end, this was a funny chapter with an unexpected result.  I can't wait to see where things go.