Here are some SPOILER images and information for the upcoming UQ Holder chapter 44, courtesy of Manga Kansou. Summary remarks by Hata and ChaosProphet. (My review of UQ Holder chapter 44 should come out Wednesday.)
UQ HOLDER CHAPTER 44 SPOILERS
The UQ Holder chapter 44 goodness begins.^_^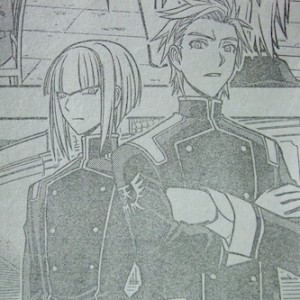 Looks like punks to egg Touta on. ^_~ (Update: Heh! I was right, based on Hata's remarks below.)
An overview of the Manga Kansou text from Hata:
as expected, Kuroumaru is popular with girls.

Karin's uniform is explained as a left over from a previous undercover mission of the same case, (keep wearing it because Yukihime likes it.) so this is a case revisit, previously with 12 victims, this times 2 more.

the previous case is most likely more than 100 years ago, according to Karin, (school lunch is always the same chaos even over a hundred years), so this may mean we will finally go over how Sayo is killed.

division/class bullies, as "first class student" (those who can use magic) pick on Tota, yes, those two fodder looking guys, 5 to 1 they will be the victims of immortals later.

so after accepting the duel, (fight is disallowed), sure enough silent incanting froze spells means nothing to Tota, (what is that compares to what Eva and Fate can do?)

as undercover missions goes, Tota and Kuroumaru are blowing it with great display, I am sure the unnamed UQ 12 / the serial UQ killer will take notice.
Chaosprophet adds this.
While Karin saying that the lunch chaos have been like that for over 100 years may seems a hint the last case was that long ago, it doesn't makes much sense. Because Karin went there on a mission from UQH, and doesn't seems like the organization was around for that long. In any case, on Sayo's time the uniform was different (confirmed on Negima vol. 29 nazenani).

So Karin kept it because Eva said it suited her. Karin is really a maiden in love.
Well, it would be interesting if Akamatsu-sensei did go back and explore Sayo's death, more so if he does have her ghost still around. (Although I expect she's actually moved on.)
If any more UQ Holder chapter 44 spoiler images show up, I'll try to get them posted.  You guys can always ping me here if you see something. ^_^