Fate/kaleid liner PRISMA☆ILLYA 2wei! Episode 04 REVIEW
Fate/kaleid liner プリズマ☆イリヤ
Fate/kaleid liner Prisma Illya 2wei! – 04

SPOILER Summary/Synopsis: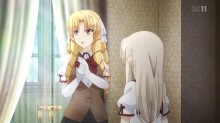 Ilya is furious with Luvia for not being able to restrain Kuro. Since there's nothing that can stop Kuro from escaping at will, Luvia decides to grant Kuro's request to try to live a normal life of a 10 year old girl, providing Kuro doesn't harm others or leave without permission. As suck, Kuro comes to school with the, and to Ilya's chagrin, "Chloe" gets assigned to her class, seated next to Miyu. During PE, Nanaki, Tatsuko, and Suzuka challenge Kuro to dodgeball, forcing Ilya to be on Kuro's team as well as Miyu. They make their demands on her, which she agrees to, but she says that if they lose, she gets to kiss them daily.  With that, Taiga joins the team fighting Kuro.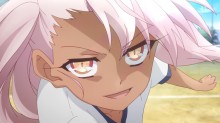 The game starts and Ilya allows herself to be taken out. Kuro takes out Taiga, Nanaki, and Suzuka, leaving only Tatsuko. Ilya isn't happy, but Ruby has a reminder for her. As such, Ilya gets Kuro to allow her to replace Tatsuko and up the stakes of the bet so that if Ilya wins, Kuro has to quit school. Ilya surprises Kuro with her first toss, whereby Kuro sees that Ilya is using the magic girl powers without the transformation. The battle becomes intense, culminating with Ilya calling Kuro a fake. This enrages Kuro, who blasts the ball so hard at Ilya, it knocks her out. However, the blood curse causes Kuro to be knocked out as well.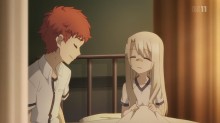 The girls take Ilya and Kuro to the bored school nurse, who puts both of them to bed. Nanaki, Suzuka, and Tatsuko are not pleased with how flippant and unprofessional the nurse is, wondering how she got a job at the school when she hates kids. After she shoves them out, she has a chat with the now awake Kuro, revealing that she knows more than should be possible about Kuro's existence. When Kuro leaves, she gets her clothes from Miyu, giving Miyu a warning about the nurse. The upset Taiga arrives with Shirou in tow, interrupting Miyu's chat with the nurse. When Ilya comes to, she goes home with Shirou as Kuro goes home alone. With everyone gone, the nurse reflects on the situation and writes her report that nothing happened.
Thoughts/Review:
There was plenty of humor here, but some interesting tidbits as well.  As such, lets get started.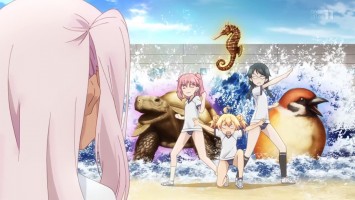 On the humor front, Nanaki, Suzuka, Tatsuko, and Taiga take the lead, starting with the dodgeball challenge.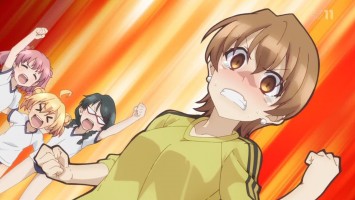 I was amused by their going after Kuro, but I was also amused at how Ilya purposefully got herself thrown off of Kuro's team, only to return as her challenger.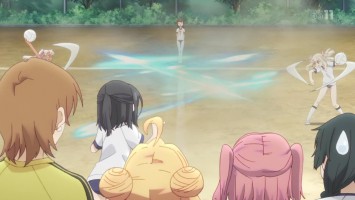 Continuing the humor, this school nurse (whom I don't think has been named yet, though I do know her name) is twisted beyond belief. Her remarks to date had been limited to wishing for horrible injuries to deal with, but in this episode, her yanking the chains of Nanaki, Suzuka, and Tatsuko with her complete unprofessional and uninterested nature was not only twisted, it was a hoot.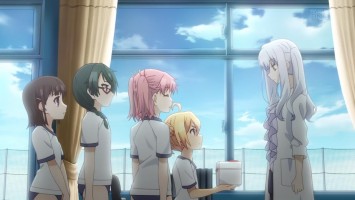 Still, the nurse knows a lot more, as Kuro quickly discovered. How she knows so much about Kuro, Miyu, and Ilya is more of a mystery. (Since I know her identity, I can guess why she's here, but I won't.)  Why is Kuro a miracle? Why is Miyu a coincidence? Why is Ilya an inevitability?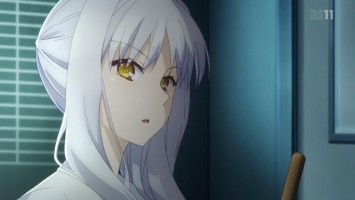 Speaking of Kuro, I couldn't help but feel a bit sorry for her at the end of the episode. Despite her murderous intent toward Ilya, she's actually pretty lonely. Considering she came from Ilya, no doubt her experiences are the same as Ilya's, so she may miss her life living with Shirou, Sella, and Leysritt.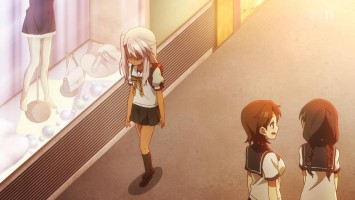 In the end, we get an episode that is humorous, yet provides interesting tidbits for a bigger story. I look forward to seeing more of this.