ハヤテのごとく!/Hayate no Gotoku Manga
Hayate the Combat Butler Chapter 460 Review
SPOILER Summary/Synopsis: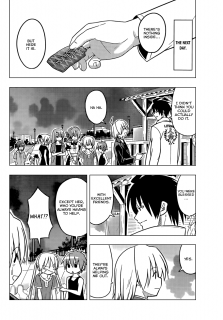 Athena (as Ah-tan) thanks Isumi for destroying the King's Jewel, although Athena wasn't happy that it took her so long to get there.
Hayate, with Ikusa nearby, apologizes for losing another stone, but she reminds him that the stone was never her goal for this trip, as Hayate has now reconciled with his brother. Nagi reminds him of his restaurant obligations, so Hayate rushes there, discovering that Kotetsu and Souya have already earned ¥1-million. Hina, Maria, Chiharu, Kayura, Ayumu, and even Ah-tan show up to assist.
The next day, Ikusa gives Hayate the now empty charm pouch as Hayate and friends manage to get the ¥8-million needed. Ayumu and Hina remark on how it is unfortunate that the King's Jewel was lost, but Nagi tells them that nothing was lost and that they should go home.
Hayate gives Ikusa the pouch back, which Ikusa accepts, stating that he'll save Hayate just once if he's in trouble.
Elsewhere, Fumi finds a befuddled Yukiji on the beach, proclaiming she's saved the teacher as a Lifesaver.
Thoughts/Review:
And so this arc ends.
In many ways, this arc was a lot of trolling, but it did accomplish one thing — Hayate found his brother Ikusa, meaning that's one plot thread resolved.
As some speculated, Isumi was the one who destroyed the King's Jewel. What surprised me was that she did it at the behest of Athena.
I was amused and surprised that Isumi was the one who staged the entire island trip. That explains who Athena was waiting for on the island. She was saying "murderer," but since she and Isumi were working together, it would seem that Athena was simply tossing a verbal jab at what she thought would be Isumi.
So, Athena accomplished a goal of thanking Ikusa and reuniting Ikusa with Hayate. As to whatever purpose she sees Hayate fulfilling, I guess we'll have to wait and see.
Regardless, the way has now been established for Ikusa to show up when Hayate will need him most, which I figure will be in the final arc of the manga.
Although the wrap up of the arc was rather "meh" to me, I did like Nagi's attitude about the loss of the King's Jewel. She may have wanted to get back to the mansion, but seeing Hayate reunited with his brother was more important to her.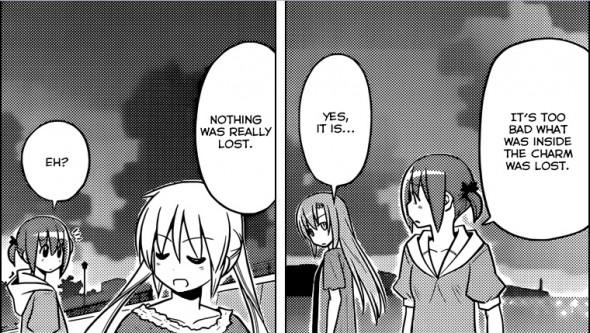 I wonder how Nagi gets the mansion back, since we already know that by the time the movie Heaven is a Place on Earth hits (which should be in another week or so within the manga's timeline), she's there. I guess we'll find out soon enough.
Finally, I was amused to see Fumi "save" Katsura, who seems to always get tossed up on some lonely stretch of beach. *lol*
Next week, there's no manga chapter, so back in a couple of weeks.