Spotted Flower Chapter 12.5 (Manga)
Spotted Flower manga chapter 12.5 review

SPOILER Summary/Synopsis:
NOTE: For the purposes of this and future reviews, until the characters are given names, I will call the "not Saki" woman "Oku-san" (a term for a wife) and I'll refer to the "not Madarame" guy as "Danna–san" (a term for a husband).
It is the summer Comifest and Not-Hato is sweating profusely in a dress after greeting some folks.
Seeing Not-Hato standing there, Not-Yajima yells for Not-Hato to help. Not-Yajima asks if Not-Hato is OK, to which Not-Hato remarks on sweat pooling in one's cleavage. This irritates Not-Yajima, who calls Not-Hato a terrible person. Not-Hato protests, citing and understanding of what the large breasted Not-Yajima has been going through. Not-Yajima reminds Not-Hato that it wasn't that long ago that sweat in her cleavage wasn't the problem; it was sweat from the folks of her belly.
Thoughts/Review:
At only two pages, this chapter of Spotted Flower doesn't have much in it, but it does give an interesting look at how Kio-sensei sees his Genshiken characters.
I get the sense that Not-Hato may have had a breast job done to become the ultimate trap. If so, no wonder Oku-san has the suspicions she had regarding Not-Hato and Danna-san.
The Not-Yajima character was the biggest shock. Because of her glasses and long hair done in a ponytail, Not-Yajima initially comes off like Rika. However, the large chest, the wearing of men's clothing, the attitude, the eyebrows, and the remark about pouring sweat from the fold of her belly says this is the Yajima character in Spotted Flower.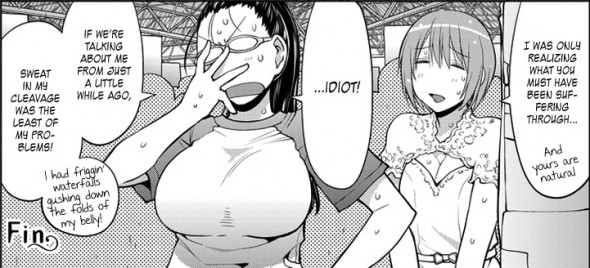 I guess I find it interesting that for whatever reason, Kio-sensei sees Yajima as losing a lot of weight in the future. Considering this Not-Yajima character is with the the Not-Hato character, they are pretty close, at least as friends.
Too bad this wasn't a regular chapter of Spotted Flower, but it was neat just the same.