ユーキューホルダー! Manga Review
UQ Holder Chapter 45
SPOILER Summary/Synopsis: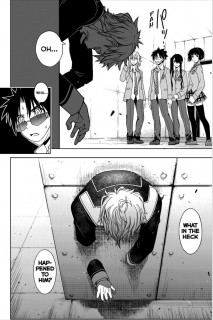 Touta's defeat of two elite students causes a big stir in Academy City and catches the attention of the hooded individual. Touta puts on shades and a breather mask to try to disguise himself as he, Karin, Ikkuu, and Kuroumaru begin their murder investigation.
At the first site, Ikkuu is able to virtually show them the murder scene, including the moments after the victim apparently fell from the sky. Although there is a high rise dorm nearby, it is impossible for the person to have jumped from there.
After saying a prayer, the group heads to the next site, which is a dorm bathroom. Ikkuu again gives a VR display, where they see a male student phased into the wall. Kuroumaru figures the murderer has to be someone with a unique ability, or an immortal, supernatural being. With Touta understanding why this would be a job of UQ Holder, Karin agrees, saying they can't give any more immortal hunters or exorcists more excuses to go after immortals.
Kuroumaru and Touta are given a free dorm room on the 4th floor as the hooded individual monitors UQ Holder's every move. The hooded person hacks into the UQ Holder network, finding detailed information about Karin, Ikkuu, Kuroumaru, and Touta, who's listed as only four years old. The hooded figure vows to send them packing as happened when the hooded person sent Karin packing eight years earlier.
To the hooded figure's surprise, Touta and Kuroumaru arrive at the door where the hooded person is residing. Although the door chain is in place, Touta simply breaks it, allowing him and Kuroumaru to enter. The hooded figure panics, causing the hood covering its head to drop, revealing a humanoid with long black hair. Touta doesn't find anything wrong with this, and mindlessly greets this new roommate, who cautiously returns the greeting.
Thoughts/Review:
It is kind of amusing to me to see that Akamatsu-sensei is combining current technology elements (the security cameras on campus; "Tomoko's" tower PCs with large, flat screen monitors, etc.) and future tech (Ikkuu's VR ability to allow the others to see the crime scenes as they were after the murders, "Tomoko's" VR monitors to display information on UQ Holder, etc.).
It is also amusing that Akamatsu-sensei pulled a big twist on the reveal of the hooded figure.  I've never read or watched WataMote, but I am aware of it. I don't know if Akamatsu-sensei is giving a nod to that series by having the mystery person resemble the main character Tomoko, but I couldn't help but make that comparison.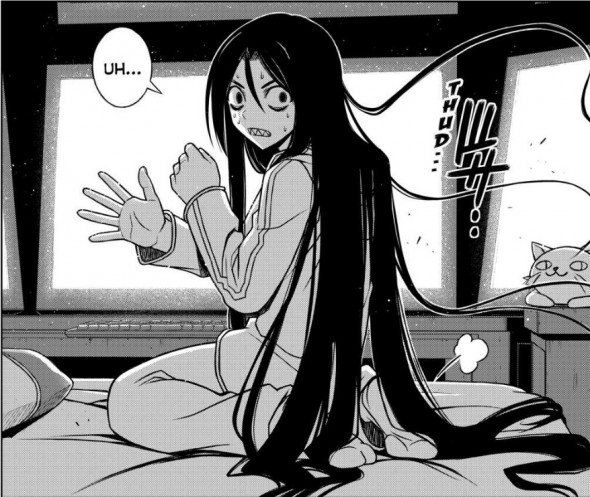 As to Touta, I was amused by his being ill when seeing the first, gory scene. Yes, I would likely be the same, but it is Touta we are talking about, so seeing Wonder Boy have a weakness is nice.  (I also enjoyed Ikkuu's offer to show the body impacting in slow motion.)
Regardless, I like that the story is going into a murder mystery. While I've no doubt that things will eventually end up in some kind of battle, for now, I'd prefer having the story actually work on solving the mystery.
There's still not a lot of information, but I figure that some immortal doing murders over the last 80 years has to have a specific purpose in mind.  What that purpose is remains to be seen though.
As for "Tomoko", since we've seen the hooded character as part of the UQ Holder manga promotional materials, I figure "Tomoko" will be part of UQ Holder when this arc is over.
Is "Tomoko" the murderer?  That's the obvious choice at this early stage, but I think that "Tomoko" is a loner, explaining their disdain for the idea of UQ Holder (a group), and "Tomoko" has been trying to solve the mystery solo. Sending Karin packing eight years ago could have been a way for "Tomoko" to remove the competition and do what they wanted without interference.
Transversely, "Tomoko" could be the murderer, but may have a reason to kill the folks that have been murdered over the years. They could have been entities like vampires and the like.
Of course, "Tomoko" may just kill everyone they feel is an enemy for whatever reasons. ("No matter how I look at it, it's all you guys fault I'm this way.")
Either way, now that Kuroumaru and Touta are in the same room as "Tomoko", it will be interesting to see how things play out.
I'm sure there was something else I wanted to comment on, but I'm out of time. I like the way the chapter has taken this new arc and hope to see more mystery solving and less action for now.