Pretty Guardian Sailor Moon Crystal – 04 Review
美少女戦士セーラームーンクリスタル
Bishoujo Senshi Sailor Moon Crystal 04

SPOILER Summary/Synopsis: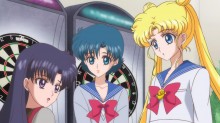 At school, Usagi and Luna learn of Princess D arriving in town with her legendary treasure. Luna wonders if this could be the princess they seek and the Legendary Silver Crystal. Calling a meeting at the local arcade, Ami gets Rei to play the Sailor V game while they wait for Usagi. After she arrives, Luna explains that the girl's mission isn't just to fight youma, but to protect the mysterious, sealed princess, and to find the Legendary Silver Crystal. Once all of the Sailor warriors are gathered, their sealed memories may return and then break the seal on the princess. The nerdy Omino arrives, just happening to have info and a picture of Princess D.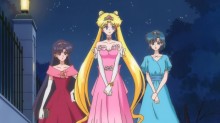 Elsewhere, Jadeite takes some grief from his fellow Heavenly Kings over his failed mission when Queen Beryl reminds them of their mission to retrieve the Legendary Silver Crystal to revive their great leader and the Dark Kingdom. That evening, Usagi gets home to find her father is attending the ball in honor of Princess D, so she decides to crash the party and gets Ami and Rei to go along with her. While Usagi gets caught up in the atmosphere of the place, even scoring a dance with Tuxedo Mask, Rei and Ami observe Princess D being escorted into a room for the secret treasure. There, they discover Nephrite, in the guise or a woman,  whom upon being discovered, has a youma possess Princess D to spirit the treasure away.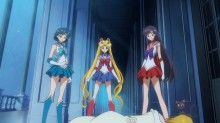 Ami and Rei transform into Sailor Mercury and Sailor Mars respectively to give chase. Usagi tries to stop her, only to get knocked off a balcony and have to be saved by Tuxedo Mask. After Usagi transforms into Sailor Moon, she and the others still can't stop Princess D, but thankfully, Tuxedo Mask has the vital information to allow Sailor Moon to use her new tiara to purge the youma possessing Princess D.  With that, the four Heavenly Kings, Jadeite, Zoisite, and Nephrite introduce themselves from the roof of a building across the street, then make sure to reveal their plans for the Legendary Crystal and the world before leaving. However, Princess D and her treasure weren't what the girls were looking for. Meanwhile, Luna confronts Tuxedo Mask, who says he's also looking for the Legendary Silver Crystal, but won't say if he's an ally or enemy.
Thoughts/Review:
One of the selling points for Sailor Moon Crystal was that it was supposed to be a more faithful adaptation of the original Sailor Moon manga. To date, I suppose it has been that, but with this episode, things have changed.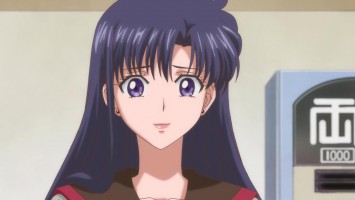 I mentioned in my review of the previous episode that Jadeite had died. That's because in the original manga, Sailor Mars did kill him. However, this episode had him very much not dead, and as such, having to take verbal jabs from his fellow bishounen kings and muttering curses at Sailor Mars.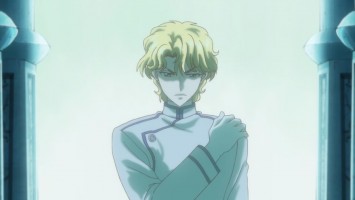 Next up, the Four Heavenly Kings show up to announce themselves to the Sailor Warriors. That didn't happen in the original manga.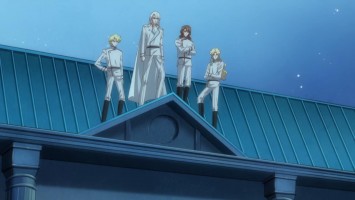 Nephrite wasn't the woman in disguise in the manga. It was a youma. Nephrite wasn't even on the scene, if I recall correctly.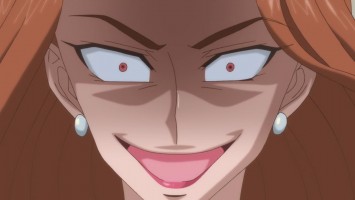 The last change I noticed was that in the original manga, Usagi got drunk at the party, which is why she was sleeping at the end. However, that is something apparently forbidden from being seen, so while the effects of her being drunk were there, the actual drinking was excised. Considering this is an ONA series, I'm a little surprised by this.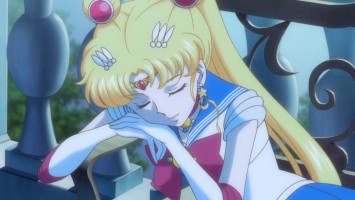 So I guess that Sailor Moon Crystal isn't going to be as faithful to the original manga as previously though.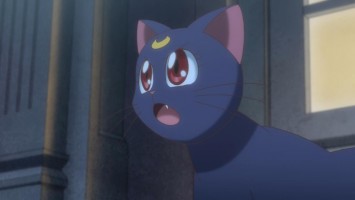 As to the story itself, it is a laugh to think that both the heroines and the villains both hear "princess" and "treasure" and immediately think, "this is it" without bothering to check anything. Seriously, assuming that Nephrite succeeded, how stupid must he and Queen Beryl look to have gone after something worthless just because the phrase "legendary treasure" came up.  You'd think that they or the Sailor Girls would have some means of saying, "Yeah, this isn't it." Well, they must have because both give up on it before the treasure is revealed, but that didn't kick in until the "fight" was over.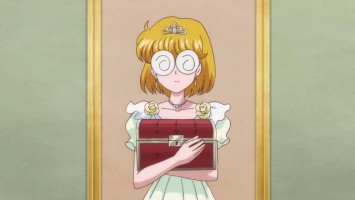 It is still laughable to me on how worthless the Sailor Warriors are. It is pretty awesome that everything comes to a halt so that the white knight, Tuxedo Mask, assisted by Luna, can give Sailor Moon on the job training on how to defeat their enemy. Meanwhile, he stands there, whistling, tapping his toes, looking at his watch, and wondering what he's going to get for dinner while he waits for Sailor Moon to get her instructions to use against him.  BWAH!ha!ha!ha!  We really have come a long way when it comes to improved storytelling.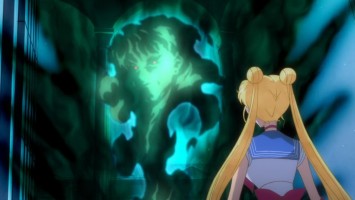 Anyway, looks like it will be a while before episode 5 comes out. However, I plan to be there when it happens.