Fate/stay night: Unlimited Blade Works – 00 review
フェイト/ステイナイト [Unlimited Blade Works] – 00
SPOILER Summary/Synopsis: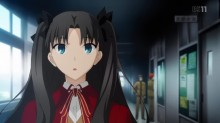 TOHSAKA Rin arrives at school early, where she's invited to observe the archery club practice, but she politely leaves when MATOU Sakura arrives. Sakura's brother Shinji shows up to hit on Rin, causing her to have to put him in his place. Wandering around the school to kill time, she encounters Shirou, who is helping repair things and comments on her coming to school so early. At lunch, she politely turns down a request to eat with some other girls and heads to the roof of the school, where she reflects on her discovery of her father's legacy to her — a pendant. That evening, she has a call, reminding her that most of the other Master's have chosen Servants, and that only Archer and Saber Servants remain.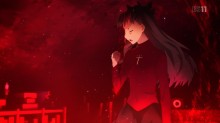 That night, Rin performs the ritual to attempt to summon Saber, using only her immense mana reserves. However, she ends up summoning Archer because all of her clocks were an hour off. Archer shows her no respect, so Rin uses one of her three Command Spells to try to force him into submission. While the spell is apparently not that effective, Archer now understands that Rin is a powerful mage with large mana reserves. As such, he willingly submits to her as his Master.  However, thanks to Rin's summoning method, Archer cannot recall his Heroic Spirit true identity or memories. For his first act as her Servant, Rin tosses Archer a broom and dustpan, telling him to clean up the mess he made after he was summoned.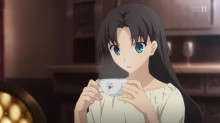 The next morning, Archer serves Rin tea, and reminds her that they haven't been introduced.  After accomplishing that, Rin decides to ditch school and shows the the now invisible Archer around town. That evening, the two end up on a roof with a good view of the city. Archer asks Rin what her wish will be should she win the Holy Grail War. He's stunned when he learns that her only ambition is just to win the war, not to make any wishes. However, this lets him know that Rin is his perfect Master. Upon returning home, Rin spots Sakura and hides to keep from being spotted. The next morning, Rin reports to Kirei that she has summoned Archer and thus is officially in the Holy Grail War. Kirei says he has something of her father's to give her, but she assumes it is the pendant and cuts him off.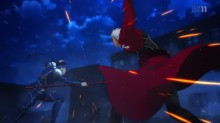 Rin goes to school and upon entering the school grounds, she senses a crude barrier has been formed. While consulting with the again invisible Archer near a stairway in the school, Sakura comes down the stairs and drops some papers, so Rin helps her gather them up. That night, Rin investigates the barrier with the invisible Archer, where they discover that the barrier is designed to harvest humans for a Heroic Spirit to convert to mana. Lancer shows up, stopping Rin from removing the barrier crests. Rin is forced to flee to a better spot so that Archer can reveal himself to battle Lancer. During the fight, a boy from the high school shows up, so Lancer goes to kill him to remove the witness. Rin discovers the boy is Shirou, so Rin uses her pendant to save his life. Later, she and Archer go to track down Lancer to protect Shirou, when they are confronted by Saber.
Thoughts/Review:
If I were to do my review in one word, that word would be "incredible!"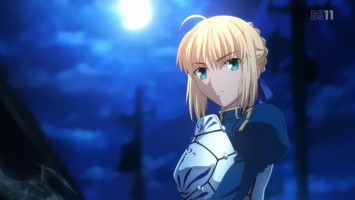 Seriously, ufotable did an amazing job with this ~45 minute prologue episode. Of course, I'm coming at this after having seen Deen's adaptation of the Fate route of Fate/stay night, combined with the excellent information given to me when I episode-blogged that series, as well as the two Fate/kaleid liner PRISMA☆ILLYA series that have aired to date.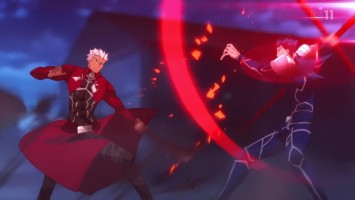 I absolutely loved that Rin is the star of this episode. As I recall it, in the Fate/stay night visual novel, she is the one to get things kicked off before it shifts to Shirou and Saber. (At least, that's what I remember being told since I've never actually gone through the visual novel myself.) Her character design seemed a little off to me at first, but then I remembered that Fate/kaleid liner PRISMA☆ILLYA has kinda polluted my visual image of her. Looking at images from the visual novel, I think ufotable gets her character design right.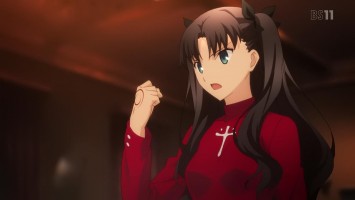 I liked that ufotable used a few clips from Fate/Zero showing Rin as a child as well as giving us glimpses of her mother and father. That was a really nice touch and helped ufotable as they fleshed out Rin's character quite nicely.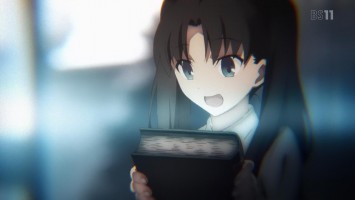 On that front, it was nice to see Rin's other abilities. I recall Deen's Fate/stay night anime showing us that Rin was a skilled mage/magus, but in this episode, I felt we got a better look at that.  While we haven't seen Rin use her Gandr attack spell, we did get to see her excellent athletic and battle skills, as well as the magecraft that allowed her to flee Lancer and make an incredible leap over a fence on top of a roof. That may have been in Deen's adaptation, but I just don't recall it.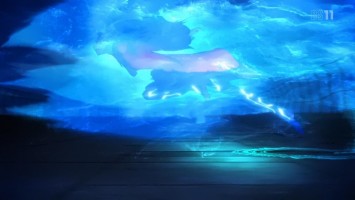 Bottom line, Rin was rather incredible in this episode.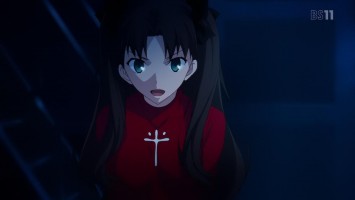 I have to admit that I have such a strange feeling as I watched all of this from Rin's perspective. Knowing her relationship with Sakura made the scenes with Sakura in them have so much more meaning to me.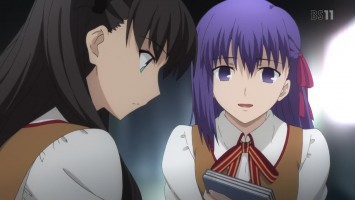 Ditto her scenes with Archer, since I know Archer's true identity.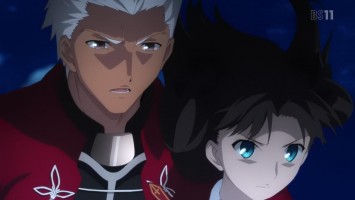 I even got a shiver when Rin sat in the room where her father was murdered. It really made me glad to have watched Fate/Zero.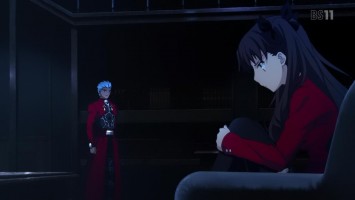 In the end, ufotable did something incredible and unexpected by making this long prologue episode. If they continue like this, Fate/stay night: Unlimited Blade Works will be one incredible anime series.