Fate/stay night: Unlimited Blade Works – 03 review
フェイト/ステイナイト [Unlimited Blade Works] – 03
SPOILER Summary/Synopsis: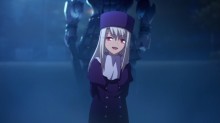 Ilya introduces herself and makes sure Rin knows she's an Einzbern, something Saber reacts to as well. The invisible Archer tells Rin that Berserker could easily face the other six Servants. Rin dispatches Archer to provide ranged support as Ilya has Berserker engage. With surprising quickness, Berserker launches himself into the air and attack, easily shaking off a volley of arrows from Archer. Berserker is on Shirou in a flash, causing Saber to jump in to defend. As the two servants fight, Saber is is impressed by Berserker's skills despite his madness. Archer lands another blow, which doesn't affect Berserker. Rin uses her magic to trap Berserker, giving Archer another shot, but again, Berserker is not phased.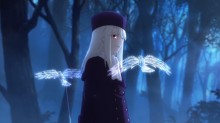 Saber moves the fight to a graveyard, where she has more cover. Ilya follows, so Rin tells Shirou to run before she follows Ilya. Shirou has a moment to deal with his fear before moving to follow, while in the church, Kirei and the blonde man have a chat about the situation. Elsewhere, Rin uses magic to attack Ilya from the rear, but she has a couple of magic-created guardian birds that block the attacks. Rin tries to destroy the birds, but to know avail considering Ilya's massive power. Ilya uses a couple more strands of hair to produce two more birds as Rin decides to stop running and attack. She destroys two of the birds, but the third (Zelle) turns into a blade and stops her attack. The fourth bird, Degen, also turns into a blade, but Rin is saved by Archer lobbing in arrows.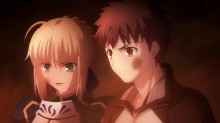 Rin escapes and communes with Archer, informing him of her plans to join Saber in the fight. She runs into Shirou and gets angry at him for not fleeing since he's not a mage and can't offer support. The two them run to watch Saber and Berserker battle. Out of respect for Berserker, Saber announces she's going to finish him, then manage to do so in impressive fashion. However, Archer sees that it isn't enough as Saber sees the curse of resurrection happen. Shirou senses what Archer is about to do and pulls Saber away from Berserker. Archer's arrow lands with a fierce explosion of energy, but it isn't enough. Because of Archer's attack, Ilya decides to leave, now finding Archer of interest. Shirou collapses and vomits up blood.
Thoughts/Review:
Wow! Ufotable, you are incredible!  I say that because after the insanity that has been my work life of late, I spent an entire day slacking off and resting to recuperate. However, after watching this anime episode, I suddenly felt compelled to start writing ASAP! That's how good ufotable is doing things!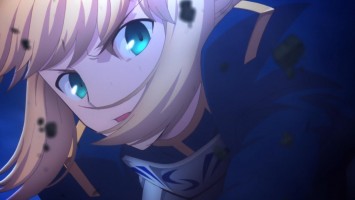 When Ilya introduced herself as an Einzbern, Rin's reaction was due to the family name and its connection to the Holy Grail War. (At least, that's how I'm seeing it.) For Saber…
Saber's reaction
…her reaction was one of, "I have to fight an Einzbern this time when last time, I worked closely with Iri Einzbern?" Of course, that was quickly followed up with her appearing to steel herself up to do the job at hand and not let emotion get in the way.
[collapse]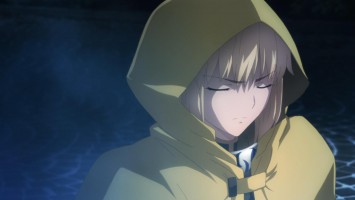 The battle of Saber and Archer vs. Berserker was most impressive. We've already remarked on the impressive job that ufotable is doing with the battles, but here, things seemed even more impressive.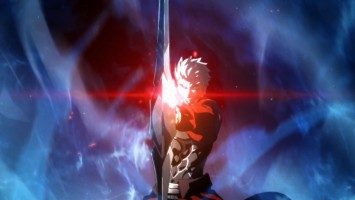 A big part of that goes to how Berserker fought. My memories of him from the original Fate/stay night anime aren't of an agile Servant, but a lumbering, massively powerful giant of a Servant that was nigh unstoppable. Ufotable kept all that, but making Berserker fast and agile just made things so incredible, making him so much more awesome than imagined.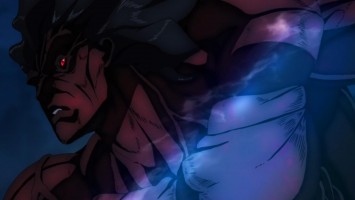 Still, I couldn't help but recall the emphasis placed on the fact that Shirou couldn't supply Saber with mana like other mages would have been able to. As such, as Saber battled away, I kept thinking, "So, when does she run out of gas?" Yeah, having watched the "Fate" route in the initial anime adaptation, I know this issue will be addressed, but I seem to recall Saber getting her arse kicked when she fought Berserker there.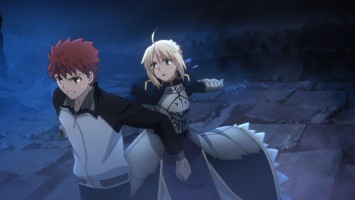 Another thing ufotable did was make Rin and Ilya the powerhouses they were meant to be as mages. I don't recall Ilya using the hair magic to create objects to do her bidding in the original anime adaptation. I know Iri did in Fate/Zero, so seeing Ilya do it in this episode made me quite happy.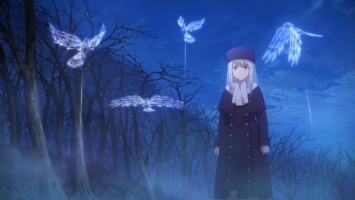 As for Rin, we've already seen her use magic to enhance her leg power. Here, we saw her able to seal Berserker for a short time as well as go up against Ilya and take out two of her familiars. I don't remember anything like that from before. Even if something was there, it wasn't impressive like it was here.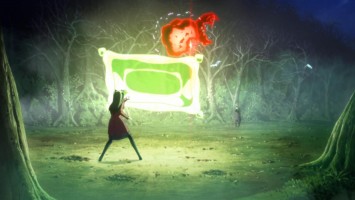 As for Shirou…
Future spoiler
…I loved that bit of foreshadowing when he was able to sense what Archer was about to do. I do wonder how that clue plays for people who've not watched the original Fate/stay night.
[collapse]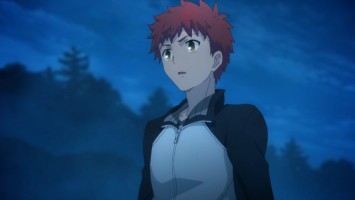 Finally, that conversation between Kirei and Blondie. Heh!heh!heh!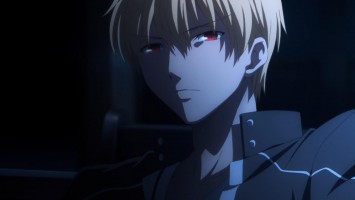 I really can't say enough good things about ufotable and the outstanding job they've done with Fate/stay night.  This is highly impressive work. I don't know that I'll want to pay the outrageous amount Aniplex is likely to charge, but if they don't go El Nutso on the price, then I'll want this on Blu-ray for sure based on how things have been to date.