愛・天地無用! Ep. 08 (09 with recap episode)
Ai Tenchi Muyo! – 08 Review
SPOILER Summary/Synopsis:
Note: The episode numbering used here is based off of the official video releases, which aren't numbering the various recaps and such in the episode numbers.
Kurihara-sensei teases Tenchi-sensei over his phallic-shaped charm (Tenchi-ken). Tenchi breaks up a fight between Hachiko and Beni. He helps the Science Club plead for more supplies, but the Student Council denies them on the grounds that the Science Club haven't provided justification. The Council sends Hachiko to the storage building to get stuff and Tenchi-sensei accompanies her.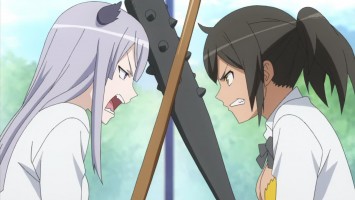 Thoughts/Review:
Tenchi shows he's not quite the hapless guy he's been portrayed as thus far (save for his dealings with Ryoko) by taking Tenchi-ken out of Kurihara-sensei's hand before she could react.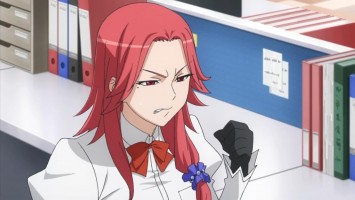 Then he easily blocks the punch from Beni, which I enjoyed seeing.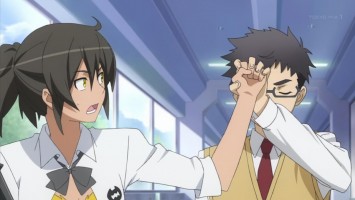 As to this feud between the Student Council and the Science Club, there's not enough information to go on. Obviously, the Science Club wants to go treasure hunting and the Student Council doesn't want to fund that activity.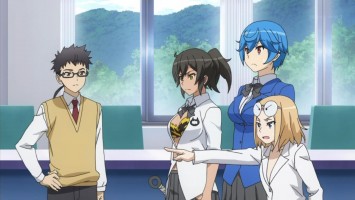 Regardless, we have Tenchi and Hachiko going to this storage building. Assuming an episode is dedicated to this (which I assume will happen since the Science Club trio were watching them), it could provide an opportunity for Hachiko to come to respect Tenchi.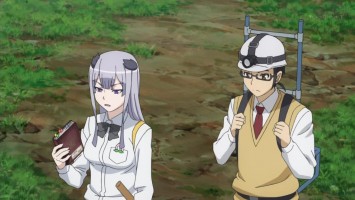 Otherwise, nothing to say here but to move on to the next episode.