ユーキューホルダー! Manga Review
UQ Holder Chapter 52
SPOILER Summary/Synopsis: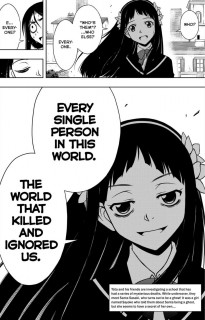 Sayoko tells Santa that she's going to disappear and take everyone who killed and ignored them with her. She asks him if he hates all of those people. As she does, undead human skeletons emerge and touch Santa, causing him to rage and want the people crushed. Sayoko smiles and says she has the power to make that happen. As she summons the crows and skeletons into a cape, she tells him goodbye and flies off.
Santa panics over what he said to Sayoko as Ikkuu, Touta, and Kuroumaru arrive. Touta assures Santa that they mean him no harm.
Meanwhile, in the city streets, zombies begin targeting people, biting them viciously in the neck, apparently killing them before they turn into zombies. Touta saves one of the punk bullies, just released from jail, from being killed and he's joined by the others, including Santa. Santa is afraid by the zombie mayhem he believes he has caused as Ikkuu attacks with birdlime bullets while saving civilians. Kuroumaru also gets into the fight as Touta tries to get Santa to tell him what he knows.
Thoughts/Review:
Yeesh! Evil does indeed sometimes wear a pretty face. Up until now, I was wanting Sayoko to be saved, but I now see there's no salvation for her. She skillfully manipulated Santa into a rage state so that she could then carry out her own plans for revenge.
Don't get me wrong, I feel badly for Sayoko being the apparent victim of bullying. Bullies do need to be put in their place, but going out and performing mass slaughter isn't the solution.
We still know very little about Sayoko. How did she come by this power of necromancy, something that hasn't been discussed before in the Akamatsu-verse (that I'm aware of)? The closest would be Eva turning humans into vampires.  Sayoko's summoning of a cloak of crows and skulls evokes memories of Eva having a cloak of bats. Sayoko is like Eva, only much more evil than Eva ever was.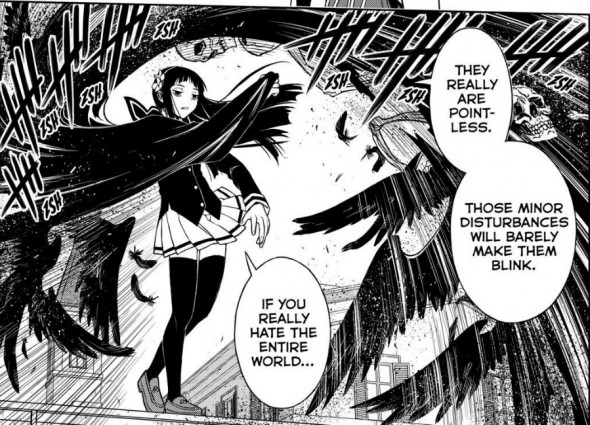 Because of Sayoko's appearance as a young girl, combined with her dark powers of necromancy, I would love it if Eva shows up to fight as her normal self (not as Yukihime), and even does the bat-cloud move she did on Fate in Kyoto during Negima.  I'd love to see Eva using a doll army vs. an army of zombies.  I'm not sure that Akamatsu-sensei will go that route (a lot of Western fans didn't like it that she showed up in the fight against Fate), but it would be cool for me.
Now, as to the zombies, again, Akamatsu-sensei goes as gory as he can for a shounen title. The way these zombies spread themselves reminded me of Dead Apostles from Fate/Zero. I'm not a fan of zombie anything, so I'm not versed in the genre. I suppose there are other franchise where zombies go around spreading like a disease via biting victims.
Anyway, we now have the Zombie Apocalypse running wild in Japan. I guess we will see Kirie do at least one reset on things before all is said and done.
As for Santa, I think it is pretty obvious that he'll open up to Touta, further paving the way for him to join UQ Holder.
So, a rather gruesome, dark chapter in UQ Holder.