ユーキューホルダー! Manga Review
UQ Holder Chapter 54
SPOILER Summary/Synopsis: 
With Touta's attack failing, Kuroumaru tosses him Gravity Blade. Touta tries again, but fails, but Sayoko connects with a shadow fist. She then uses Grand Master magic to fire 571 Dark Fire Arrows at the UQ Holder folks in rapid order. With zombies climbing the walls, Kuroumaru attacks, which breaks through and damages Sayoko. She regenerates and forms more arms, but then has Kirie attack and bite Kuroumaru.
With Kuroumaru captured, Touta lands a punch, thanks to Magia Erebea. Sayoko counter attacks with a large, unincanted spell, but Kuroumaru forms a barrier to defend against it. Kuroumaru and Touta move to attack, but Sayoko activates the virus within Kuroumaru. With that, Kuroumaru attacks Touta as Sayoko explains that this modified virus infects the soul. With that, Kuroumaru cuts Touta in half.
Thoughts/Review:
Ugh. I can't write as much as I want since I'm not at home, but I'll do the best I can.
As mentioned in the spoilers, Sayoko reveals herself to be a powerful mage. I'd love it if we got more information about her, including how she became a necromancer and where she learned magic from. Sadly, I doubt that we'll get that.
Her zombie infection that can target immortals as well as mortals is an interesting twist. Once this is over, I guess we'll be in for a bit of Kuroumaru angst over having been taken over twice.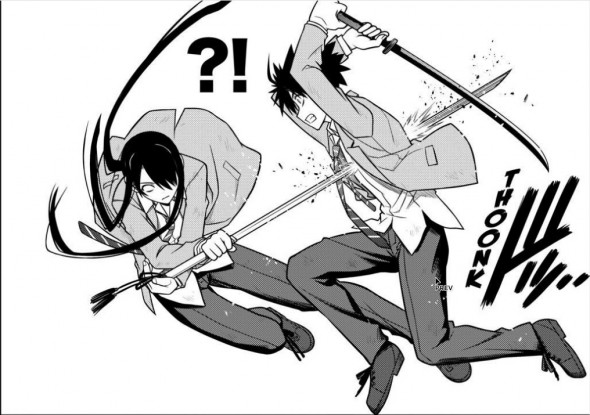 With Touta cut in half, I see some possible outcomes (or a combination of the them).
Touta uses Magia Erebea to reform and go on the offensive again.
Eva shows up to face Sayoko.
Karin shows up, having been freed by Kirie somehow.
Santa says or does something that turns the tide.
One more things — as Sayoko remade herself, I couldn't help but think of Naraku from Inuyasha, who always managed to reform somehow. Yeah, I know, not the same thing, but for some reason, I was reminded.