ハヤテのごとく!/Hayate no Gotoku Manga
Hayate the Combat Butler Chapter 469 Review
SPOILER Summary/Synopsis: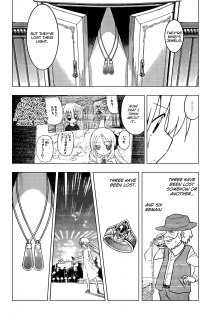 Nagi has a dream about her mother in younger form and a boy calling himself HIMEGAMI Aoi. Her mother is in the upstairs room of Yukari-chan House with the coffin and is holding a King's Jewel, saying she will save him.
Nagi gets up and recounts the dream to Maria and Hayate, but Maria is more concerned with the dust that has built up over the last few months of their absence. Nagi agrees, comparing it to a manga-ka doing foreshadowing, thinking their manga won't last but a few years, but then ten years later, there's a lot of plot threads that haven't been touched.
Maria then arbitrarily reveals that the reason Mikado adopted her to have her decipher the writing under the villa in Mykonos since Maria is a genius who knows 13 languages. However, Maria wasn't able to translate the text, but since Mikado liked her, he made her Nagi's maid and surrogate mother after Yukariko died. Maria reveals that Athena was the one who did translate the text.
Elsewhere, Ah-tan is with Hina, visiting Yukiji in the messy night teacher's room that she rents as an apartment. There, Ah-tan sees the ring she'd given to Hayate years earlier. Yukiji explains that she had bought it at a pawn shop since it was cheap and she'd decided not to hock her guitar. With that, she gives the ring to Ah-tan.
Hayate is dusting in Nagi's room when he notices a jewelry box that Nagi says belonged to her mother. Inside are two dark King's Jewels on necklaces. Hayate realizes that the ring Athena had given him as a child held a King's Jewel as its stone.
Nagi thinks back to her dream, where Himegami is encouraging a reluctant Yukariko to use the stone's power. He offers to check it out first and asks for the stone.  Nagi tells Hayate that the boy in her dream wasn't Himegami.
Thoughts/Review:
Sadly, I'm highly pressed for time. However, I'll do what I can.
This "Himegami" in Nagi's dream is going to turn out to be Machina. There, I've said it.
That aside, I'm laughing at the sudden info dump in this chapter as well as Hata-sensei making fun of his own situation. It seems clear that he never expected the manga to go on for ten years and fifty volumes. I also feel Hata-sensei wants to wrap this up sooner rather than later.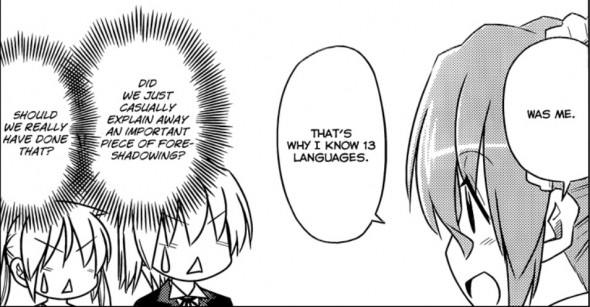 Maria suddenly revealing why she was brought into the Sanzenin family does two things for me. First, I think it sets her flag for the final arc, which is what most of think she'll be a major player in. Secondly, it seems to confirm what I'm long thought — officially, Maria is a member of the Sanzenin family.
Speaking of Maria, I did like the nod to Shun with the reference to Yukariko suddenly marrying a guy. As I understand the chapter, Maria came into the family around that time. Very interesting.
As to Yukariko, it will be interesting to learn how she came by so many King's Jewels and how she came to know whomever this boy is.
As for Athena, I felt badly for her when she found the ring that she'd given to Hayate in Yukiji's possession. Athena now owning it again could have interesting consequences later. I say it is a wedding ring for when she and Hayate get married. *nods*
But now we know how she became involved with Mikado.
Wish I had more time to talk, but whomever wants to discuss things more, do so in the comments. I promise to get to them by the weekend…I hope.