ユーキューホルダー! Manga Review
UQ Holder Chapter 55
SPOILER Summary/Synopsis: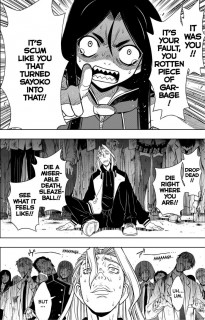 Santa is surprised that Touta is torn in half while Sayoko is surprised that she's not able to put Touta to sleep, meaning he's no ordinary high level vampire. Ikkuu tries to get Santa to help him save the survivors, but Sayoko rips Ikkuu apart.
Realizing Santa is watching, Sayoko puts on her cute, friendly facade and apologizes to him before telling him she's going to take over the world. Before she can leave, Santa asks why, so she reminds him that this was his wish. With that, she leaves
A survivor comes to plead for help from Santa, who forces a hoard of zombies back. Santa recognizes the man he saved as one of the punks who were bullying an old man. Santa says that people like the guy turned Sayoko into what she is and he kicks the guy to the zombies. However, he has second thoughts about it and saves the guy again. Ikkuu apologizes to Santa for suspecting him, then begs him to help as well as warning him about Kuroumaru and Touta. With that, Ikkuu self destructs rather than be bitten.
Ikkuu get the bully, named Shinji, to safety. Santa tries to leave him, but Shinji finds a broom and follows Santa. Santa tunes into the radio to discover reports of outbreaks all over the world. He realizes that this is what Sayoko had been doing all this time. Santa is impressed with Sayoko's power. However, Shinji going on angers Santa, causing him to throw Shinji to the ground. He tells Shinji that he's not worth protecting, but Santa's going to stop Sayoko just the same.
Thoughts/Review:
Looks like Akamatsu-sensei is again paying tribute to Aliens with how Ikkuu was pierced from behind, then torn apart. Heck, he even threw in the term "Bishop," which was the name of the android (artificial person, as he liked to be called) in Aliens. Well, it is a classic movie and an iconic scene in the movie.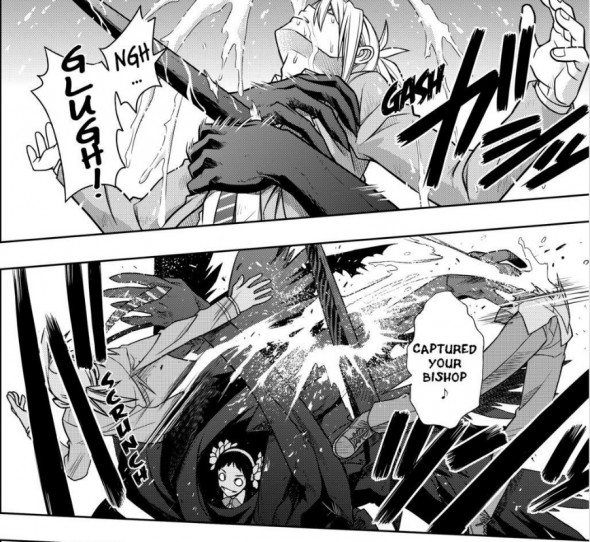 And can a zombie really infect a machine? Considering Ikkuu's self destruction, I suppose that he wasn't taking a chance. Plus, I suspect that he'll download into another body, where he can alert Eva and company.
Regardless, Santa is being set up to say or do something that turns the tide, after which he joins UQ Holder. However, Touta is waiting in the wings to regenerate and ultimately save the day, though Santa will get the assist.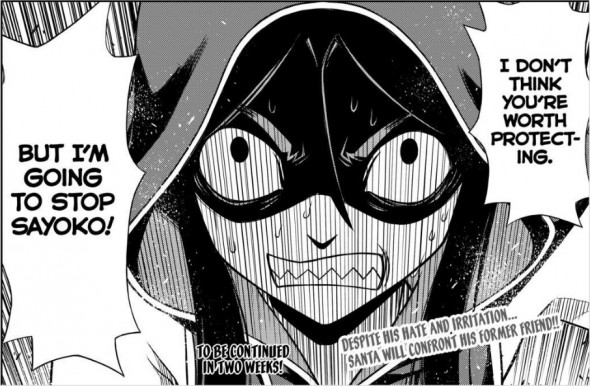 I still see a possibility of Eva showing up. She almost has to since this has become a global crisis. Whether we get to see a loli battle remains to be seen.
Otherwise, not a lot for me to comment on. We have two weeks until the next chapter. Feel free to speculate or comment on how things are going in this arc.