Here is a SPOILER image for the upcoming UQ Holder chapter 56, courtesy of Manga Kansou. (My review of UQ Holder chapter 56 should come out Wednesday.)
UQ HOLDER CHAPTER 56 SPOILERS
The UQ Holder chapter 56 goodness begins.^_^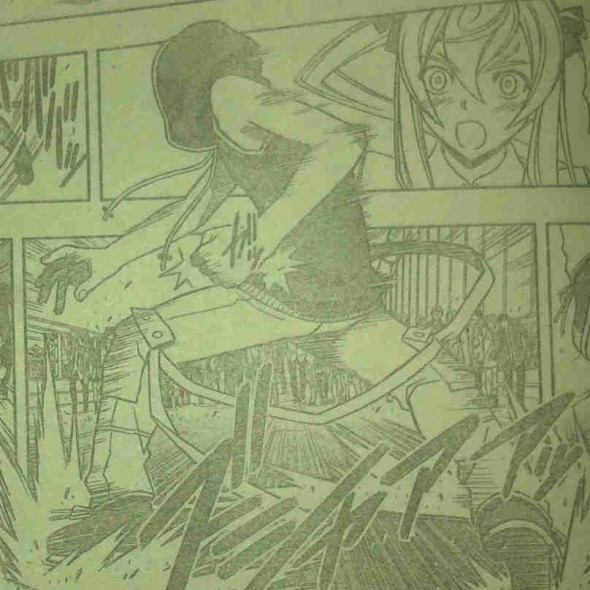 Kind of a big image in size (but still small in terms of what it is showing. Santa gets to be the hero for now. Don't worry though. If I understand things right (and ChaosProphet can correct me if I'm wrong), in 57 minutes, Touta will be back in action to save the day.
This chapter is going to contain a flashback to how Santa and Sayoko met. Sayoko looks to come off as sympathetic as she and Santa bond in her toilet cubical (to borrow a term from my British cousins…"stall" to us in the U.S.).
Hopefully, ChaosProphet will have something for us soon.
UQ Holder Chapter 56 Update #1: From ChaosProphet
The chapter starts giving a report of the current situation:
2086/9/4 Mysterious riots happened all over, the world is already in the state of the last part of a Zombie movie
Mahora Academy – 64% of it's population already turned into zombies, no prospects of rescue.
Touta – regeneration speed decreased a lot because of the soul zombie virus, ME super regeneration also won't activate. Approximately 57 minutes until full recover.
Ikkuu – current body is unusable.
Kirie and Kuroumaru – controlled by the enemy through the virus.
Sayoko – the true culprit, exceptional necromancer
Santa – Revenant, it's well and together with the first-class student Shinji.

Santa to Shinji "I will stop Sayoko! But dare you worth that?" Santa remembers when he met Sayoko.

(flashback start)
A rumor spread between the students that in the bathroom of the old school building "Sayoko appeared. This year someone will die again." Santa with a bruised head goes have lunch in the bathroom.

He is surprised when he goes there and sees Sayoko sitting on the toilet crying. They talk a bit, Santa isn't scared of her. The two without a place to go started bonding on that bathroom. They would have lunch together and clean the bathroom to pass time.

Santa talks that by working hard at learning magic by himself and through the money his mom (who already is dead) worked hard to raise he was able to enroll at that school. He talks about how he is bullied and that life isn't that good of a thing.

Sayoko cries about how she can't forgive people like that and that the world is an unjust place. Santa tries to make her feel better saying she don't need to worry, if he talks with the police he can stop the bullying.

Later Santa comes to the bathroom with the head full of scratches. One of the bullies is the son of the director that have a connection to the police so Santa plea was ignored. He tells Sayoko he will stop coming so he also don't bring problems to her.

Sayoko tries to stop Santa who says he will somehow solve the problem by himself. But the next time they meet is on that rainy day Santa jumped off. Sayoko who sees Santa says "I won't let it end like this!!".
(flashback end)

Santa remembers everything. He was about to hit Shinji again who was trying to make excuses for the incident with the homeless. Then Santa sees students survivors struggling on the bridge. "There is no point in stopping Sayoko is only a trash like you would survive!".

The students were about to lose when Santa comes and scatter a lot of zombies away (image here). "Ah, if things were turning this way I should have joined those UQ Holder people with Touta. Come corpses, I will be your opponent!"