Here is a SPOILER image for the upcoming UQ Holder chapter 59, courtesy of Manga Kansou. (My review of UQ Holder chapter 59 should come out Wednesday.)
UQ HOLDER CHAPTER 59 SPOILERS
The UQ Holder chapter 59 goodness begins.^_^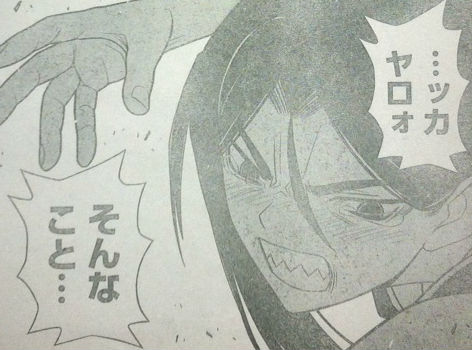 So, we do get to see Santa battling still, which I believe is to get him to Sayoko.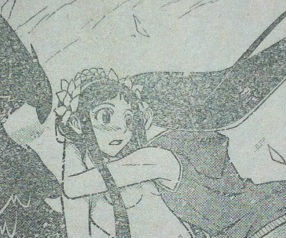 Despite its ecchi nature, this scene is rather sweet on the surface. I really do hope that Sayoko gets redeemed, frees Kirie from her disease, then when Kirie resets everything, Sayoko comes back with Santa, only this time, she doesn't unleash hell on Earth. I really do want to see Sayoko and Santa as a couple, working with UQ Holder.
Assuming gracious ChaosProphet swings by with a translation, it will be interesting to learn if what I think I saw was correct. I got the feeling that Santa didn't commit suicide, but was murdered. I could be VERY wrong about this, so I don't want to say a lot. I did originally think that Santa might have been killed as a result of bullying, but then things shifted so that it seemed like he committed suicide. We'll see how it actually pans out.
OK, if ChaosProphet has a translation, or if more info shows up, I'll be sure to update this entry.
UQ Holder Chapter 59 Update #1:
A bit of a resumed version of MK's spoilers. Be warned there is more to the chapter specially before and after the recollection:

As a Sworn Friend

Touta tells Santa he will leave Sayoko to him. Then he thanks Shinji who was really scared for bringing him saying he was really brave. Touta then goes off to fight Kuroumaru.

Then there is some talk between Santa and Shinj about why he came to help him. Santa ultimately thanks him and goes to fight Sayoko.

Santa's recollection:

Sayoko tell Santa, who didn't have the memories about his death, that he didn't commit suicide, but was actually murdered because he was inconvenient. The parents of the perpetrators used their influence with the school and police so the case was left as unanswered.

Sayoko complains it always have been like that, that it only get worse with the years. Those people always get away with it. She can't forgive them.

When she accomplishes her revenge, she shows Santa his murderers gruesome appearance. Santa is surprised at the sight and ask if they're alive.

Sayoko laughs and says it's a present to Santa. With a smiling face she tells him to not worry, they're still alive as it's Santa right to revenge.

"Look! If you do this they let a funny cry!" Sayoko uses an impact driver making them shriek. Santa sees that and run away secluding himself in the toiled.

Sayoko "I'm sorry! I'm sorry! I thought you would be pleased by it."
Santa "Pleased? You're weird. You're weird… probably from the beginning."
Sayoko tells him she wouldn't do that again but Santa says he now understood that the world is hell anywhere and asks her to erase him.

Sayoko asks him to please not say that. She don't have much time left. She had her resolution, but now don't think she can take her last 8 years without Santa.

Even then Santa asks her again to erase him.

Sayoko "No… If you're going to disappear, then changing your memory…"

Recollection ends

As he gets near Sayoko Santa thinks how things may not have turned that way if he had stayed with her. When he is getting near the skeletons appear again. Santa beats them back and hugs Sayoko.

Santa "I will die with you, so lets have a tour together in hell".