Fate/stay night: Unlimited Blade Works – 07 review
フェイト/ステイナイト [Unlimited Blade Works] – 07
SPOILER Summary/Synopsis: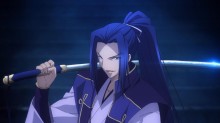 Assassin holds off Saber on the stairs below the temple's gate while on the temple grounds, Archer confronts Caster. Archer explains to Shirou how Caster is using the souls of people to gather energy. Archer is troubled when he learns that Caster is the one who summoned Assassin, meaning she is both Master and Servant, though Assassin is not the true Assassin. Caster is annoyed at being called a witch and defies Archer by telling him he won't be able to scratch her within her temple territory. Archer destroys her illusion, but she's above and begins raining bolts of magic energy onto him and Shirou. Archer is forced to save Shirou's life, which Shirou doesn't appreciate.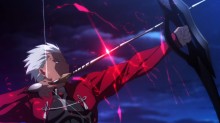 After Archer kicks him out of the way, he is captured by Caster. However, Archer's blades come flying at Caster, forcing her to release Archer. With that, Archer unleashes Caladbolg at Caster, who manages to raise a magic barrier, but it penetrates the barrier, striking her down. Archer refuses to kill Caster since he doesn't want unnecessary killing. Caster is amused by this since she sees that Archer and Shirou are very much alike at heart despite how they dislike each other. She asks them to join her, but Archer turns her down. Archer lets Caster go, irritating Shirou even though to defeat Caster, they have to get to her Master. Shirou is not pleased that Archer is willing to sacrifice people in order to ultimately bring down Caster after she defeats Berserker.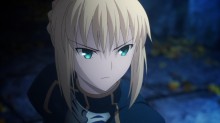 Meanwhile at the gate, Assassin unleashes his Concealed Sword: Swallow Reversal attack on Saber, who managed to avoid death through precognition, thought the attack hits. Assassin is surprised that she survived, explaining his technique was developed after studying for a way slay a swallow with a sword so that it could not get away. At the same time, Shirou has become angry with Archer and decides to go after Caster himself. Archer strikes him down, which Rin seems to sense and awaken from sleep. Shirou has a vision of Archer in a field of swords dying. Shirou craws away and is struck again by Archer. Assassin allows Saber to save him. When Archer comes in to finish off Shirou, Assassin stands in his well. The two fight as Saber gets Shirou to safety.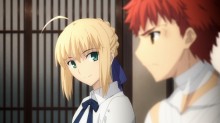 At home, Saber bandages up Shirou. She's amused by his speaking ill of Archer. She's also amused and impressed by the fact that Shirou doesn't believe Archer betrayed him since Shirou's alliance is with Rin, not Archer.  She agrees that Caster is a problem that has to be dealt with, but she disagrees with Shirou in thinking that Archer is being cruel. She points out that Archer's technique against Assassin was pure, meaning his heart is pure. Shirou doesn't want to concede the point, so he mutters that Archer isn't that great since Archer failed to kill him with an attack from behind. Saber remarks that she believes Shirou could reach Archer's level of skill with a sword, so Shirou asks her to train him for a real fight once he heals up. She agrees.
Thoughts/Review:
Man, another good episode with some nice action, and yes, a lot of exposition as well.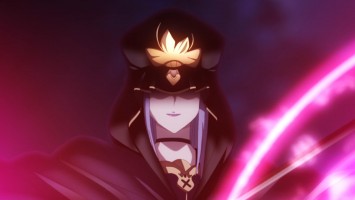 Some buddies of mine have told me they don't like the chatty nature of Fate/stay night.  While there is a lot of exposition in every episode, for me, this isn't wasted time, nor is it boring. The exposition really helps lay out things and explain this very complex world of Fate/stay night. For me, it is very interesting stuff.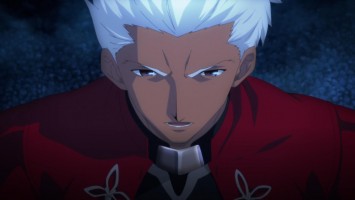 One friend pointed out that in reality, Caster wouldn't have let Archer blather on to Shirou, and Assassin wouldn't have bloviated away at Saber. Instead, both should have taken care of business right away and slain their opponents (or at least, attempted to slay their opponents).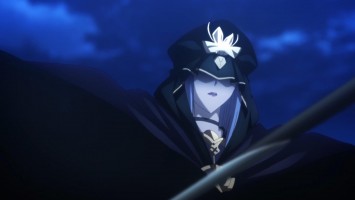 This made me think about my complaints with the Sailor Moon Crystal series, were the villains always sit around and wait for the Sailor Jailbait girls to go through their tediously long, transformation sequence. Why does this waiting around annoy me there, but I've no problem with waiting around in Fate/stay night?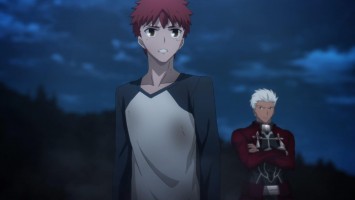 For me, I think it is a matter of usefulness in the waiting. For Sailor Moon Crystal, the waiting is just for pointless fanservice. For Fate/stay night, the waiting is for interesting exposition. When Archer is explaining things to Shirou, Caster does nothing because she's overconfident that nothing can happen to her within her territory. When Assassin is talking to Saber, it is one warrior to another. Thus in both circumstances, the chats are interesting and meaningful, thus I don't mind the waiting because it doesn't feel like waiting.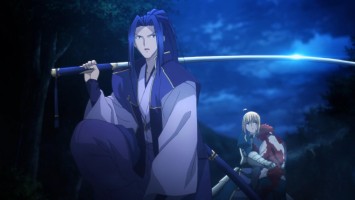 That out of the way, I liked how Caster comes off in this episode. She looks like a butterfly when she's up in the air with her cape spread. Of course, she's a deadly butterfly, what with her raining magical death beams from the sky.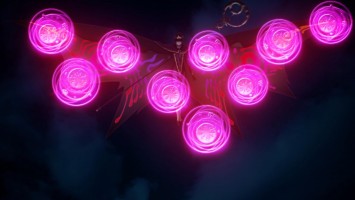 Caster's battle with Archer was cool. I didn't have a problem with Archer not killing Caster since he had clear reasons to want to keep her alive for now.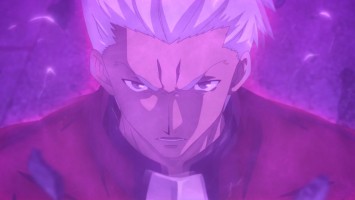 It is a shame we only got to see a bit of Archer's battle with Assassin. That would have been fun to watch for a bit.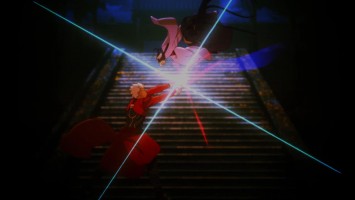 And of course, there's the stuff with Shirou. On one hand, he needed a kick in the arse when he was angry at Archer for saving him. On the other hand, Shirou is on the interesting path.
Shirou's path
This series, more so than the original anime produced by Deen, shows more clearly how Shirou would eventually become Archer. I loved how Caster could see how similar they were, even if she didn't realize that the two were the same. It is interesting to see how Archer accepted the reality of how it isn't possible to save everyone. No wonder he dislikes his younger version so much.
[collapse]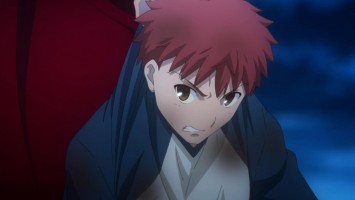 I'm sure I'm forgetting something, but I'm behind (as always) and need to move onto my next thing. That being said, I can say that I have yet to be disappointed by ufotable's adaptation of Fate/stay night, and this episode was no exception.