ハヤテのごとく!/Hayate no Gotoku Manga
Hayate the Combat Butler Chapter 475 Review
SPOILER Summary/Synopsis: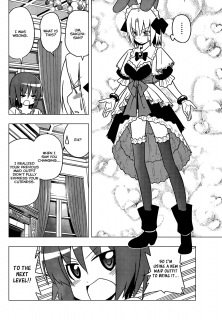 Chiharu is at her weekend job as Sakuya's maid, thinking of how her housemates would make fun of her if they knew about this. To Chiharu's chagrin, Sakuya has a new maid outfit for "Haru-san," complete with more frills, a mini-skirt, bows, and more. Further frustrating Chiharu is Sakuya's insistence that they go out. Sakuya says not to worry, since they are going to Akihabara.
In Akihabara, Chiharu is feeling better about things when she and Sakuya encounter Hayate. Chiharu turns around, freaked out at what to do after Hayate speaks to her. She does her best to disguise her voice and appearance, but she's taken by surprise when Hayate doesn't appear to recognize her. However, this also angers her since Hayate only sees her as someone in glasses as her Haru-san persona wears none.
After complimenting "Haru-san" on her appearance, Hayate leaves. As she and Sakuya continue on their way, they encounter Ayumu, wearing her maid outfit for her job at Wataru's doujinshi shop.
Thoughts/Review:
Heh!heh!heh! Hata-sensei does a head fake, referencing Konoha, but not picking things up where we left off before (Ayumu catching the two kissing).
This chapter reminded me of how much less I like the current character designs. When "Haru-san" was first introduced, she was ultra cute. With the new, simplistic character design, she doesn't have that same impact. And unfortunately, in the one image where she's wearing a similar outfit that both Hayate and Hina have worn (with a similar pose), she doesn't look like Haru-san. She looks like a cross between Nagi and Hayate. *_*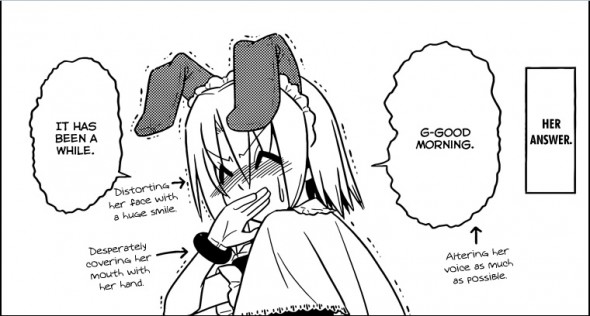 That aside, I am glad to see Sakuya again, as it has been AGES since she was last around. To that end, I'm also glad to see Chiharu's "Haru-san" persona again. I'm almost surprise Sakuya didn't do something to expose Chiharu, even if accidentally (but for fun).
As to Hayate not recognizing Chiharu, well…I don't know what to say there. Maybe he really did and was being nice, but maybe he didn't.
As to Ayumu, I'm REALLY looking forward to the forthcoming chat between her and Chiharu. Although they are housemates, the incident gives them something to make them actual friends.
Finally, it seems that as a Christmas present (or something), Hata-sensei is going to be servicing the girls as never before. Aika got serviced last chapter, and Chiharu this chapter. Who's next? Ayumu?
Overall, it was a fun chapter that made me smile.