ハヤテのごとく!/Hayate no Gotoku Manga
Hayate the Combat Butler Chapter 477 Review
SPOILER Summary/Synopsis: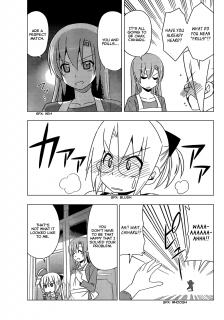 Hina and Ah-tan are sitting in the empty Donguri Cafe, which makes Hina wonder if the people of Nerima aren't stressed since they aren't coming to this nice cafe with its good coffee.
A depressed Saki comes in (whom Hina apparently doesn't know) and orders hot milk. Hina gets Saki to open up, where she admits to having feelings to someone she lives with. Hina wants to give advice, so Ah-tan reminds Hina that she's in the same situation. Hina says she can be a good coach without being a good player. As such, Hina advises Saki to work harder and wear more frills, advice she refuses to take in her own relationship with Hayate. Saki agrees with the advice and leaves, causing Hina to feel triumphant.
A depressed Chiharu comes in, whom Ah-tan figures had some embarrassing secret get out. Even though Ah-tan is right, Hina figures it is love that it depressing Chiharu, so she tells Chiharu that she things frills go well with her. This causes Chiharu to flee, leaving Hina thinking she's solved another problem.
Ayumu comes in depressed, which Ah-tan figures is due to her having seen something shocking and love-related. Hina rejects this theory, figuring Ayumu's depression is school-related. Ayumu is thinking about how she saw Hayate kissing Konoha, so she's shocked when Hina drops a large, math textbook on the table. She tells Ayumu that she can solve any mistake, misunderstanding, or equation, so Ayumu says she'll try to believe in Hayate.
After Ayumu leaves, Ah-tan points out that Hina serves no coffee and that she understands why the cafe is so unpopular. Hina wants to know why and what Ayumu meant by believing in Hayate.
Thoughts/Review:
Heh!heh!heh! And so we go to the end of the year with a lighthearted, one off chapter that has some linkage to recent events.
Not a whole lot to discuss in a chapter like this, mainly because things are played out formulaically. Ah-tan sees things for what they are while Hina makes completely wrong assumptions. To that end, Hina even does her usual thing of rejecting notions that she can't advise people on things she fails at.  So there's not much there.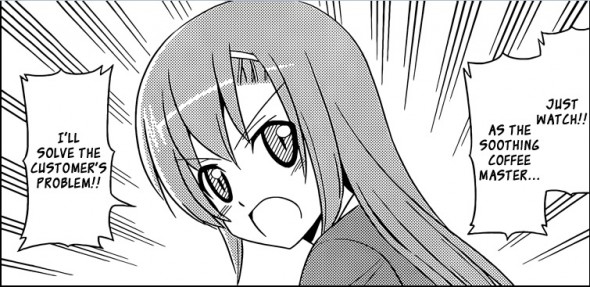 As a chapter, it is fun for what it is and seeing Hina and Ah-tan together was nice. I can't help but enjoy Ah-tan's incredulity at Hina's boldly and blindly assuming things.
I'm not sure if we're going to have only a one week break or a two week break since the next chapter won't come until issue 8 of Weekly Shounen Sunday. Regardless, hopefully we'll get some movement on story threads when the manga returns.